If you haven't heard the name Prakash Slim, stick around… you will. Ram Prakash "Slim" Pokharel is a country blues musician, educator, and blues history researcher from Nepal whose debut album Country Blues From Nepal via DeVille Records is out now.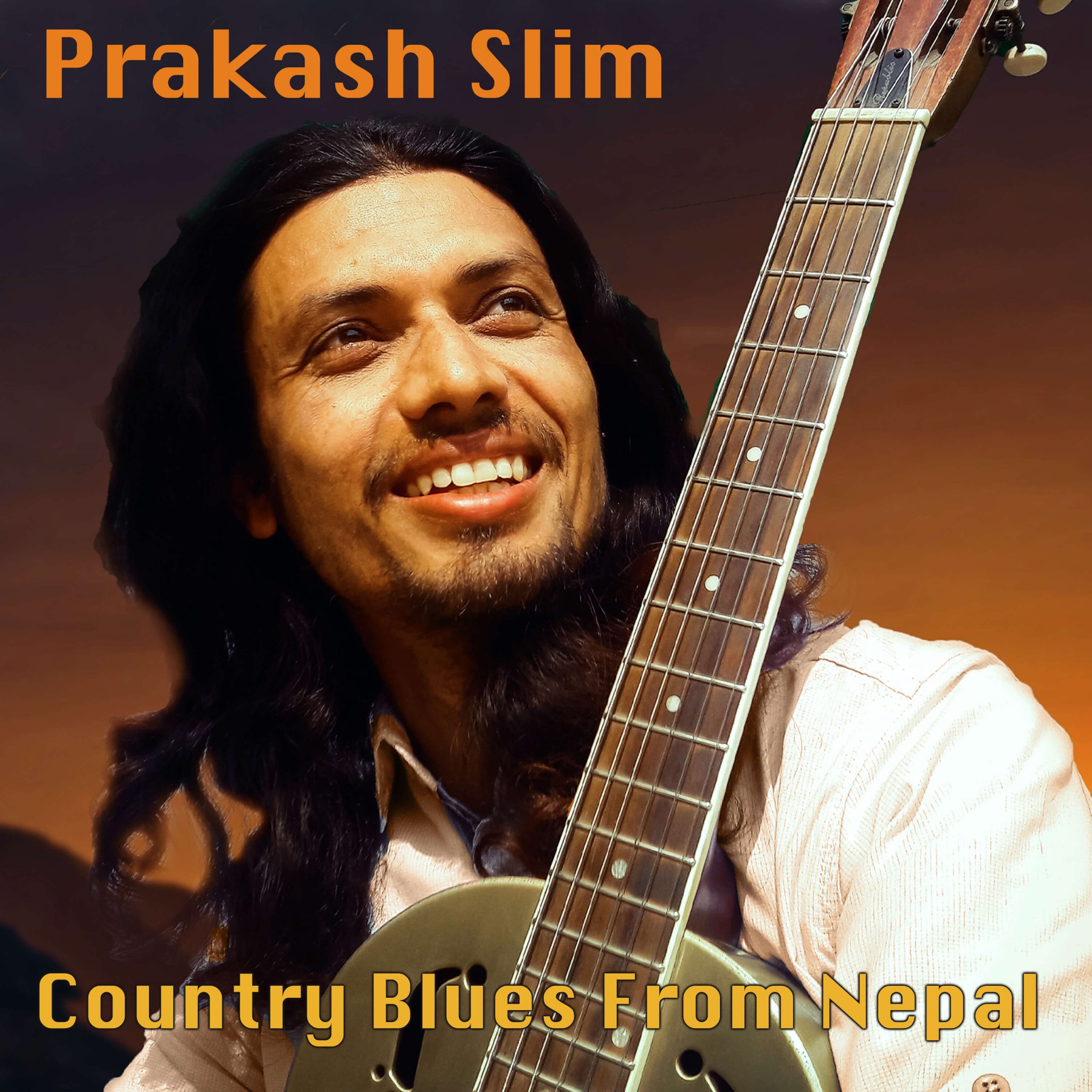 What does a Nepalese man know about the most American musical art form ever? A lot more than one would think.
Born in the small village of Lamatar in the Lalitpur district of Nepal, Slim's village saw their first electric light bulb when he was three and its first motor car when he was 15. Sound familiar yet? His father passed away at the age of 29, leaving his mother with three children to provide for by working in the neighbor's fields. When asked what his ambition was when young, Slim replied, "Ambition was a privilege for rich kids back then. The only ambition I had was sustaining life." Now that is the blues.

As a child he began singing and drumming on a one gallon water jug. He later joined the band of C.B. Chhetri, after much guitar tutoring from Chhetri himself. Gigging the restaurant circuit, he also started teaching music in schools, and played guitar and bass while singing in several bands.
He gives credit to BB King for globalizing the blues, but has since been heard himself on Blues Radio International, Blind Dog Radio, and Highway Blues Australia, garnering the approval of none other than acoustic blues master Rory Block. He plays a National resonator guitar with a slide, taking even the bluest of blues purists back home.
Country Blues From Nepal begins with the ear-pleasing "Blues Raga." Raga basically translates to melody in English, but in Nepal and the surrounding countries it is a melodic framework from the Sanskrit word meaning color or passion. The sound of this wonderful instrumental is indeed both colorful and passionate.
"Jitterbug Swing" follows, picking up the pace just a bit and allowing the listener to hear Slim's vocals. He sings in perfect English, but obviously with a Nepalese accent. Is it difficult to understand? No more than first hearing artists such as Charley Patton or Robert Johnson on record. Slim's voice is a powerful, growling tenor that cuts through the air like a straight razor.
"Living for the Memory" adds a bit of Bentonia blues to the Delta sound, with a constant 2-string thumping drone keeping the beat for the song while Slim's slide dances up and down the fretboard. On "Villager's Blues" Prakash sings the blues he knows: that of his own upbringing.
Blues comes from Black American societies. Blues isn't just a genre as I feel the blues understands the pain that dwells in our hearts. Without knowing the history, blues would be incomplete. My tragic childhood, economic depression, and passion for blues history makes me a bluesman.
Among his original songs on Country Blues From Nepal are a sprinkling of classic covers. Among them are Robert Johson's "Me and the Devil Blues," and "Crossroad Blues," Charley Patton's "Moon Going Down," Blind Blake's "Police Dog Blues," and the traditional Gospel tune "You Gotta Move," originally recorded by artists including Sister Rosetta Tharp and Reverend Gary Davis, and later popularized by Mississippi Fred McDowell and the Rolling Stones.
On "Moon Going Down," Slim plucks the hell out of the strings of his resonator, much the way Patton may have done in the 1920s in order to be heard sans microphone. On "Me and the Devil Blues," not only are we treated with a baritone version of Johnson's hit, but hear the first appearance of some brilliant Mississippi mouth organ from skilled Italian blues harmonicist Fabrizio Poggi. We hear the blues harp via Poggi again on "Poor Boy" and "Garib Keto," the latter one of two songs that Slim sings in his native Nepali.
Slim also touches on modern world problems with "Corona Blues."
Adding to the international flavor of the album, Country Blues From Nepal was recorded at Kalanidhi Digital Studio – Nepal; produced and mixed by Carl Wyatt – France; and mastered by Yves DeVille at Studio D – Luxembourg.
Is Country Blues From Nepal from Prakash Slim authentic? The simple answer is yes. It's as authentic as poverty, economic depression, floods and droughts are authentic. It's as authentic as the triumph of the human spirit over such adversities. It's as authentic as one passion-filled artist with one guitar and a single voice can make it.
Perhaps Slim says it best:
I believe music is a beautiful gift and we can't live without this sacred gift. It's the medicine for all diseases. When I hear and play music my soul starts singing. It's in my heart.
Sounds a lot like something Buddy Guy would say, yes?
*Feature image and album cover photo credits: Adam Kennedy