In 1968, JB Hutto and His Hawks recorded 13 original tracks with Sunnyland Slim for the Delmark imprint. Recorded in two sessions and two studios, Hawk Squat, in the words of producer Bob Koester, "was born at Turner's Blue Lounge."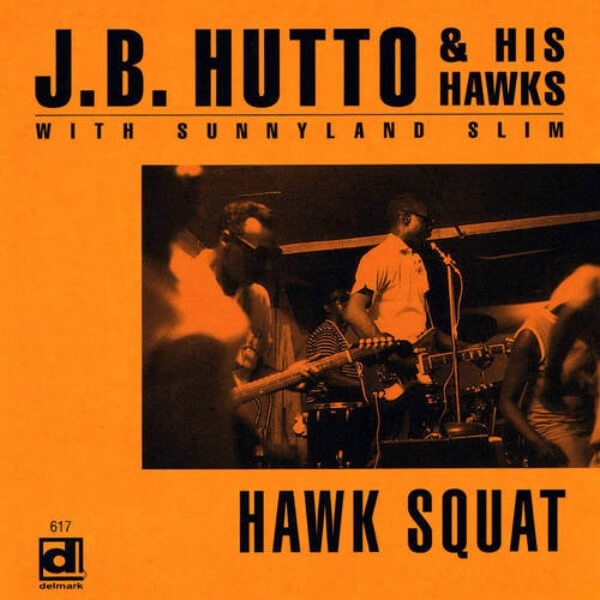 Only the sign remains of Turner's Blue Lounge, on South Indiana, under the L tracks, where Sonny Boy Williamson II and Little Walter used to shoot pool, and JB Hutto played three nights a week. At the time the cover was 50 cents and that also got you a beer. Due to the low cover, it was a bit rowdier than some other local clubs.
Hutto named his band the Hawks, after the wind that blows in Chicago, and he was no stranger to rowdy clubs. In the late 50s, JB gave up the music business for a time after a woman took his guitar and broke it over her husband's head. He took work as a funeral home janitor which paid his bills for the next decade.
The 1968 Delmark album Hawk Squat, which featured Sunnyland Slim on organ and piano, Lee Jackson on guitar, and jazz player Maurice McIntyre on tenor saxophone, is regarded as Hutto's best album up to this point. So much so that The Blues Foundation inducted the album into its Blues Hall of Fame in 2013.
Leon Kelert did the recording and said of Hutto's vocal, "the voice was not well recorded, it was distorted" so with the exception of the song "Hip Shakin'" the tapes were shelved. Koester was convinced that Kelert just didn't understand Hutto's style of singing, and after some time the album was completed and released.
After taking over Hound Dog Taylor's band in 1975, and moving to Boston to form The New Hawks, Hutto returned to the Chicago area in the early 80s, where he was diagnosed with carcinoid cancer. He died in 1983 at the age of 57 and two years later was inducted into The Blues Hall of Fame in Memphis. Hutto's nephew, Lil' Ed Williams (Lil' Ed and the Blues Imperials), carries on the legacy of Hutto, performing in much the same slide style as his late uncle.
JB Hutto and the Hawks were acknowledged as one of the most exciting and roughest blues bands in Chicago. Hutto was influenced by Elmore James and Muddy Waters and took to the rowdy, electric blues like a duck to water. Born at Turner's Blue, Hawk Squat is arguably his best work.