Two of blues' most acclaimed and exciting performers are teaming up and taking their show on the road. The illustrious Tito Jackson and critically lauded Kenny Neal will share their guitar process when they join forces on their upcoming Straight From The Heart Tour, commencing August 27th in Winston-Salem, S.C.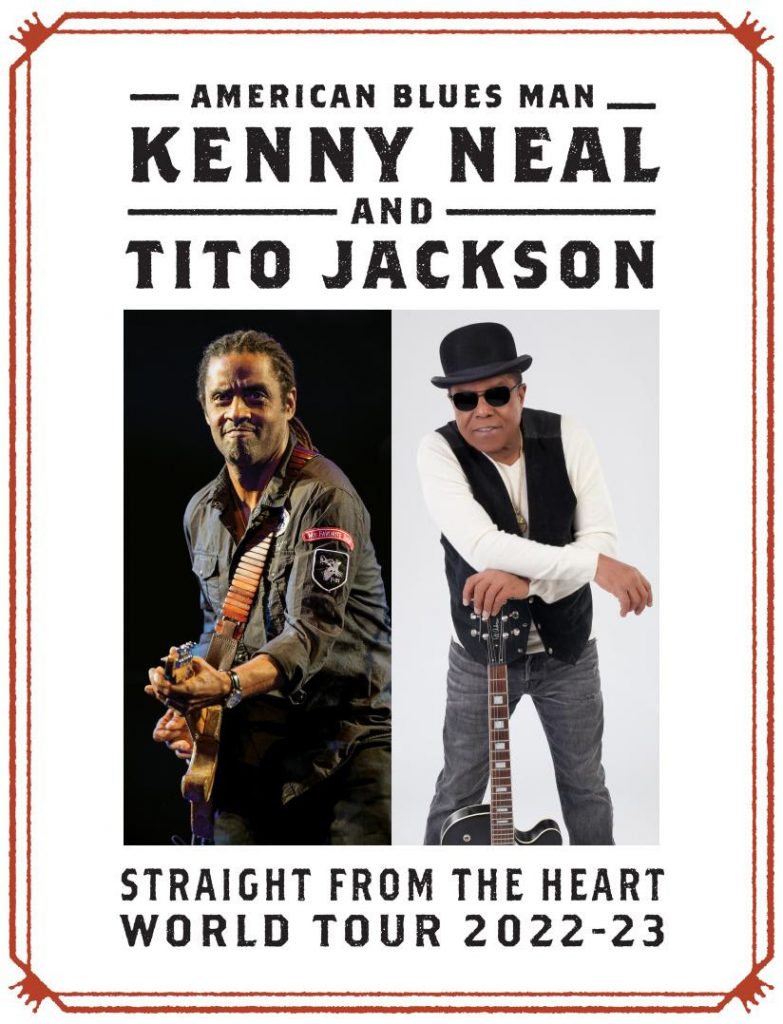 Neal is a vital modern proponent of Baton Rouge swamp blues and a second-generation southern Louisiana bluesman mindful of the region's venerable blues traditions. His dad, harpist Raful Neal, was a Baton Rouge blues mainstay whose pals included Buddy Guy and Slim Harpo (the latter gave three-year-old Kenny his first harmonica.) At age 13, Neal played in his father's band, and at 17, he landed a job playing bass for Buddy Guy.
Kenny's sizzling guitar work, sturdy harp, and gravelly, aged-beyond-his-years vocals served him well, and he cut four albums for Alligator Records between 1989 and 1994. An acclaimed 1991 stint on Broadway in a production of Mule Bone found him performing acoustic versions of Langston Hughes' poetry set to music by Taj Mahal. His 2016 release, Bloodline, was nominated for a Grammy for Best Contemporary Blues Album and won two BMAs (Blues Music Awards); one for Best Contemporary Blues Album and the other for Best Contemporary Male Blues Artist.
Neal's 17th album, Straight From the Heart (Ruf Records), is currently enjoying international critical acclaim.
Rock & Roll Hall of Famer Tito Jackson has spent his entire life enchanting music lovers with soulful harmonies interwoven with shapely rhythms as a member of Motown's most significant discovery, The Jackson 5, and presently as a multi-faceted solo artist. One of the performing highlights of Jackson's remarkable career was the reunion performance of The Jacksons on one of history's most-watched television specials, Motown 25: Yesterday, Today, Forever. 
Tito's unyielding passion for blues, R&B, pop, and other music forms is the secret to his boundless energy and rare achievements. He has worked with countless fine musicians, singers, and producers, such as the preeminent production team of Gamble & Huff, LA Reid & Baby Face,
Jackson has released two solo records, 2016's Tito Time (Epic) and 2021's Under Your Spell (Gulf Coast / Hillside Global).
The duo will be playing the Fairground Annex in Winston-Salem, NC on August 27th; Ground Zero Blues Club in Biloxi, Mississippi on September 16th; the Bogalusa Blues & Heritage Festival in Bogalusa, Louisiana on September 23rd; the Crescent City Blues & BBQ Festival in New Orleans on October 15th; and the Legendary Rhythm & Blues Cruise from January 28th to February 4th, 2023.