To be truly independent, a musician has to walk a tightrope. How does one survive in a world drowning in recyclable plastic and remain totally organic? Johnny Sansone listens to an inner voice that is constantly reinventing itself while producing music that is a vessel of sounds that surf through your mind and allow you to escape earth's gravity.
"I'm a Libra. I can't make decisions. I listen to something. OK, that's good. Let's go. Let's get out of here. That's hard for me, but when you look at the difference between those things. A lot of times you as an artist have no direction at all and go in with a producer who makes this person sound like what will commercially happen. They (the producer) kinda paint their own portrait, and that artist doesn't even understand what he's doing. Some guys are so great at writing songs and so great at recording them, but they can't sing. They can't project, so they go find the guy that can and that guy ends up being the star."
Every song on Into Your Blues, Johnny's new album, sounds different while staying true to its title like the Beatles' albums did for rock. Johnny provides Dr. John "phunkay" hipster vocals and is supported by many guest musicians, most notably Jason Ricci' screaming harp on "Blowin' Fire" and Little Freddie King's story on "Willie's Juke Joint."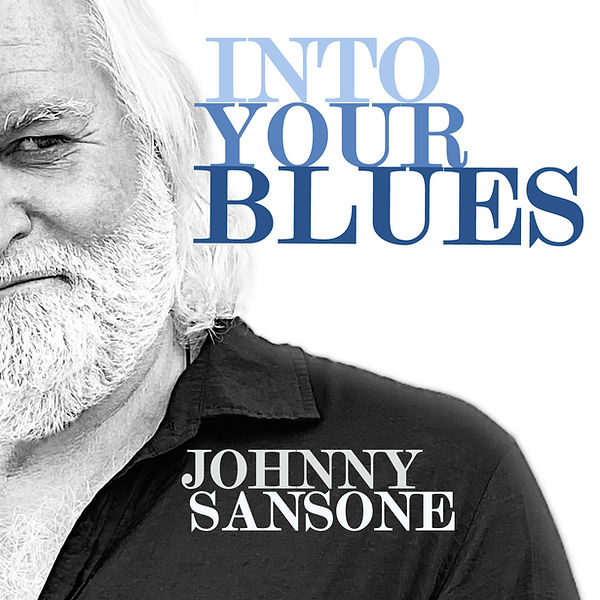 "We weren't sure what we were going to do (on that song.) I just sat him in a chair and said, 'Let's play a little bit and tell me a story.' (Chuckle). One of the stories he told about a juke joint I decided to use. The other one was I don't even know how to say. The story is about his wife shooting him six times. So, I didn't know where to go with that and still have it. I said, 'Look, Freddie, we're gonna make up a song. I'm gonna sing about how bad my woman has been to me, and then you can sing about how good your woman has been to you, and I started singing about something.' And he took it and said, 'Johnny, I had the sweetest little woman. She was so sweet until she shot me six times. He almost bled to death, and he almost died.' So, I said, 'Freddie, let's try something else.'"
Johnny Burgin and Mike Morgan complement Sansone's resonator guitar work with addition of many other musicians whom Johnny would like to tour with. The result is sophisticated in its arrangements but at the same time fundamental in its overall sound. 
On "Pay for This Song" Johnny sings about Jimmy Reed writing the same song 50 times with different lyrics. "You understand that Jimmy Reed can play the same song, have the same chord changes, and the same song with different words, but his attitude is so strong, it sounds like a different song."
But you don't care because you love it so much.
"Exactly. He's allowed to do that, and he's made a career out of it. They only had a certain number of grooves they used. A lot of the great blues men were not studied in a lot of variations. They stuck with what they knew, and that's why it's so great. And the formula worked, and a lot of the sidemen worked and there was no change. Jimmy Reed had Eddie Taylor. That was the formula. Those two guys together created a sound, and there was no need to forward it. It sounded so good."
Johnny seems to re-invent himself every time he does an album, just the opposite of Jimmy Reed. "Yeah, I think a lot of people put out records just to have a record, just to have something else to get behind. I see it like a new novel. I don't want to use anything from the last novel, and I think I'm really trying to get something out every two or three years. I think people are interested in what's coming out next. I think it really hurts you if you put out the same record over and over. We worked on a lot of the arrangements ahead of time, but when we sat down to record, we didn't spend a lot of time. I had to spend a lot of time on mixing it."
Johnny studied harmonica with James Cotton and Junior Wells. He toured with John Lee Hooker, Ronnie Earl and Jr. Wells in the 1980s. He was in Voice of The Wetlands with Anders Osborne who produced his Hopeland album in 2018. His first encounter with one of his influences was with Honeyboy Edwards when he was 13.
"I didn't really know how to play. It was like a lifetime ago. I was fascinated that I was at a folk festival, and my eyes were so wide open to everything that was going on around me. It wasn't like we were on some main stage, and there's a bunch of people. It was a workshop thing, and I was the lucky kid when I went and played. It was like, wow, one minute you're listening to this guy, and you don't know to go say hello to him, and the next thing you're standing there playing with him.
"It was really interesting. The last time I saw him and looking at his eyes, I wasn't sure what was there, and he was in his high 90s, but he played at the Crescent City Blues Festival here in New Orleans. I wanted to go over and say, 'Hi, you're the first guy I ever got to play with.' I started to talk to him, and I realized he was not really there. I wished I had done it sooner, but he died shortly after."
Johnny started playing accordion after going to zydeco master Clifton Chenier's wake in 1987. "I started out on saxophone just like him, but I was fascinated when he was playing the accordion, and I had all the Clifton Chenier records. At the time I was still living in Virginia and went to the wake. Every accordion player from my record collection (was there) and many that I didn't even know about were all at that wake. There were accordion players everywhere. It was just crazy seeing all these incredible accordion players from all over the world at that funeral.
"It was kind of like The King is dead. Something came over me and (I thought) I might as well give this thing a shot. Soon as I started trying to figure stuff out, I decided this is changing everything for me because I could voice a lot of the melody lines that I was trying to do, which is stuff I could play on guitar with chords, but it was different than anything else. It was definitely different than playing harmonies on saxophone."
I last saw Johnny live in 2019. Backed by a three-piece band that included John Fohl who spent 11 years as Dr. John's lead guitarist, Sansone led his juggernaut group through an hour-long set of originals at the Chenango Blues Fest. His set had the punch of ZZ Top and lyrics that matched Willie Dixon's for colorful imagery. Sansone is more of a philosopher than Dixon who wrote many of Howlin' Wolf and Koko Taylor's biggest hits. Sansone's signature piece, "Lord Is Waiting and the Devil Is Too" earned a Blues Foundation Blues Music Award for song of the year with the lyrics, "I ain't crazy, but I ain't right. Give me what I want and I'll save your life."
Johnny feels it's an artist's job to find himself creatively. Jr. Wells once taught him to find his own musical voice, and he told me in 2017, "I think (an artist) disconnects himself from anybody who actually thinks about what he's doing. He's not doing it for them. He's doing it for himself, and he's putting everything he can into it. This is a hypnotic state to a certain degree. It's completely different. He doesn't know what's going on around him. There could be nobody there, and he's going to do the same thing, and that thing, that hypnosis, goes into people's hearts. He doesn't care. His job is to find himself."