Craft Recordings proudly announces the release of Birthright: A Black Roots Music Compendium, an expansive overview of American Black roots music. Produced by author, professor, and GRAMMY®-nominated music historian Dr. Ted Olson, along with GRAMMY-winning producer, musician, and author Scott Billington, Birthright offers an introduction to the rich and often nuanced world of Black roots music.
Spanning generations and genres, the 40 songs in this brand-new collection showcase a broad range of styles: from gospel and blues to Louisiana Creole, jazz, Gullah music, and more, while the artists range from little-known musicians to enduring icons like John Lee Hooker, Odetta, The Staple Singers, and Lightnin' Hopkins.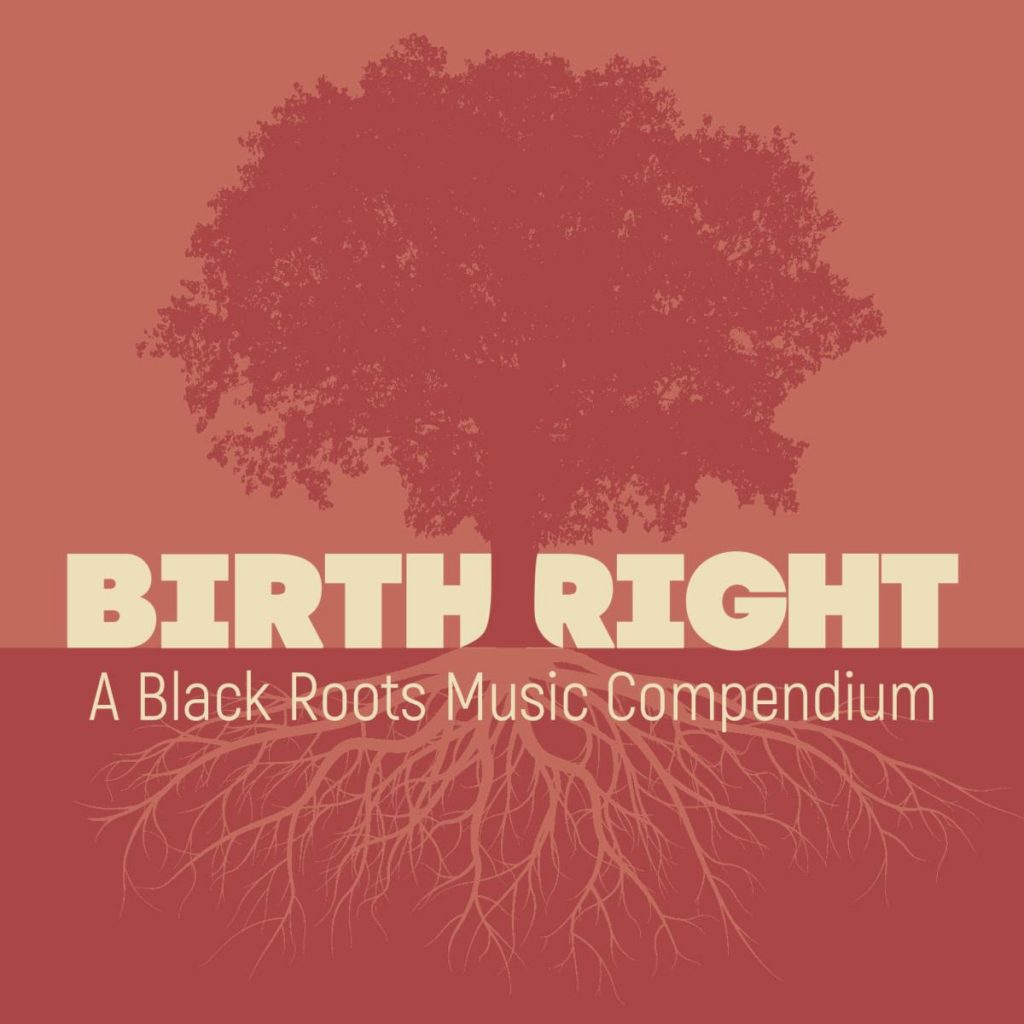 Due out February 17th on 2-CD/digital formats and available for pre-order now, Birthright features a handful of rarities, as well as the previously unreleased "Georgie Buck" by the Carolina Chocolate Drops (a collective of musicians that includes Dom Flemons, Rhiannon Giddens, and Justin Robinson) featuring fiddler Joe Thompson. The 2-CD edition includes insightful essays from musicians/scholars Corey Harris and Dom Flemons (music from both artists also appears on the album), as well as an introduction and detailed track notes by Olson. Through word and song, Birthright not only seeks to pay tribute to an essential canon of American music, but also demonstrates the pervasive influence of Black roots music on popular culture – from country to hip-hop.
While the recordings on Birthright date back to the '50s, one must take into account the historical through line, which begins centuries ago. "Music in Africa was woven into every aspect of life and every song was specific to a certain time of year, festival, activity or life event," writes Harris. "When our captive ancestors were driven off the slave ship on to the shores of a strange land, they had these songs with them." Amid the horrors of slavery, music served as an important form of communication. While African drums were banned, Harris explains, "Stringed instruments and household items like jugs, spoons, bones and washboards became our weapons of circumstance…. But no matter how many laws were passed, you couldn't outlaw rhythm."
Following Emancipation, Black roots music was first recorded in the early 20th century by folklorists like John Lomax. But, in a sharply segregated country, few people would hear it. Flemons notes, "The acknowledgement that any American music could be considered to have 'Black roots' was not only unheard of, it was treated with disregard and in many instances, was banned from being performed and disseminated to the general public altogether."
These foundational recordings were vital, however – particularly because Black music and culture were generally portrayed using grotesque stereotypes or Euro-classical stylings. Instead, the audio "removed all secondary 'straightening,' 'sweetening' or 'exaggerating' of the music,"explains Flemons. "A new dialogue could be had between the folklorist and the musician allowing the subject for the first time to 'speak for themselves.'" He continues, "The performance could in essence reflect the inherent value of a unique 'Black' culture. This early documentation is an essential resource for our understanding of Black roots music of the past."
In the following decades, with the rise of the record industry, regional music styles developed and spread further into the mainstream, with blues, jazz, and gospel making a significant impact on popular music, leading to rock 'n' roll, soul, and eventually hip-hop. But while new generations continued to build upon these foundations, Black roots music never stopped thriving, as Birthright proves. "There has been wave after wave of Black roots artists who have built a new bridge to the past," adds Flemons. "No matter the era, the musical innovations of the African and Caribbean Diaspora are still prevalent in the hands, feet, instruments and voices of each of these artisans no matter how refined or down-home they may sound."
Each track in Birthright – whether recorded 60 or six years ago – offers an example of this rich musical tradition, including a variety of mid-century field recordings. Among the highlights is Bessie Jones' "Yonder Come Day," documented in Georgia in 1973. Jones (1902–1984) was a member of the Georgia Sea Island Singers, which was founded to preserve the music of the Southeast's coastal Gullah culture. Another notable selection is "Eunice Two Step," from the renowned duo of accordion player Bois Sec Ardoin and fiddler Canray Fontenot. Recorded in the '60s and sung in French, the song represents the "Creole" tradition and, as Ted Olson notes, "reflects the older sound of Black music in rural Louisiana before the emergence of the more modern Zydeco genre." There are also more informal recordings, including those of incarcerated men, singing "work songs." Among them is Bennie Richardson, who leads a rendition of the traditional "Grizzly Bear," alongside his fellow inmates at a Texas penitentiary. The song, explains Olson, "employs verbal coding. The 'Grizzly Bear' character…was a white prison guard, while "Jack O' Diamonds" was a veiled reference to a white prison warden." The audio, recorded in the mid-'60s, features a call-and-response style of singing, which originated in West Africa.
In addition to field recordings, the collection showcases a handful of well-known legends, including The Staple Singers. While best-known as '70s soul stars, the family group began on the gospel circuit. Their 1963 recording of Willie Johnson's frequently covered "Motherless Children" features call-and-response vocals from patriarch Roebuck "Pops" Staples and his children, Mavis, Yvonne, Cleotha, and Pervis. Civil rights activist, singer, and actress Odetta makes an appearance with "Special Delivery Blues," a song originally recorded in 1926 by jazz singer Sippie Wallace. Blues stars like John Lee Hooker (delivering the traditional "When I Lay My Burden Down"), Skip James ("Hard Time Killing Floor Blues"), and Lightnin' Hopkins, who performs his influential "Automobile Blues," are also represented in this collection, while a younger generation of celebrated bluesman, Taj Mahal and Keb' Mo', revisit Sleepy John Estes' "Diving Duck Blues" from 1929.
Birthright also looks to the future with inspired tunes from contemporary acts. Among them is Ranky Tanky, who interpret traditional Gullah music. The term "ranky tanky," which translates roughly to "get funky," inspired both their group name and the song included in this collection. Another example is the aforementioned "Georgia Buck" from the Carolina Chocolate Drops, who share a passion for African American string bands. Their 2006 recording of the traditional tune is a collaboration with their mentor, fiddler Joe Thompson (1918–2012). The internationally renowned a cappella ensemble Sweet Honey in the Rock, meanwhile, delivers the 19th-century spiritual, "Study War No More." Known more popularly as "Down by the Riverside," the song not only became a gospel staple, but also an antiwar anthem during the Vietnam War. The even longer-running Preservation Hall Jazz Band – a New Orleans institution – performs Paul Barbarin's "Bourbon Street Parade," which pays celebrates the joyful, parade-beat groove which is the heartbeat of the city's music. Another mainstay of the Big Easy, the Dirty Dozen Brass Band, has been keeping the city's brass band tradition alive since 1977, and appears here with their Caribbean-inspired 2012 tune, "Best of All."
While the voices on Birthright are unique, they all share a common thread. As Harris puts it so eloquently, "When we listen to the artists on this set, we are hearing the voice of a people determined to express themselves and be heard above the empty, metallic din of progress, above the saccharine pop and soulless glam of the industry. When the power goes out and the internet goes down, some of us will still be playing music and sharing our joys and pains with one another in song. Black roots music is a testament to the fact that if modern civilization were to collapse, we have the power and the spirit to rise up once again. We only need to hold on to our roots. This is an excellent place to start."
Click here to pre-order/pre-save Birthright: A Black Roots Music Compendium.