Finding inspiration for songwriting can be a little like a visit to the Twilight Zone. You move through a land of both shadow and substance, of things and ideas. You wander into a dimension of sight and sound and mind. You open doors with the key of imagination.
Consider if you will the case of one Mary Lee Kortes who one day in her childhood opened the top of a piano bench to find a treasure trove of songs. The songs were written by Beulah Rowley, a regionally famous 1930s midwestern singer/songwriter. Beulah was only twenty-one when she died in a house fire with her husband and infant daughter. Her songs survived and were passed down until they were discovered by Kortes. Determined to keep Rowley's songs alive, Kortes waited until the time was right to record them and share them with the world.
Or so the story goes…
In reality, Beulah Rowley is a figment of Kortes' imagination, a fragment of a dream perhaps. Nonetheless, the dream is being brought to life in Kortes' upcoming album, Will Anybody Know That I Was Here: The Songs of Beulah Rowley.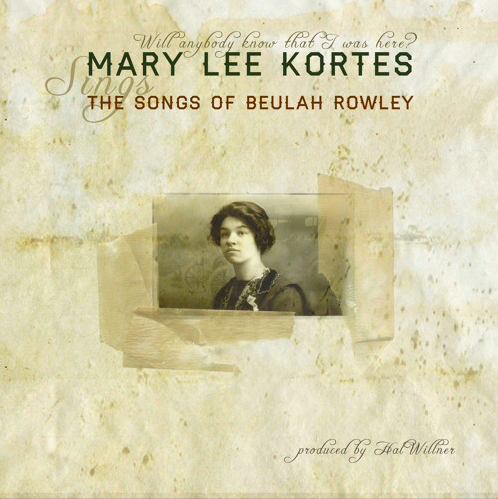 Kortes performs under the name Mary Lee's Corvette. She has toured the world as a headliner and an opening act for Bob Dylan, Ian Hunter, Steve Earle, Joe Jackson and Los Lobos. Her songwriting skills have been praised by the New York Times, the Village Voice, and Rolling Stone.
Now she has brought her considerable talents to craft songs that sound like they came right out of the Depression Era. Produced by the legendary Hal Willner, the new album will be released April 22nd for Record Store Day.
The video "Born A Happy Girl," premiering exclusively at ABS, is being released on February 17 in support of the new album. If the album is anything like this song, it will be full of tumult and uncertainty, of truth and contraction – in short, it may very well present a microcosm of the 1930s. The opening lines set the table:
I was born a happy girl

Into an unhappy world…
Happy she may have been at birth, but she may not have lived so happy a life. She acknowledges at one point the Devil drove her wild. At one point she even tried to kill her only child (the child survived). The song even denies us a happy ending as she declares "I'll keep my happy endings here… Hallelujah!"
If "Born A Happy Girl" is any indication, the album Will Anybody Know That I Was Here: The Songs of Beulah Rowley promises to be much like Beulah's life – short, beautiful and tragic.​​