A new release by Tipitina's Record Club gives fans an opportunity to experience the good doctor in a rare solo setting. A never-before-released live concert from 1984 finds Dr. John performing familiar favorites as well as some New Orleans classics. On April 27, 1984, Dr. John took the stage for a solo concert on the SS President riverboat, headlining alongside fellow Big Easy luminaries Fats Domino and The Neville Brothers.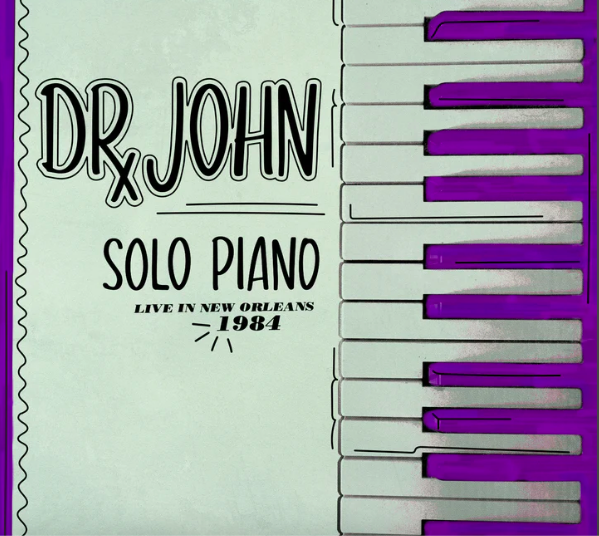 Of this exciting release, Karla R. Pratt (Dr. John's daughter and executrix) tells me:
The outsize legacy of Professor Longhair looms large on Dr. John's rendition of "Tipitina," the live version premiering exclusively on ABS today. Seemingly double-jointed in double-time motion, the doctor went to the school of the professor and passed with flying colors. A song essential to the New Orleans rhythm and blues renaissance, the iconic world-famous venue/foundation even bears the name. And now Tipitina's Record Club is giving listeners a front row seat to the full set. Rather, a cultural event.
The release of Dr. John Solo Piano/Live in New Orleans 1984 comes thirty-nine years after his show on the riverboat was planned by legendary New Orleans music impresario Quint Davis in celebration of Jazz Fest's 15th anniversary. Dr. John Plays Mac Rebennack: The Legendary Sessions Vols. 1 and 2 had been released in the early '80s, so concertgoers on the boat that day gathered around the stage in the center of the ballroom. He was introduced by Davis to a packed crowd full of Jazz Fest revelers as "the man you call Dr. John… who's really New Orleans' own Mac Rebennack."
The show featured other New Orleans songs written by Huey "Piano" Smith ("Don't You Just Know It" & "Rockin' Pneumonia and the Boogie Woogie Flu") and Dave Bartholomew ("Sick and Tired"). He also included "Mama Roux" and "Qualified," songs he wrote with New Orleans songwriter Jessie Hill (of "Ooh Poo Pa Doo" fame); "Average Kind of Guy" written with his "podnah" Doc Pomus (songwriter of "This Magic Moment"); and fan favorites "Junko Partner," "Stack-A-Lee," and "Goodnight, Irene." Two of Dr. John's originals prove album highlights: "Dorothy" and "Such a Night," famously in The Last Waltz.
"Mac's in the Parthenon of New Orleans piano giants," Davis says. "That's reflected on this album – and not just because of the songs, which are almost a compendium of important New Orleans music. Mac was, in his heart, a live player." Davis is fresh from a Grammy win for best music movie: Jazz Fest: A New Orleans Story, and the Succession Of Malcolm John Rebennack, Jr. released a Grammy-nominated album last year.
Purchase information on Dr. John Solo Piano/Live In New Orleans 1984 – Tipitina's Record Club Volume 3, No. 2, on 180g, custom-colored vinyl can be found here, where you can subscribe and get the album automatically when it ships in April.
Check out the ABS interview with Karla Pratt on the posthumous release of Things Happen That Way.