Blues Music Award winner, multi-instrumentalist and composer Gaye Adegbalola is celebrated for blues songs filled with scathing social commentary dressed in humor. Her album addressing LGBTQ issues, Gaye Without Shame, was nominated for a BMA; and her children's CD, Blues in All Flavors, won the Parents' Choice Gold Award. In 2019 she released The Griot (pronounced GREE – OH), which is best described as "topical blues for topical times." Gaye continues to be a mouthpiece for the marginalized, and by definition of what constitutes a storyteller, singer, musician, and oral historian, she is indeed entirely a griot. 
In the summer of 2021, Gaye Adegbalola's Freedom Songs were released as three singles. Her single "Lift Every Voice and Sing," the second from Freedom Song Trilogy Vol. II, is out today via VizzTone Label Group. This February release significantly celebrates Black History Month. Originally a hymn written as a poem by NAACP leader James Weldon Johnson, it was set to music written by brother J. Rosamond Johnson in the early 1900s and became known as the Black National Anthem.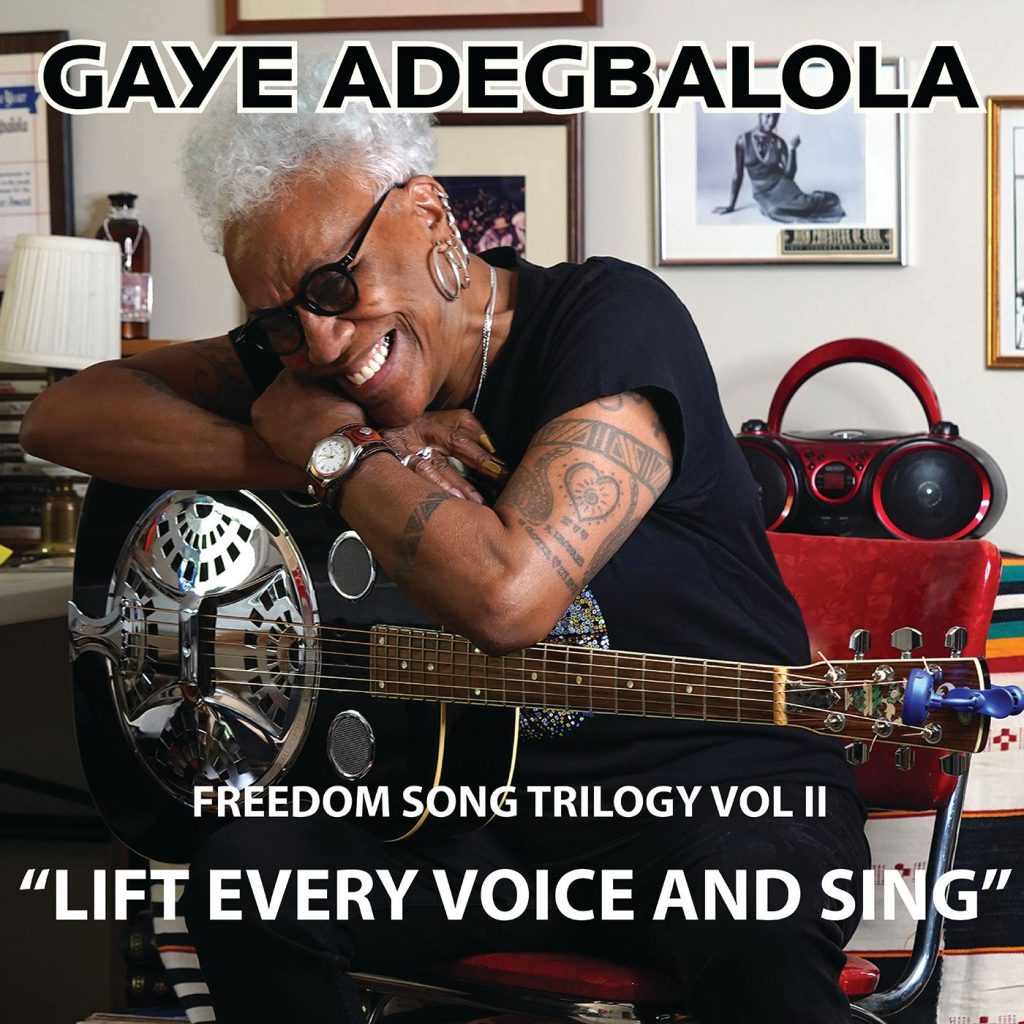 Gaye tells of the song's history as a poem of inspiration and liberty, in an introduction to the song which is included in the longer version. "An anthem is the uplifting song of a people," Gaye explains, "full of pride, patriotism and power. In it we rejoice for our survival; we document our difficult past; and, we pray for continued progress. A friend challenged me to play it and I proudly perform it here, solo. Resa Gibbs joins me on vocals."
Stony the road we trod

Bitter the chastening rod

Felt in the days when hope unborn had died

Yet with a steady beat

Have not our weary feet

Come to the place for which our people sighed

We have come

Over a way that with tears has been watered

We have come

Shredding our past through the blood of the slaughtered
Gaye has received the Kristen Lems "Social Change Through Music" Award at the National Women's Music Festival in 2018 and, in 2019 the "Koko Taylor Queen of the Blues Award" for preserving traditional blues from the Jus' Blues Foundation.
Along with her music recognitions she is a former Virginia State Teacher of the Year (8th grade science) and has been honored as an OUTstanding Virginian by Equality Virginia. The Library of Virginia has recognized her as one of the 2018 Virginia Women in History Honorees (along with Barbara Kingsolver, Rita Dove and others).