Never bet against Margo Price. You will lose.
The first time I rolled the dice against her was early 2017. I received the first of my quarterly "Vault" music selections from Jack White's Third Man Records. It was all about Margo Price. A 12" vinyl of her live performance at The Hamilton in Washington DC on November 9, 2016, a 7" vinyl of some live direct-to-acetate recordings made at Third Man's Nashville location, and a DVD of her recent performance at Austin City Limits. A beautifully crafted package to be sure, but an entire Vault devoted to a relatively unknown artist? It's not like I despise country music (I don't) or that I am opposed to discovering new artists (I'm not), but this screamed of a marketing ploy to push an artist's debut album (Midwest Farmer's Daughter) that Third Man released only a year earlier. It was not what I signed up for when I joined the subscription service started by the founder of the White Stripes.
Fortunately, I trusted Jack and gave this Margo Price person a chance. The chasm between what I expected and what I heard was immense. This wasn't country. It wasn't rock. It wasn't soul and it wasn't funk. It was all of those and more. Rough and rowdy. Tender and poignant. Margo clearly wasn't an artist who would be defined by any preconceived construct of what a country artist should be or what a woman could do as the leader of a band. Margo was playing by an entirely different set of rules – her own. I was immediately enlightened, immersing myself in all things Margo – purchasing Midwest Farmer's Daughter, pre-ordering her sophomore effort (All American Made), and grabbing tickets for her early 2018 show in Chicago.
I've been a devout follower of Margo ever since. Kind of. Last October, Margo released her memoir – Maybe We'll Make It. As a fan, I knew quite a bit about her unimaginable loss, heartache and struggles as a child, as a mother and as an artist – much of which she has unabashedly chronicled in her songs, most notably "Hands of Time." But a memoir when so much of her story was still left to be written? Too soon. Or so I thought.
Even after purchasing the book, I rolled the dice with confidence on my belief that memoirs should be a capstone on a career, not a pit stop. With a cocksure smile as the dice rattled in my hands on that thought as I turned the first page, I released the dice to tumble down the path of my own certitude. The dice clacked. The numbers changed. Faster at first, but the further I immersed myself in the book, the more I realized those tumbling dice were slowing down and only one result was left. Snake eyes. I lost again.
Maybe We'll Make It: A Memoir is superb. A beautifully written autobiography that not only provides a revealing and gut-wrenching look into Margo's personal tragedies and struggles to make it in the industry, but also tells the story of a powerful woman who was resolute in her beliefs about herself and her own music. It is clear that the road to success for Margo has not been easy, but it has certainly been earned. It seems almost impossible to come away from this book with anything but a greater appreciation and love for Margo as a person, as a mother and as an artist. You can't help but root for her.
Margo, however, is much more than her story. She is an amazingly talented and dynamic songwriter and musician, releasing four outstanding studio albums over the course of the last seven years (Midwest Farmer's Daughter, All American Made, That's How Rumors Get Started, and Strays). Yet, even those albums do not sufficiently capture the power of her live performances with her incredibly tight and rollicking band The Price Tags.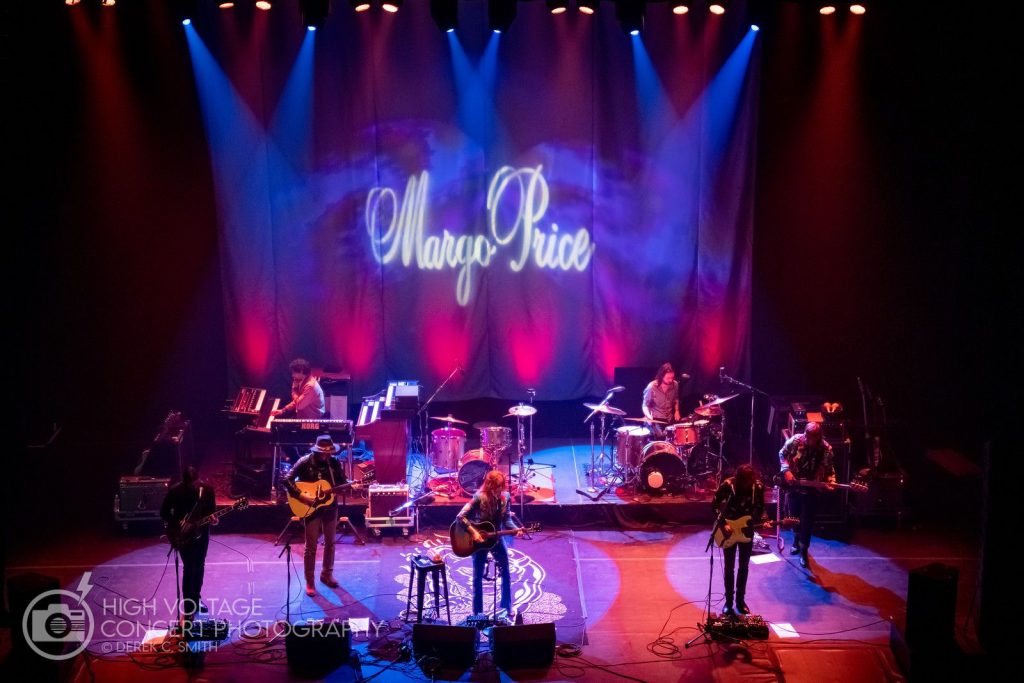 Even more so than the 2016 performance captured in the aforementioned Third Man release, Margo and her band (comprised of her husband, Jeremy Ivey, on harmonica and guitar; Dillon Napier on drums; Micha Hulscher on keys; Jamie Davis on lead guitar; Kevin Black on bass; and Alex Munoz on guitar) are taking the show to even greater heights while touring in support of latest release Strays.
Witness their recent performance at Chicago's Vic Theatre where they covered everything from Margo's own catalog to John Prine ("Sweet Revenge"), Merle Haggard ("I Think I'll Just Stay Here and Drink"), Willie Nelson ("Whisky River"), Jefferson Airplane ("White Rabbit"), Elvis Costello & The Attractions ("Pump It Up"),and Wings ("Let Me Roll It"). It was a country, psychedelic, punk and rock show all in one. They nailed it every time.
What really stood out about the show, however, was Margo's maturation over the years from a great performer to a great frontperson. She doesn't merely take the stage, she commands it. She doesn't merely play with the band, she directs it. And she doesn't merely entertain the audience, she captivates it. Genre aside, she is the proverbial "rock star." It's a performance that should not be missed.
For more on her upcoming tour and her latest release, Strays, visit her website.
Opening for Margo on the tour is actress and singer-songwriter Lola Kirke. She has released two full-length studio albums, the most recent of which, Lady for Sale, was released last year on Third Man Records. With her '80s-twinged jangly country-pop sound, Lola delighted the crowd with most of the songs from Lady for Sale, including the popular "Broken Families," "Better Than Any Drug," and "Pink Sky."
She closed her set with a fun take on Foreigner's "I Want to Know What Love Is" that had some in the crowd swaying back and forth as they joined in to sing on the '80s classic.
For more on Lola's upcoming solo dates and her latest release, visit her website.
All images: © Derek Smith / High Voltage Concert Photography