Pete Pritchard
Scotty Moore brought Pete in as bass player for the 2003 'In Tennessee' recording sessions in Nashville. Alvin thought it odd to record an album in the US with an English guy down the road from where he lived in the UK, but he was so happy with Pete's work that he was hired as permanent bass player in the Alvin Lee Band from 2004 onwards. He contributed bass to several tracks on Alvin's last studio album Still on the Road to Freedom which was recorded at home in Spain. (Evi Lee)
"As I remember Alvin, I think of his friendship, his stunning musicianship and total dedication to his craft. He was known for his speed and it's true that his lightning fast solos would almost elevate me off the stage floor, such was the power but he could also play with great feeling and sensitivity. "Blues in 'C'" for example, would contain moments of great tenderness. His versatility is rarely mentioned but he could play blues, rock, rockabilly, country, jazz, classical and flamenco and on occasion fuse them all together. He was a true master of his instrument. Alvin was also a fabulous songwriter. My favourite, The Bluest Blues, is full of raw emotion and "Choo Choo Mama" I regard as a classic that stands alongside any of the great songs from the rock 'n' roll era.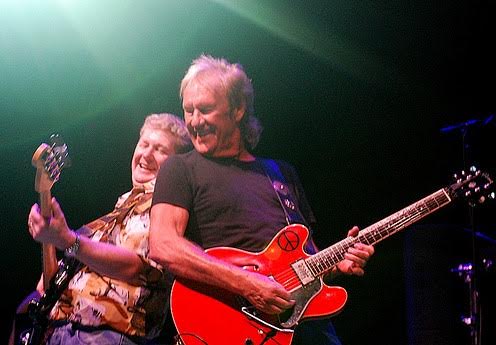 "Always the reluctant 'star,' Alvin shunned the limelight. Despite being encouraged to become more commercial and get on the media treadmill, he always declined and remained true to himself. There is no doubt he stood among the musical giants of his time and should be recognised as such.
But he had no time for the glitzy world of showbiz, politicians or the 'establishment'. I admired him for that. He lived on his own terms and never compromised. In that sense at least, perhaps he succeeded in his search for freedom. Alvin had a terrific sense of humor, and I still miss the witty emails and phone chats that would brighten my day. He was kind and generous with his time, happy to play on my solo album and always ready to give advice when asked.
"Alvin has left behind an amazing and varied body of work which will be enjoyed for generations to come. He was loved, admired and respected by fans worldwide, by his peers and all that knew him. He enriched my life immeasurably and I still miss him every day."
Chris Kimsey
Chris is widely and rightfully considered one of the UK's top recording engineers and producers. Alvin learnt so much from Chris while spending extra time working with him at the legendary Olympic Studios, after the recording sessions were finished for the day and the rest of the band had gone home. He is universally regarded as a wonderful and lovely man to top it off. (Evi)
'It is not widely known that Alvin was a successful recording engineer and producer in his own right. Alvin would invite me down to his home and he became a very special friend. He introduced me to the deeper sound of Hi-Fi via the amazing system which he had at the time; I had never heard anything like it. When Alvin bought Hook End Manor he built a studio with a Helios console and what he achieved with that was incredible. I used to live at his house for months at a time working on recordings. Alvin was the first musician I came across who really understood the technical side of recording equipment. He would hang around for a couple of hours after a recording session because he was genuinely interested in the different sound effects, mixings, consoles etc. to find out their values in a respectful way, not to dominate.
"Alvin learned many skills and became a very accomplished engineer and mixer; he made a superb job of recording one of my wife's songs and it was a joy to hear it. Alvin even established his own record label, Space Studios, and was Executive Producer for an album by a band he discovered called FBI (Funky Bands Inc) released in 1976. Alvin always had concerns about, and an eye for, what was happening in the world historically and the negative impact of the driving force of commercialism which were reflected in some of his lyrics. At heart he was a romantic, a spiritual person who enjoyed nature and loved walking. Alvin lived life to the full, enjoyed Sunday roast dinners with large groups of family and friends and overall he was a laid back chilled spirit.
"Alvin was a talented artist whose paintings adorned his homes. If a musician has art as another outlet apart from music (like Ronnie Wood), it helps to feed the mind and not to worry about the one thing everyone knows them for, their music. Art helps to relieve the constant pressure of having to write another song or to make a new album. Pressure can take the joy away from a person so I can understand how Alvin got into art.
"Alvin's role as lead writer for Ten Years After was a difficult tightrope for Alvin to walk, especially when you are also the lead singer and frontman trying to keep it all together and to share it. I am sure Alvin would have offered to share but as no one else really stepped up to write songs, the other band members were probably happy where they were. Ultimately, Alvin was an amazing musician, so why shouldn't he be able to break free from what must have become a musical prison and seek that freedom. However, fans don't always want something completely different and I think that is what happened with Alvin's solo debut, On The Road To Freedom which was so different for Ten Years After fans. But for Alvin it opened up a lot more doors not just for him but for his creative soul.
One of Alvin's most wonderful qualities was his ability to connect with so many other musicians, that endless list of people who made music with him: Albert Lee, Peter Frampton, Ronnie Wood, Mick Ralphs, Steve Winwood, and Jim Capaldi – to name a few. They all came to Hook End Manor and the scene was reminiscent of the early Nashville days of musicians getting together, having a great time jamming. Alvin embraced that and promoted it as well.
Alvin's legacy is people realizing what that legacy is. He made around 22 albums; he was respected by fellow musicians as well as by his fans; he was a great acoustic and electric guitarist who could play a broad range of styles; his pilgrimage to Tennessee to work with Scotty Moore, well how many achieve that in a lifetime? He is best remembered for 'I'm Going Home" but that was just one facet of a considerable repertoire of wide ranging songs such as the very special, beautifully crafted "Over The Hill."It was such a shocking moment when he didn't wake up from his operation. Above all Alvin did not have an ego; the only ego was his guitar. He loved and cared for everyone, especially Evi, Suzanne and Jasmin."
Leo Lyons
Alvin felt Leo was the closest thing he had to a brother. Musically he really credited Leo's ability to make an electric bass guitar sound as if he were slapping a stand-up bass. On stage Leo's presence added much to the band's appeal and it was exhilarating to see and hear the two front men interact. (Evi)
"Alvin was a great guitar player in his day and, most of all, a charismatic performer.
He was also like a brother to me. We shared so many of life's experiences together and I miss him. Most times we could not have been any closer but like brothers we often fought and, in the early days, sometimes physically. Four of my favorite songs show up regularly in requests I receive from fans. "I'd Love To Change The World," "Love Like A Man," ''Good Morning Little Schoolgirl," and "Woodchoppers Ball." Those songs for me represent TYA when the band was on fire and determined to take on the world. Recording Sssh and A Space In Time I enjoyed most of all.
"My earliest most vivid memories are of me, Alvin, our drummer Pete Evans, rhythm guitarist Roy Cooper and singer Ivan Jaye turning professional as the Jaybirds. In 1960 we left our hometown of Mansfield, Nottingham to seek fame and fortune in London. It was an exciting time. However, it was not the overnight success we all hoped for and, disillusioned, the band members aside from Alvin and I quit. It was to take another eight years, three drummers later plus the addition of a keyboard player and a name change to Ten Years After before we saw a glimpse of the success we'd always dreamt of.
"I'd like to think that later in his personal life Alvin found what he was looking for. Our musical goal was to be in one of the biggest bands in the world but when we were he didn't really want it. It was too much pressure. He felt uncomfortable having to play the music business game. We had many late night conversations over the years trying to figure out a life plan but he'd always change his mind. I hope in his passing he's finally found his Road To Freedom. I'll ask him when I get there and report back."

Tim Hinkley
Tim must be Alvin's most enduring musical collaborator and friend. They met rather early on in their respective careers and started making music together in the early '70s with the album On the Road to Freedom up until Still on the Road to Freedom. Tim always was and continues to be a frequent, well-liked visitor to our various homes, sharing his many memories and stories. (Evi)
"My relationship with Alvin came about because he loved my Hammond organ and keyboard playing and in the early days he wanted me to join his Nottingham band The Jaybirds but their road manager Chic Churchill became the keyboard player. I worked with Alvin in his own band and solo projects but my only involvement with Ten Years After was when I wrote most of the lyrics for "Going To Chicago" (from the About Time album 1989). The version on the album is the demo made by Alvin and myself, and the guitar solos are stunning; he was literally flying by the end, the wallpaper was coming off the walls.
"The lyrics were about Alvin himself and this is what gave the song and his playing such a high intensity. After all, this is the man who was brought up listening to blues and jazz so he knew about bands and improvisations like Woody Herman's "Woodchoppers Ball." I wasn't surprised that Alvin could soar on his red Gibson because we had performed together on the Best Of The British Blues Tour with Eric Burdon. I was playing Hammond organ with two huge Leslie units and I was roaring on it. Alvin kept coming over and yelling, YEAAAH because I could match him and that wasn't easy to do because when he got going he could really go!"
"When Alvin first came to London he was ahead of the game and introduced his fellow musicians to the names of blues artists which none of us had really heard of like Lowell Fulson and Big Bill Broonzy. Over the years we wrote a lot of songs together and we both loved George Benson's jazz guitar playing. Alvin had listened a lot to Charlie Christian and Django Reinhardt so that is where the bar was set for him.
"From the start of Alvin's breakaway from Ten Years After I was involved in his musical journey. Many people ask me what he was doing with Mylon Lefevre because it was such a diverse space for him to enter and he didn't know him. However, it didn't seem strange to me because I had heard Alvin sitting down playing acoustic guitar and singing little songs and there was no place for them in Ten Years After. So in came Mylon, one of the best hustlers I had heard in my life and suddenly Alvin has another place to go.
"The Rainbow Theatre concert in 1974 was a great gig because Alvin had such an accomplished group of musicians behind him including Ian Wallace, Mel Collins, Alan Spenner, Neil Hubbard and myself. Even the rehearsals and the jamming had been brilliant.
"For Alvin's Saguitar album I took my laptop with B3 software on it and a mini keyboard to his studio in Spain. I asked for three tracks and I laid down a left hand chord rhythm, a right hand chord and for the third track some licks and a solo. It sounded like a B3 and Alvin thought it was amazing that I could do that. Alvin's guitar hero was Elvis Presley's right hand man Scotty Moore, so it was no surprise when Alvin traveled to Memphis to record In Tennessee with the icon whose guitar had changed the world. Alvin asked me, 'That's not what I should be doing, is it?' and I replied, 'You're not a rockabilly guitar player, are you?' But you learn to play and to become the best by listening to other people, and that is what Alvin did throughout his life with Scotty, Big Bill Broonzy, George Benson and the rest.
"In respect of his legacy, Alvin will always be remembered for Woodstock and he lived with that, and he handled it fairly well. But it also got on his nerves and he often didn't want to talk about it. You can understand that because for him and the band it was just another gig but it hung over Alvin like the sword of Damocles. That's why he hung out with George (Harrison) Boz (Burrell) and me because we didn't give a xxxx about Woodstock we all just played music for the love of it. All the top guitar players, and he knew them all, Jeff Beck, Jimmy Page etc. all respected and thought highly of Alvin's guitar playing and were fans of his.
"Alvin and I had a wonderful relationship, we laughed a lot, we reminisced and we were friends who played music and wrote songs, and that's why we hung around together for over 35 years. We had regular phone conversations lasting for hours. I really miss him."
Going To Chicago
Lyrics by Hinkley and Lee
Goin′ to Chicago gonna play the blues,
Leavin' in the morning with my rock and roll shoes.
Ain′t goin' to no airport ain't gonna get no plane,
Lookin′ for my roots that′s why I take the train.
Goin' down to Memphis, nothin′ left to lose,
Take along my Gibson gonna play some blues.
String around my suitcase, pocket full of rye,
There's something ′bout the blues that always makes me cry.
Tired of getting nowhere workin' nine to five,
Got to get away so I can feel alive.
You′ve only got one life, that's what they say to me,
Time it is a wastin' when I should be free.
I′ve done a lot of talking, now it′s time to make a stand,
Instead of playing safe, I should be playing with the band.
You've got to keep on moving, you′ve heard it all before,
This time I'm gonna make it, won′t be back no more.
Tom Compton
Tom had the biggest drum kit in his car Alvin ever had seen before (or since) when he turned up for the audition. And boy did Tom know how to make it sound even bigger! Alvin at times turned around on stage and got the impression that Animal from the Muppets was whirling behind the kit. (Evi)
"Alvin's musical history is well documented so my thoughts are my memories of being on the road during my seven years as his drummer. I joined his band in 1977 and my first big gig was touring the States. Alvin was the best tour host and we had some great times.
"Every town we went to I saw from the best seat in the house behind my drums the warm welcome that all those great people gave Alvin. He used the adage 'We play for free and get paid for traveling.' So true! Those were exciting times on the road, leaving on the tour bus and ploughing our way through hotels and airports in merriment; the vibes of those audiences stayed with us.
"I had been in contact annually with Alvin and was hoping to meet up sometime and was planning to go to the Johnny Winter /Alvin Lee Paris concert scheduled before Alvin had passed in 2013. It is sad too that Johnny died in 2014 and recently Kim Simmonds, all players I had played with and respected well. It seems I'm one of the few with the stories left to tell. They were all part of a music era never to be repeated, and true pioneering rock legends like Alvin and his legacy are much appreciated for all in the future."
Pieter Kentrop
Lifelong fan Pieter Kentrop from Norway speaks on behalf of loyal fans across the world with this personal eulogy:
"I would not be the same person I am today if it was not for Alvin Lee and the wonderful inspiration he gave me. There is not one single day that I don't have Alvin on my mind at some point. They say time heals everything but he is missed each and every day. As a fan, from 2005 until the last show in 2012, I only missed three of his concerts! What Alvin left behind are many great songs that often sent out wonderful lyrical messages while his dazzling guitar play went like a rope through those songs.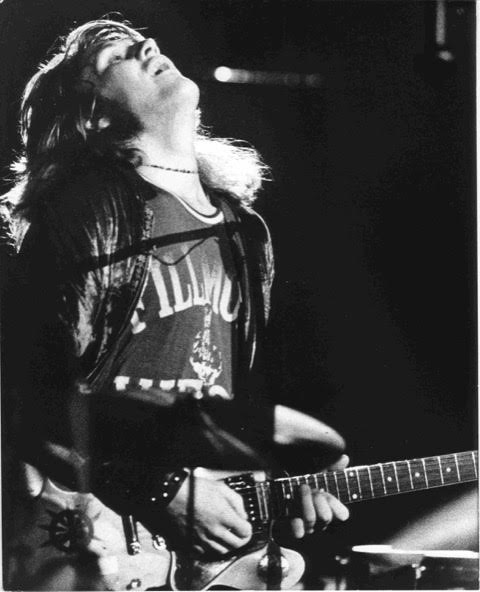 "Alvin was not easy to get close to but one day I was touched and got a lump in my throat when he agreed to my request by playing "It's Time To Play" from the Saguitar album live at the Olympia Paris on 25 March 2008, and addressed me personally through the microphone from the stage so all in the Olympia could hear it. My favorite song is "Going Home" of course but here are others I love very much: "Rock and Roll Music To The World," "Circles," and "Don't Give A Damn."
Alvin when he was alive was pretty direct and fair and I think he found already his road to freedom as soon as he left the then very credible Ten Years After.
"Because of his concerts I have seen many great countries and cities and met fellow fans, and we have kept in contact. A handful of us traveled to his concerts. Alvin even called us 'The Gang'. I still miss those days and traveling because there will never be more of those wonderful concerts of Alvin."