moe., a band credited with advancing the jam band movement for more than 30 years, is currently on tour and celebrating the return of guitarist Chuck Garvey who suffered a stroke in November, 2021.
Keyboardist Nate Wilson, the newest member of the band, became a full time member of moe. while Garvey was recovering from his stroke. Replacing the guitarist with a keyboardist might seem like an odd idea. "I think they thought about throwing me in the mix to see how I went," says Wilson, "and also to give it something different than just a one-for-one replacement of what Chuck does. So, they wanted to do something slightly different than recreating what the band does without Chuck."
Wilson explains his view of the incredible improvisations that moe. is famous for. "There's tons of improvisation. There's some songs that are tight and played mostly the same each time, and then there's vast sections of songs with no script. There's listening – a lot of having good ears – and the right mentality. And also being able to connect with the band on a personal level is a huge part of it.
"Some of our music is very progressive and sort of challenging. Some sections are technical and others are rock and roll, and I'm a huge fan of rock and roll music – all kinds of classic rock and roll. We have a lot of that in our music, too. There's no compromise."
Wilson is a New England Conservatory of Music graduate with a history of working as a freelance and session musician, appearing on stage and in the studio with Chuck Berry, John Scofield, Peter Bernstein, Stephen Perkins of Jane's Addiction, and members of Phish and the Allman Brothers Band.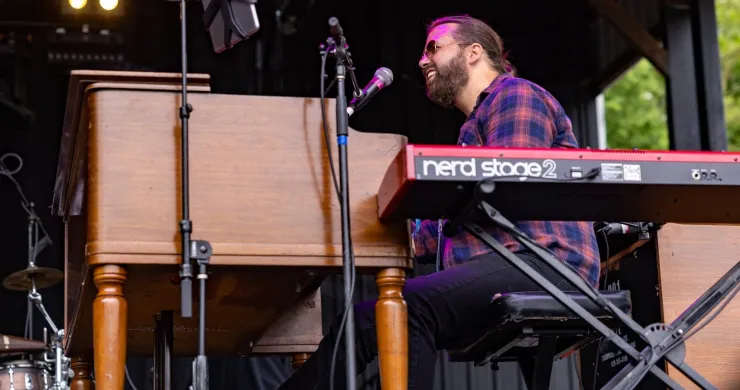 Wilson certainly has the chops to make a welcome addition to their sound that's always been way beyond mere variations on a theme. "I think their music covers a pretty wide spectrum of stuff. It's definitely evolved through each album. As far as my background, I played in some bands so I understand and know the mentality of that scene.
"I play a lot of different styles. I do a lot of classical and jazz when I was learning the material and getting up there and having a good time, listening and seeing where it goes, and that's kind of what the audience wants. They want a new experience every time. They want spontaneity to happen, and if you have good ears and know good music, you can get up there, and it's not that different as long as you know the material.
"Like other bands I've played in, I've sat in with them numerous times in the studio. So, I've known them a long time, particularly Rob, the bass player, singer and songwriter. He and I had a side project for a while. We played together every Monday night for a couple of years. This was a long time ago. So, I know those guys pretty well.
"We have a similar sense of humor. Nobody takes themselves too seriously. Everybody is happy to make fun of themselves. We have a good time. I think everybody is hilarious in the band.
"Part of the reason they've been able to play for 30 years is just that they don't have any personal conflicts in the band. They're all just guys who get along pretty well. It's pretty amazing. I've been part of a lot of different groups, and it's testament to why we've been able to do it so long."
moe. Tour Dates:
Thursday, March 9th – Brooklyn Bowl – Nashville, TN
Friday, March 10th – Mars Music Hall – Huntsville, AL
Saturday, March 11th – Minglewood Hall – Memphis, TN
Sunday, March 12th – Vinyl Music Hall – Pensacola, FL
Wednesday, March 15th – Music Hall – Charleston, SC
Thursday, March 16th – The Plaza Live – Orlando, FL
Friday, March 17th – Culture Room – Ft. Lauderdale, FL
Saturday, March 18th – Jannus Live – St. Petersburg, FL
Sunday, March 19th – PV Concert Hall – Ponte Vedra Beach, FL
Tuesday, March 21st – Lincoln Theatre – Raleigh, NC
Wednesday, March 22nd – Jefferson Theatre – Charlottesville, VA
Thursday, March 23rd – The Orange Peel – Asheville, NC
Friday, March 24th – Variety Playhouse – Atlanta, GA
Saturday, March 25th – Variety Playhouse – Atlanta, GA
Friday, April 14th – Higher Ground – Burlington, VT
Saturday, April 15th – Higher Ground – Burlington, VT
Wednesday, April 26th – Cain's Ballroom – Tulsa, OK
Thursday, April 27th – The Echo Lounge – Dallas, TX
Friday, April 28th – Paramount Theatre – Austin, TX
Saturday, April 29th – Tipitina's – New Orleans, LA
Sunday, April 30th – Tipitina's – New Orleans, LA
Tuesday, May 2nd – JJ's Live – Fayetteville, AR
Wednesday, May 3rd – The Truman – Kansas City, MO
Thursday, May 18th – Brooklyn Bowl – Brooklyn, NY
Friday, May 19th – Brooklyn Bowl – Brooklyn, NY
Saturday, May 20th – Brooklyn Bowl – Brooklyn, NY
Thursday, May 25th-Sunday, May 28th – Summer Camp Music Festival – Chillicothe, IL
Friday, June 9th – Saranac Brewery – Utica, NY
Saturday, June 10th – Saranac Brewery – Utica, NY
Friday, June 16th – Red Rock Amphitheatre – Morrison, CO^
Saturday, June 17th – Red Rock Amphitheatre – Morrison, CO^
Thursday, July 13th – Saturday, July 15th – 4848 Festival – Snowshoe, WV