The passing of Moody Blues drummer Graeme Edge in November, 2021 effectively ended a more than five-decade run of a band that first married rock and classical music in a lush orchestrated sound that sold millions of records by creating what would eventually be called prog rock. It was Graeme's voice you hear on the original recording of "Breathe" on the band's Days of Future Passed album reciting poetry that sounds like it's coming from God speaking to Moses from the mountaintop.
"I went to see Graeme when I was thinking of doing the live concert, and I told him what I wanted to do," says the band's bass player John Lodge, currently on tour with a group he calls the 10,000 Light Years Band that includes lead guitarist Jon Davison from Yes.
"I said, 'Graeme, would you record the poetry for me?' And so, he recorded all the poetry for me. He said to me, 'John, go for it. I never recorded my own poetry. It'll be wonderful to be on stage,' and unfortunately he passed away before he could see the show."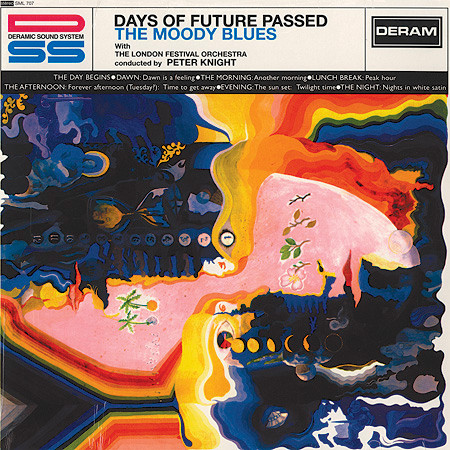 Lodge reprises the entire Days of Future Passed album with his new group during the second set of a concert I caught at The Cohoes Music Hall in New York's Capital District. A recording of Graeme's famous recitation of fantasy laced poems is included in the presentation.
"I love the romance poets," Graeme told me in 2012. "I love Keats, Byron, and Elliott. Elliott's not really romantic, but I love him and Wadsworth. We were in the course of making Days of Future Passed.
"The band was in a Volkswagen with two seats and all the equipment on a three and a half hour drive from London to Carlisle. I split open a pack of Player's Cigarettes and used that as the parchment and wrote it on the way up there. It really was supposed to be the lesser-known section of it which is 'Morning Glory' ('The Morning: Another Morning') that I wrote it for, but it kind of took off on its own on 'the cold-hearted orb' part I wrote.
"It came to me as these things often do. When we go into the studios, the idea was I was writing the lyric and hoping those who put music to it would make it into a song. I read it to them, and they said, 'Fantastic! Love it! Perfect! But there's no way to make it into a song. There's way too many words. If you made that with a melody line and everything, the whole thing could take about a half hour.'
"So, I thought, 'Oh, yeah,' and (producer) Tony Clarke, bless his heart, said, 'Well, listen. I'll just go over there and play some chords,' and he did. I spoke over it again, and that gave him the idea to use (the orchestra leader) Peter Knight to record an overture or backing behind it, and (guitarist and singer) Mike Pender who at the time smoked more cigarettes and drank more whiskey than my tonsils had, so he had a better, deeper, more raspy voice. He spoke it for me. It developed more by accident than by design."
So, The Moody Blues had sequestered for a week ostensibly to record music and lyrics that would augment The London Festival Orchestra's recording of the Dvorak's New World Symphony. When they finally came out of the closed session and played the result, they had created a product that had nothing to do with Dvorak.
"We decided not to use Dvorak's symphony," explains John Lodge. "We just decided to use our own songs. We didn't tell anyone. We had a seven-day a week lockout in the studio, and at the end of the week we sat down with some huge speakers in the control room in the studio. We invited all our friends, girlfriends, and record executives to the playback. And to be honest, the record company was not impressed. They didn't know who to sell this record to."
More than half a century later, Days of Future Passed is regarded as having opened rock and roll to an eclectic marriage with classical music. Technology has advanced to the point where the 10,000 Light Years Band Lodge brought to the Cohoes Music Hall attempts to duplicate the sound of the symphony orchestra that we hear on the original recording.
For almost six decades, The Moody Blues have faced the conundrum of trying to duplicate that sound of a full orchestra. An electronic device called the mellotron comes close.
"We've got lots of keyboards, and obviously we have a computer-generated orchestra which will be augmented by the band on stage," explains Lodge. "Actually, we have a new digital type of mellotron. You can dub all these things, and it's brilliant."
At times during the concert it seemed like the sound of the electric guitar and bass were overpowering the mix, and Lodge's voice is no match for that of Justin Hayward.
"The mellotron was what gave us the ambition to write songs like 'Nights in White Satin' having that ability of that total variation," Graeme told me. "You have to remember there was an electric piano and electric guitars, and that was it. And suddenly having all of these sounds that we'd all heard all our lives available to play on stage just broadened our ambitions and broadened our horizons enormously.
Then, he laughed. "We pulled 'Nights in White Satin' off possibly because we were too stupid to know that you shouldn't be able to do it."