A mainstay of American roots music for more than 30 years, Michelle Malone has built an award-winning career as a singer, songwriter, and road warrior. Her music is ingrained in the soundtrack of the American South, mixing the rebellious stomp of roadhouse rock & roll with the raw grit of blues, the holy-rolling rasp of gospel, the slow-motion sweep of country-soul, and the organic warmth of folk music. Proudly based in Atlanta, Georgia, she spends much of her time on the move, regularly crisscrossing the country to play 200 shows annually.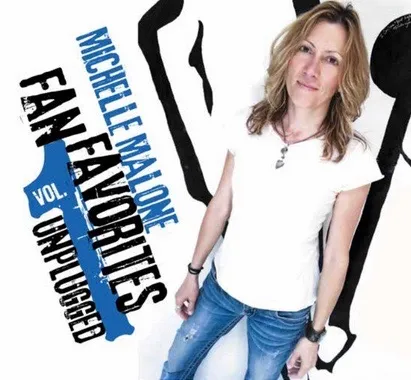 With Fan Favorites, Vol. 1 Unplugged, Malone revisits more than a dozen songs that have become staples of her nightly gigs. Recorded with guitarist Doug Kees, it's an acoustic album that trades the amplified dynamics of Malone's studio work — a catalog that has been lauded by Rolling Stone for its "soulful ballads and rowdy, riffy blasters" — for a stripped-down sound that nods to Malone's musical roots. Raised on the sounds of late-1970s folk singers like Neil Young, Linda Ronstadt, and Jackson Browne, Malone strummed her first chords on an acoustic guitar long before she plugged into an amplifier. Fan Favorites marks a return to those acoustic days, with Malone reinterpreting songs like "Strength For 2" (originally from 1995's Homegrown) and "Feather in a Hurricane" (from 2005's Debris) with help from her longtime touring partner.
The idea to record new versions of older songs arrived during the Covid-19 pandemic. For years, Malone had been making a living on the road. Her talents as a live performer — the show-stopping vocals, the slide guitar solos, the storytelling — had previously earned her the attention of music industry legend Clive Davis, who signed Michelle to her major-label record deal with Arista long before she launched her own label and kickstarted her journey as a do-it-yourself independent. Performing in noisy bars sharpened those talents, with Malone learning to rise about the room's clamor with her music. The New York Times rightfully hailed her as "the kind of singer and songwriter who can jolt things into overdrive," while artists like Gregg Allman, Shawn Mullins, and the Indigo Girls all became not only fans of her work, but collaborators, too. Then 2020 happened, and Malone's touring was brought to a halt.
Stuck inside for the majority of the year, Malone wrote and recorded a new album, 1977. She also began performing acoustic guitars in her living room, live-streaming them to audiences across the country. Old fans tuned in. New fans were made. Along the way, she received numerous requests for the songs that eventually found their way onto Fan Favorites, Vol. 1 Unplugged. Those songs were, in essence, her greatest hits, and they sounded every bit as vital in her living room — where she strummed them alone, on acoustic guitar — as they did with a big, plugged-in band. Inspired, she recorded Fan Favorites with fellow road warrior Doug Kees, tossing a gorgeous cover of Fleetwood Mac's "Songbird" into the mix, as well.
"There are a couple of blues-influenced songs with slide guitar," says Malone, who produced the album. "There's some pop. Some folk-rock, too. There are moments that sound like Little Feat. We wanted everything to sound honest and organic. Adding production to a song is like dressing it up. You can dress it up in a party gown or in a t-shirt and jeans, but the song itself has to be good. With this album, the songs might as well be naked."
Arriving on the heels of 1977 — an introspective album that mixed autobiographical songwriting with character studies — Fan Favorites, Vol. 1 Unplugged celebrates Malone's past while shining new light on her present. It's not just a victory lap; it's a rebirth, too. Originally written on the acoustic guitar, these songs have come full circle, performed with renewed vigor by a highway queen who's ready for the next leg of the journey.
Living up to its title, Malone's raw energy is captured as she blows through the song the way life can sometimes make you feel: like a feather in a hurricane. She explains: