Every so often the stars align to make a gig so memorable and special that it becomes etched in the memory for a long time to come. Holy Moly & The Crackers' stunning show at The Boiler Shop on Record Store Day falls into this category with the triumphant return of Tyneside's favorite band to the epicenter of England's burgeoning roots, rock and alt pop scene. This celebratory coming together is down to several factors including the city, the venue, the band and the fans.
Newcastle and its surrounding areas are the equivalent of America's 'Rust Belt' region with its economic downturn as traditional manufacturing industries declined and were replaced by widespread unemployment. Fortunately, the reversal is well underway, optimism has returned and Newcastle, like its US counterparts, whilst continuing to struggle has reinvented itself with new service industries and technology. Music is an integral part of this healing process, typified by a plethora of performance venues big and small, each of them packed to the rafters on Friday and Saturday nights.
The most iconic of these is The Boiler Shop, a 200-year old warehouse where George Stephenson built the first public passenger steam locomotive. Who could have predicted at the time that it would become an entertainment space accommodating 1000 people generating even more heat, noise and excitement than was originally intended?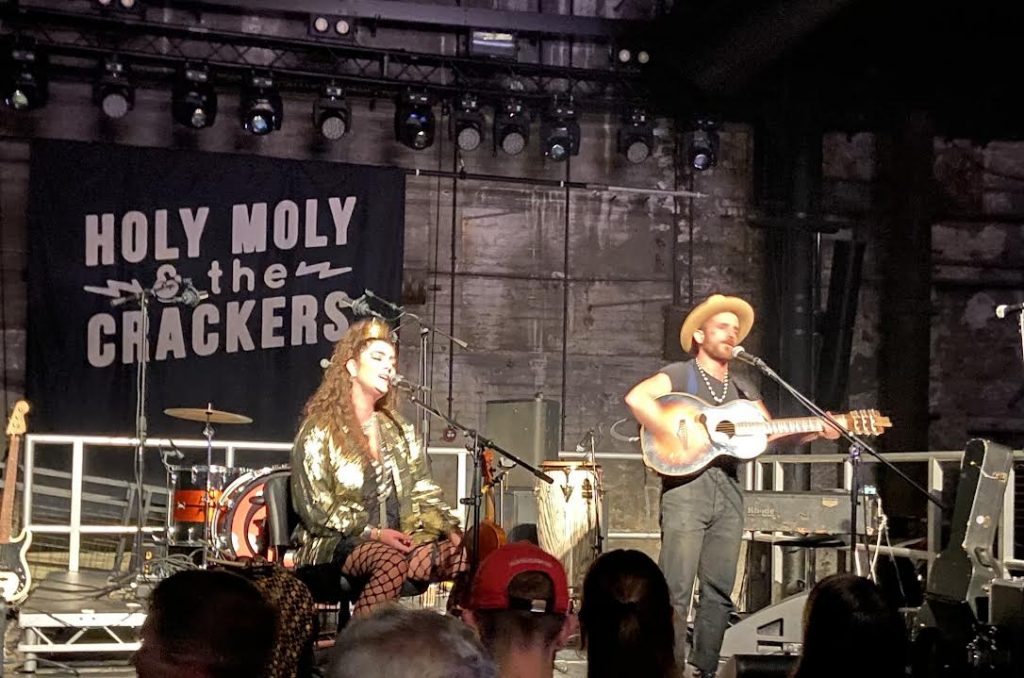 Mike Hodges, the director of the classic gangster movie Get Carter described Newcastle as visual and visceral, looking more like Chicago or New York than a British city. "There were those extraordinary bridges and the other element was the huge ships, which were a kind of architecture in themselves. The river was just amazing: hard, and rusty."
Before the show, band co-founder Ruth Lyon and drummer Tommy Evans talked to American Blues Scene about their lives here in Newcastle, their fans and the forthcoming concert.
"Many of our influences come from living in Newcastle upon Tyne which is a great city full of creative people. That is why we love it. The whole scene is incredibly supportive of everybody else. What we love to see travelling around different cities and spaces and wider communities of artists is that there is no rivalry on the Newcastle music scene. A win for one is a win for everyone and that bolsters us. Sometimes half of our audiences can be other musicians supporting us which is really special. It gives us all a network we can tap into and share, such as contacts, business advice and even instruments and other equipment.
"When we arrived in the city over a decade ago one of the first musicians we met was Rob Heron who had already started gigging and he helped us to find promoters and gigs. The bridges alone in Newcastle are marvelous as is the quayside with its bars and local characters. The connections with the international music center Sage Gateshead across the river have provided many opportunities especially in respect of our respective solo careers.
"The fans play an important part. We have a very supportive crowd that is always pushing us and that's important because a lot of bands get stuck a bit as their fan base only want them to write and play the same kind of songs. Our fans tell us they can't wait to see what we come up with next. That's quite unusual and is what really spurs us on as we want to surprise people and write the next chapter whilst retaining some of the character we had previously.
"With regard to the Boiler Shop gig, it will be the biggest show we have done and in many ways it feels surreal; we are very excited. Buffalo Skinners are our best friends. We did our first tour with them and have lots of memories from that. And of course Rob Heron And The Tea Pad Orchestra will be there too and we have a few surprises in store such as guest performers. It will be a huge celebration after so many different chapters in our journey. We can't wait to see everyone again and to gauge the responses from the audiences and to feel what it likes to play the new songs live from our latest album. So it will be a big family occasion which will help to calm the nerves."
When co-founders of the band Ruth and her husband Conrad Bird emerge from the shadows onto the stage the near capacity crowd erupts into a cacophony of cheers and whistles, unparalleled since the symphony of steam signaled the locomotive spluttering into life two centuries ago!
Within seconds, there is complete silence as the duo start an emotionally charged rendition of "Come On Down" with its poignant lyrics about Conrad's friend who died of cancer. 'I've been waiting for you to come on home/The night rolled in you were gone, the moon was burning red/I wish I'd said I love you and it's something I'll regret.' The chemistry between Ruth and Conrad is central to the band's success as it underpins everything. They trade lines of the song alternately in soft, gentle tones until the grief is too much to bear.
Con's acoustic guitar complements the equally sumptuous violin strings, and the vocal harmonies are as one. It is an inspirational start and with composure restored the tumultuous applause recommences as Rosie Bristow, the third co- founder, leads the rest of the band onto the stage. The charismatic accordion player, percussionist, singer and songwriter contributes significantly by enhancing the overall sound and making it distinctive. She is unique, unless there are other talented musicians around who are also fashion designers, regenerative textiles farmers and circus performers!
"Solid Gold," the title track of the widely acclaimed latest album and first live performance of the song to a home audience is an immediate hit, its compulsive heavy rhythm and memorable riffs setting the scene for the gold rush to follow. Tommy Arch justifies his reputation as one of the UK's most respected drummers, laying down solid foundations to underpin his considerable flair and versatility. Given the band's assortment of genres, styles and at times complex arrangements, these qualities are crucial. It takes an equally competent bassist to complete the rhythm section, a role admirably filled by Jamie Shields.
The first indication of Americana influences is "Skyline Drive," written in Texas, with its searing six string solos from Nick Tyler and clever echo effects. This propels Holy Moly into overdrive and shows how the band's sound is evolving with its audacious vocals, soaring chorus lines and late '60s anarchic psychedelic finale. It also confirms a subtle transformation of Nick's evolution as a guitarist with the skills and confidence to make a big name for himself.
A step back in time to the 2017 Salem album brings the popular "Let Go" into the mix, the regal and resplendent Ruth continuing to orchestrate the whole group from center stage. The hard driving, knock you out, rocking blues. "Cry Wolf" with its intro of pounding tom-toms and fuzzy guitar riffs takes listeners on a thrilling roller coaster ride through the spookily weird and frightening world of wolves at midnight. The glorious backing vocals create an ethereal vibe on "Wide Sky," Rosie increasingly sharing main vocals with Ruth. The instrumental, "River Neva" introduces a broader geographical dimension with its jigs and Cossack-dancing phantasmagorias, Rosie's melodious accordion contributions simply breathtaking.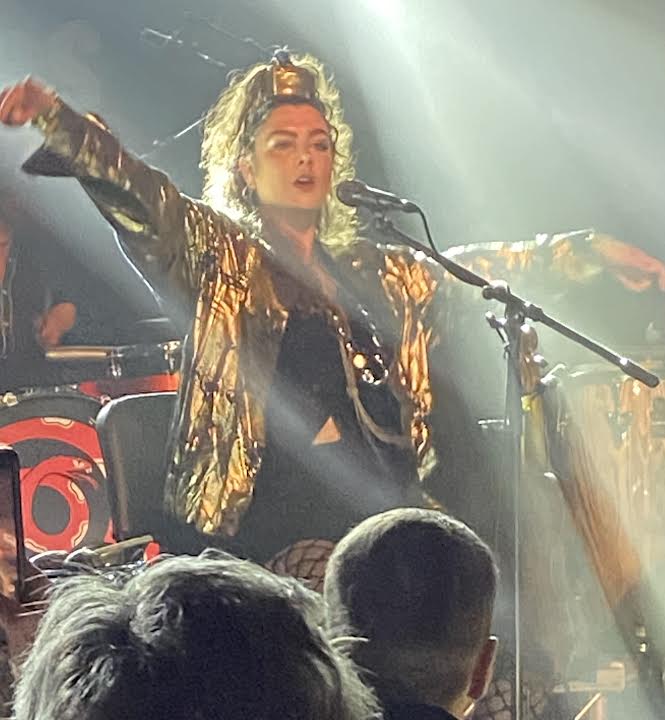 Ruth is on top form tonight and encourages fans to join in, at one point the entire audience replicating her swirling 'snake charmer' arm movements. "Like A River," inspired by Bob Dylan, enthrals and engages the listener with the repetition of the line 'she moves just like a river." The high energy "Hot Red" and "Angeline" enter the lexicon of what will become firm favorites for years to come judging by the fans' reactions. The anthemic "Naked In Budapest" confirms that 'We're not going home', so no one is going anywhere just yet. Well, not until after the multi-million streamed Oceans 8 soundtrack blockbuster "Cold Comfort Lane" which brought the band international approbation.
A sublime songwriter, Conrad understands the dramatic effect of lyricism, and performing his work requires extraordinary skills which are evident on the first of two encores, "Give Me A Hammer," another haunting melodic duet with Ruth.
Tyler's screaming guitar phrases are brilliant as he complements Rosie Bristow's killer squeezebox grooves on "Upside Down" inspired by travelling circuses. This keeps the fans rocking through until the end, Rosie defying gravity with her contortions. At this point the party continues and even steps up a gear with Buffalo Skinners, Rob Heron and the orchestra returning for the final showdown before the carnival ends with a spectacular flourish of light and sound effects.
Twelve years ago Holy Moly & The Crackers were an acoustic trio playing at house parties and village halls and pubs. Tonight proves that what they can achieve in the next decade has no limits and is potentially mind-blowing. The next chapter has started.
Additional Reporting by Tom Bolam