Harold George Belafonte, Jr., prolific musician, actor and social activist instrumental in the civil rights movement, and ultimately the passage of the Civil Rights Act, has died. He was 96. According to his longtime spokesman, Ken Sunshine, the cause was congestive heart failure. 
Belafonte was dubbed the King of Calypso for popularizing a Caribbean style in the 1950s, and is perhaps best known for singing the "Banana Boat Song." A call-and-response work song, it's from the point of view of underpaid dock workers. Daylight has come, they want to go home, and they are begging the tallyman to give them an honest count. As the lyrics depict, sometimes these workers were paid only in rum.
Though born in Harlem, Harry's mother sent him to her native land Jamaica when he was a child. He returned to Harlem as a teenager at the dawn of World War II. Finding it hard to adjust to life in the states, he dropped out of high school and enlisted in the Navy.
After his honorable discharge, he worked as a laborer until starting his career as an actor. He studied his craft in the Dramatic Workshop of the School of Social Research. He later became the first African-American to win an Emmy for his 1959 TV special Tonight With Belafonte, and also won a Tony award for acting and appearing in several feature films.
Joining the Civil Rights Movement in the '50s, he became one of Martin Luther King, Jr.'s most trusted friends.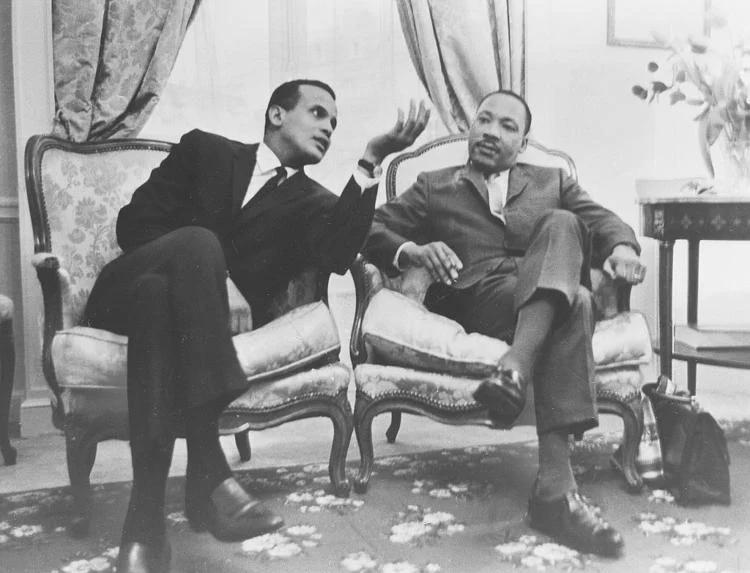 Shortly before his assassination, MLK said to Belafonte: "I have come upon something that disturbs me deeply. I've come to believe we're integrating into a burning house. I'm afraid America may be losing what moral vision she had." Belafonte had organized, raised money, and contributed his own funds to keep the momentum going.
In 1985, Belafonte helped orchestrate the recording of "We Are The World" to raise money for Africa. The GRAMMY-winning song featured giants such as Smokey Robinson, Tina Turner, Bob Dylan, Willie Nelson, Stevie Wonder, Ray Charles, and more. In 1987, he received an appointment to UNICEF as a goodwill ambassador.
After recovering from prostate cancer in 1996, he advocated for awareness of the disease. Having won three GRAMMYs in the '60s, Belafonte won a lifetime achievement GRAMMY in 2000. In 2002, Africare awarded Belafonte the Bishop John T. Walker Distinguished Humanitarian Service Award for his efforts to assist Africa. The American Association of Retired People (AARP) named him one of nine recipients of 2006 Impact Award.
"I've always looked at the world and thought what can I do next? Where do we go from here? How can we fix it? And that's still how I look at the world, because there is so much to be done," he said in the documentary Sing Your Song, which debuted at Sundance Film Festival in 2011.
Belafonte continued to take the occasional acting role, appearing in BlacKkKlansman, the 2018 Spike Lee movie. Belafonte is survived by his third wife, Pamela, and leaves behind four children and five grandchildren.