"Circus," the new video from Ralph Beeby & The Elephant Collective, casts an unsettling pall. Definitively dark, as are most of the songs on his new album Magnolia Smoke, the song twists the blues in eerie ways to create a vibe that lurks somewhere between a bad omen and outright creepy.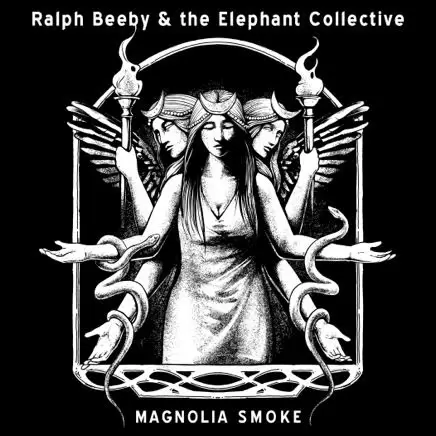 "There's a few different stories and songs that use this trope of a sinister figure," Beeby explains. "The notion of 'he's coming, he's coming, watch out, he's on his way.' Like the movie adaptation of Something Wicked This Way Comes – that theme where the carny arrives in town and you can tell something's not right from the get-go.
"You can feel it in places like Stephen King's The Stand or 'Red Right Hand' by Nick Cave; this sense of evil on its way. I wanted to tap into that. The lyrics keep referring to this unnamed person, 'Can you hear him calling? The animals can smell when he's near.' The notion that it's an unseen evil just builds that unease."
Shot from an extremely up-close perspective and entirely in black and white, the video shifts back and forth from Beeby's hands playing guitar, drums and percussion to even further up close shots of his mouth and teeth. "There's something inherently uneasy about the up close shots of teeth. We were going for something quite visceral and when you disembody the mouth and isolate that, there's something quite unsettling about it. And we emulated the look of vintage black-and-white footage to enhance that feeling of being trapped in a bad dream."
While "Circus" walks well outside the traditional blues mindset, it's yet another example that the blues is an ever-expanding universe.