I've been told that one of the reasons the Delta is such a hotbed of blues is because life is simpler there. Artists have more time to activate their muse. If that's true, New York City would have to be considered the yin to that yang, and Suzanne Vega, one of the first artists to emerge from the fast folk movement in the 1980s, should be the last artist to be interviewed in a blues publication.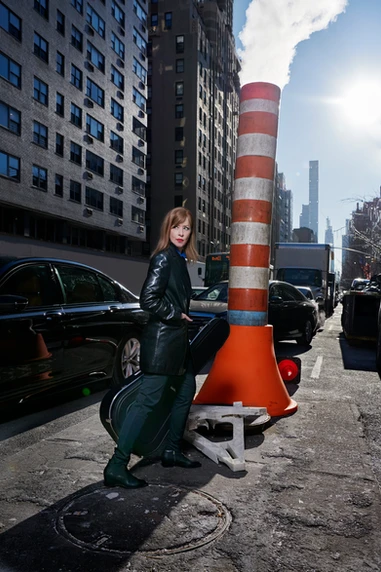 Contrary to the view expressed above, Suzanne considers The Big Apple a fertile source of inspiration. "You're so jammed up against somebody else. You go to the grocery store. You walk down the street. You go to the park. You go on the subway. There's something to look at. There's somebody else in your face. So, that's very provocative.
"You look at people. You wonder what's going on. What are they thinking about? What are their lives like? So, I find it provocative, and I think it's also informed my sense of humor.
"I can't tell you exactly, but there's just a very New York sense of humor, a sense of shared culture, a sense of history here, especially for people of a certain age, people who remember the '70s, the whole rock era, the whole new wave era, clubs and all that stuff, fashion…
"So, I find little that has hindered me from living in New York. There are times when I need to get away and then I come back. So, I can't think of any hindrance."
The very word blues connotes trouble and heartache. The best blues offers a catharsis promising a release from blues. Suzanne Vega's best-known song "Luka" is about an abused child.
There is precious little catharsis in the song with its lyric:
Unlike blues, there is no catharsis. The last lines are:
Unlike the initial folk movement in the '60s, Suzanne's fast folk hit "Luka" was written in 1987, a year after she met rocker Lou Reed whose often edgy songs had a bite to them, a bite that inspired Suzanne.
"Lou was always telling me, 'You need to be more real.' So, he really influenced the song 'Luka,' which is a very real song about a real situation. It's about something that happens to people constantly. There's no metaphor. It's the blunt truth. I don't spell out. It still has an element of the monologue, but that's probably the most clearly influenced by Lou's songs. He's a great songwriter – at his best, not always, but at his best.
"He wrote in different perspectives, some of them female. That Berlin album was mostly acoustic music, and he was writing the most vicious songs about domestic violence and about drug abuse in this whole world, and I thought, I've never heard anything like this. I mean edgy folk – like Leonard Cohen or Phil Ochs. It was written like that.
"It was brutal, and I was very drawn to it as I felt that was sort of the world I came from. I grew up in East Harlem, and we were evicted from our previous apartment. Yeah, so there's a whole world out there that I realize I could write about.
"Patti Smith could be brutal in her writing, but it was more like a spiritual quest that she was on to break through layers of consciousness. I didn't want to go there. I was more drawn to Lou's world of real people.
"You listen to his music, and you would think he was encouraging heroin use or violence, and even himself on any day he could be kind or the very opposite. He could be very cool on a dime (She snaps her finger) like that. So, it was never a comfortable friendship.
"I met him in 1986, I think. If you're interested, I think we met the first time on a show that was called 120 Minutes. You can still get it on YouTube. Just put Lou Reed Suzanne Vega 120 Minutes, and you'll see a very young me meeting Lou and totally losing my cool; it's kind of amusing. I didn't realize he was going to be doing the interview, and they said, 'Well, Lou is doing the interview,' and I said, 'What? Lou who? Like Lou Reed!? Seriously? He's doing this 20-minute interview with me? Like no one told me that.' And then I had to walk in and do this thing.
"So, he decided to ask me what GreenPeace was all about. And I didn't know I was going to be quizzed like that, and I invented some stuff. Well, you'll have to watch it and see, but he coolly takes off his sunglasses and schools me on what GreenPeace is all about, you know, very articulately. He had a lot of attitude, but he was very gentle about it, and we became friends after that, and we remained friends until the end of his life."
Patti Smith was another strong influence on Suzanne Vega. "I was raised in a family that encouraged music, and my mother had encouraged me to listen to female singer/songwriters growing up, and I found plenty of them. When I was 13, the songwriters of the day: Carole King, Laura Nyro, Joni Mitchell, and of course Patti Smith. There was Chrissie Hynde of The Pretenders. So, everywhere I looked, I found women songwriters. So, I felt I knew where I fit into the pantheon of women songwriters at that time. I felt I was sort of the left of Joni Mitchell and to the right of Patti Smith. 
"Lenny Kaye (one of Pati Smith's key co-conspirators) was one of my first producers, and he's still a great, great dear friend. He played a real spiritual role on all the albums, and he continues in my life. In fact, he makes me feel I have a kind of cousinship with Patti Smith because of my connection with Lenny Kaye. I've tried to explain this to Patti…"
Suzanne is currently on tour in the United States. "It's very small. It's me on guitar and my musical director Jerry Leonard on guitar. Jerry Leonard used to be the musical director for David Bowie. He's from Dublin, Ireland, so he has a wide variety of approaches to music as do I. We can do a fully produced version of 'Tom's Diner.' We can still do 'Blood Makes Noise,' and we can also do really, really folky simple arrangements if a song requires that. So, it's a mixture of everything. It's songs that a lot of people know like 'The Queen and The Soldier,' Gypsy,' and 'Caramel,' and then I usually put in a couple of new songs if I have them. So, we've been doing one or two new songs."
Even though she's in the middle of touring, Suzanne says she's also on a creative surge. "I'm deep in the throes of writing a bunch of songs. They're sort of halfway done. So, the newest song I've written is about the situation in Ukraine. It's a very simple song about the town of Mariupol. So, that's the latest thing I've written, I have this (gambit) in the middle of trying to get all these things done. So, I'm in the middle of it. I can't really tell you how it's going to end up, but that's what I'm doing right now. Just writing, writing, writing, writing songs."