The National were a band on the brink. By the end of 2019, Aaron Dessner felt like the wheels were falling off. To listen to him describe it, the catalyst seems more attributable to exhaustion than turmoil. Fast forward through the pandemic and Matt Berninger was in the throes of writer's block. Perhaps the band had run its course? Or perhaps it merely needed the knowledge and experience of difficult times and challenging circumstances to rekindle its creative flame. A Phoenix rising from the ashes or, if The National's latest album title reflects its own self-awareness, a band rising from the dead. 
The First Two Pages of Frankenstein is The National's ninth studio album and arguably its best collection of songs on any single album. It's a soft, airy, and tender album, with largely introspective lyrics that tackle the emotional rollercoaster of life itself. Love and pain. Melancholy and hope. Time will only tell if it can achieve the acclaim of Boxer, High Violet, and Sleep Well Beast, but there is no mistaking that this latest addition to the band's discography is a reminder that full-length albums still matter in a digital world that largely focuses on singles.
Although several singles from the album have been released, including "Topic Morning News," "New Order T-Shirt," "Eucalyptus," and "Your Mind is Not Your Friend," the album is not defined by them. There are no lulls or filler here, but rather a beautifully produced and masterfully executed collection of eleven songs that simultaneously stand on their own yet shine together. The First Two Pages of Frankenstein is also confirmation that The National is not a band whose flame is fading, but rather burning brighter than ever. As evidenced by their recent performances in Chicago, that flame is also hotter than ever.
The band, consisting of Matt Berninger (vocals), Aaron Dessner (guitar, piano, keyboards), Bryce Dessner (guitar, piano, keyboards), Scott Devendorf (bass) and Bryan Devendorf (drums), kicked off their latest tour with four sold out nights at Chicago's historic Auditorium Theatre. The band's excitement and energy were palpable, as were those of the wildly enthusiastic crowd.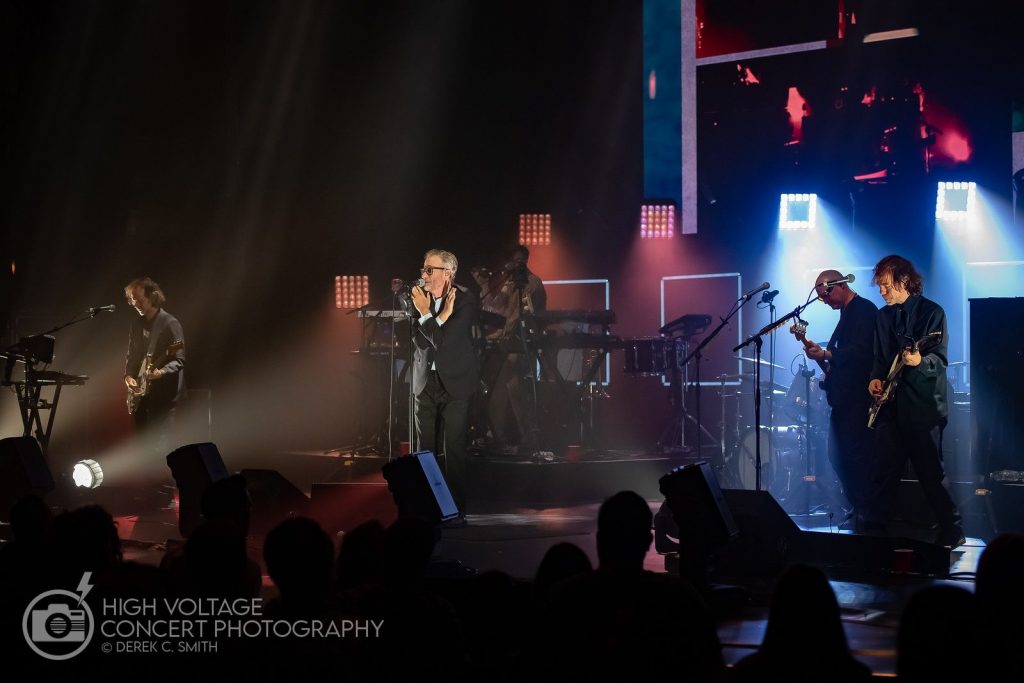 Over the course of the four nights, the band provided the fans with a steady stream of hits such as "Bloodbuzz Ohio," "The System Only Dreams in Total Darkness," "Day I Die," "England," "Graceless," "Fake Empire," "Mr. November" and "Terrible Love," as well as approximately six songs each night from nine of the eleven tracks on The First Two Pages of Frankenstein, including "Once Upon A Poolside," "Eucalyptus," "New Order T-Shirt," "This Isn't Helping," "Tropic Morning News," "Alien," "Grease In Your Hair," "Ice Machines," and "Send For Me." The crowd's reaction to these new tunes was a true testament to their power and beauty as each one was uniformly embraced and cheered.
The real treat of the shows, however, was the bevy of deep cuts and rarities, such as "Murder Me Rachel," "Demons" and "Abel" and the surprise of unreleased songs, such as "Turn Off The House," "Space Invader" and "Deep End." It was an amazing run, confirming that The National is alive and kicking, with more pages to be written in an already stellar career.
The National's tour of the U.S. continues through September, concluding with their Homecoming shows in Cincinnati on September 15 and 16, 2023. For more information on those and other shows, click here. To check out The First Two Pages of Frankenstein, click here.
All images: © Derek Smith / High Voltage Concert Photography for American Blues Scene