Eric Bibb came ridin' onto the shores of the popular English seaside resort of Whitley Bay as his extensive tour of Australia, UK and Ireland entered its final stage. The multi award winning blues troubadour has entertained audiences across the world for over half a century, his music as timeless as the man himself. While the tour promotes his latest highly acclaimed Grammy-nominated album, Ridin', the concert is a synopsis of Bibb's illustrious career from the folk music renaissance of Greenwich Village in the 1960s to the present day.
Eric strides onto the stage like a colossus, resplendent in his immaculate suit and trademark hat, greeting the audience with his usual charm and humor before launching into a traditional blues lament from 1941, "Goin' Down Slow." The band members are introduced individually, the Canadian roots musician Michael Jerome Browne having already entertained the audience as the support act with classic authentic blues from his fine new album, Getting' Together. Glen Scott is Eric's right hand man as musical director, co-writer, record producer, bassist, keyboard player, and any other instrument he can get his hands on. Last but not least, Paul Robinson is one of UK's top drummers having worked with Paul McCartney, Van Morrison and Nina Simone.
Each song starts with an anecdote, sometimes humorous but often with a serious message, this one telling the story of Bibb's 1970s move from New York to the unlikely destination of Sweden. Robinson's steady, mesmeric brush strokes and Scott's intricate bass lines underpin "Silver Spoon," Browne's rolling fingerpicked rhythm complementing Eric's nimble and intricate guitar work. The pace quickens and the mood darkens with the emotive "Tulsa Town" recounting the massacre of 1921 in the Black Wall Street area where African businesses thrived and 1200 homes were burned and 300 people killed. Bibb's defiance is evident in the words: "I'm so proud to be a survivor of that brave community/Black Wall Street will thrive again in the twenty first century/On holy ground in Tulsa Town, in Tulsa Town."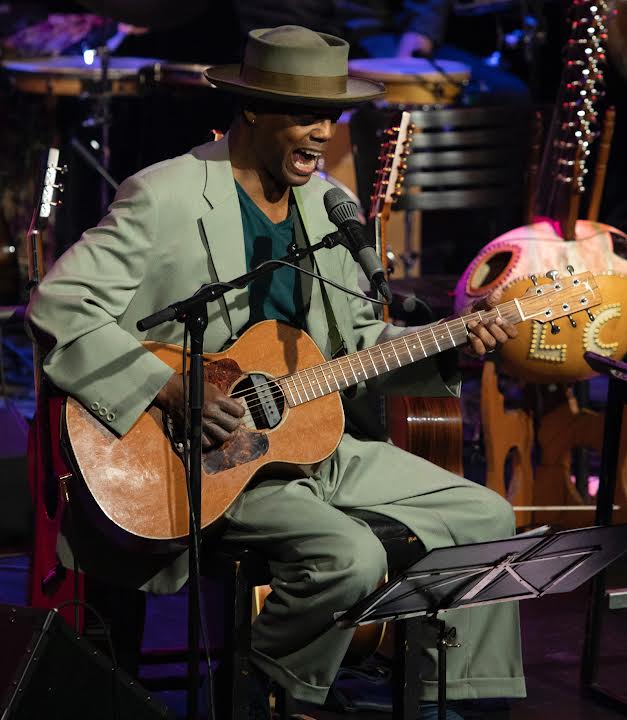 What is already distinctive about this gig and indeed the whole tour are the world class backing musicians at the top of their game in perfect synergy with one of the most accomplished acoustic singer-guitarists of his generation. This combination elevates Bibb's skilfully crafted lyrics, vocals and guitar playing to an even higher sonic level and broader soundscape than his legendary, virtuosic solo performances.
Eric prefaces a song from his sensational LP Dear America entitled "Along The Way" with the explanation: "I wrote this one for my children, I wanted to tell them stuff that I thought I should have said to them earlier on in the journeys but I was too busy playing." This is a beautiful, tear-jerking, personal account which evokes a highly emotional response from the audience.
By contrast, the true story of one of Bibb's 'blues elders running away from his boss and a lynch mob following an altercation in Mississippi' is the disturbing theme of "With A Dolla' In My Pocket." Bibb is not afraid to tell the stories which have been deleted from historical records even though the truth can be challenging. "With My Maker I Am One" emphasizes the message of unity and that all people are equal in the eyes of a higher power.
The balladic "People You Love" is sung by Bibb with warmth and panache as he reflects upon the transitory, albeit continuous nature of life and beyond. Browne excels once again with his sumptuous slide guitar interpolations.
Ulrika Bibb, a successful solo singer in her own right, joins her husband on stage and adds emotive harmonies to the uplifting "Send Us Brighter Days," co-written with Malian singer and songwriter Habib Koite. The traditional gospel blues song "500 Miles" brings back memories of the inspirational duet between Eric and his late father Leon Bibb on Family Affair, an unforgettable nostalgic journey which soothes the soul. Eric's mellifluous vocals are to the fore on the catchy "Come Back Baby" from his seminal 1999 Home To Me acoustic album. "Call Me By My Name" refers to the history of one race belittling another entire race with black military personnel being disrespected by being called 'boy.'
Ulrika makes a welcome return and the audience claps along enthusiastically to the popular "Needed Time" which Eric learned from fellow bluesman Taj Mahal. "In My Father's House" showcases Paul's dynamic stick work in contrast to the master classes in mainly brushes and hand percussion he has presented throughout the evening. "Don't Ever Let Nobody Drag Your Spirit Down" is a tour de force courtesy of Glen's brilliant contributions and the cadence in Bibb's vocal delivery. The evening reaches its conclusion with unanimous audience demands for an encore, the appropriately titled "Connected" which is about life, the cycle of birth and death, and the connectivity that binds us all together. The lengthy, noisy, enthusiastic standing ovation is thoroughly deserved and a fitting tribute to everyone connected with the show's production.
Eric Bibb is essentially both a historian and a musician who traces the difficult paths African-Americans took to escape slavery in the 19th century, communicating with passion, courage and dignity what it means to seek freedom and dignity in the present day. He declares that there is no such thing as post-racist America. Aside from social and political issues, Eric also writes poignant lyrics about life, love and every conceivable emotion which he conveys with sensitivity, humility and honesty. It is a privilege to experience an event of such gravitas and joy in equal measures.
Website and tour info here.
Editor's note: Additional reporting by Tom Bolam