Seventy years before the late Bob Koester founded Delmar (later Delmark) Records while a college student in St. Louis, Buffalo Bill's traveling Wild West Show debuted, Chester A. Arthur was president, Thomas Edison brought electric light to Roselle, NJ for the first time, and "Black Bart" was in the news for another stagecoach robbery. When Koester released his first record in 1953, many of the now-iconic figures in blues and jazz were still everyday working musicians, Ike was in the White House, and the U.S. was fighting in Korea.
Now seventy years on, Delmark is the oldest independent jazz and blues record label in the world, boasting a catalog bulging with over twelve thousand recordings by a virtual who's who of jazz and blues. Although Koester retired in 2018, under the leadership of President/CEO, Julia A. Miller, and Artistic Director Elbio Barilari, Delmark has released over 30 thirty albums in five years, has made digitally available over twelve thousand songs and continues its mission of seeking out and documenting new talent. To celebrate the 70th anniversary, Delmark raided the vaults for a new anthology, out July 21st on CD, LP and digital.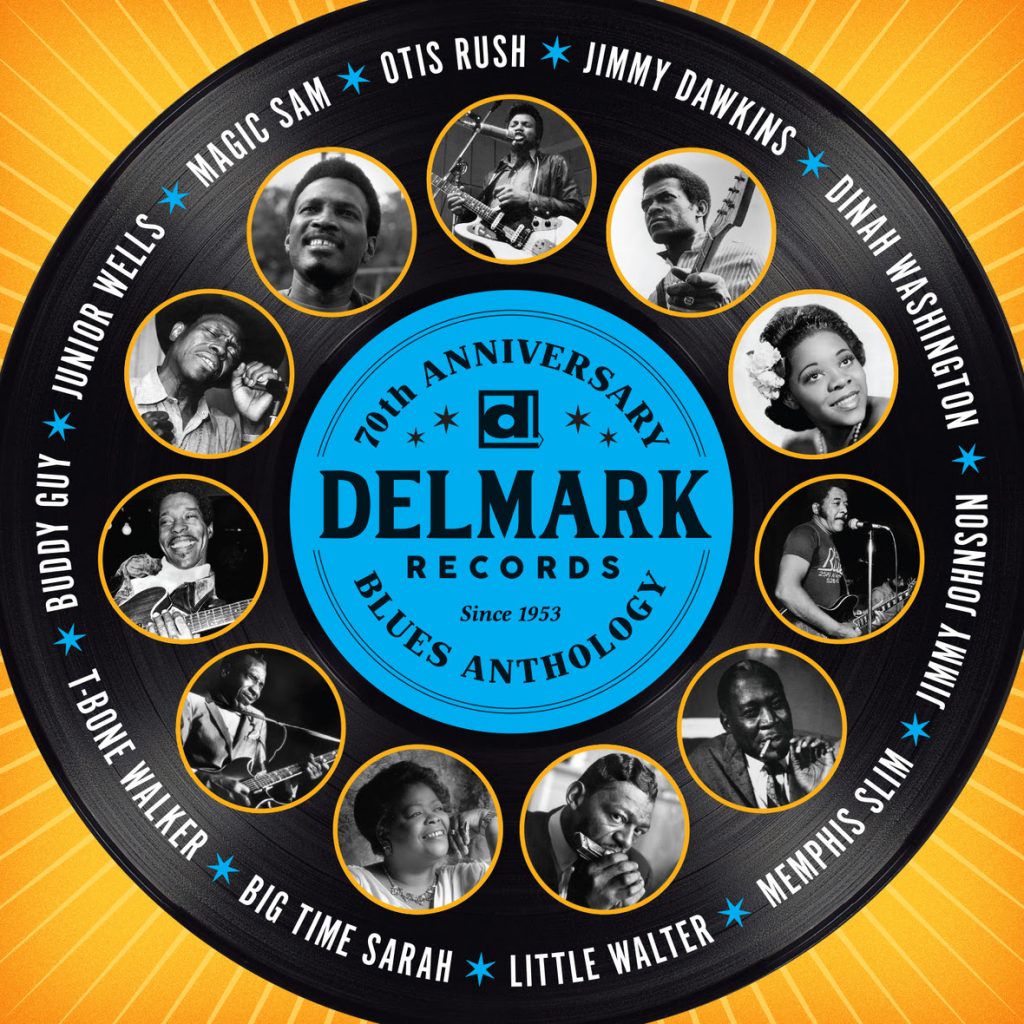 From Junior Wells, Buddy Guy, Magic Sam, Otis Rush, Dinah Washington, T-Bone Walker, Little Walter and Muddy Waters to Memphis Slim and Jimmy Johnson, the 70th Anniversary compilation is a perfect snapshot of the incredible vault of classic blues Delmark has released over the years.
Delmark celebrated the anniversary in glorious style this month, from a live WDCB Bluesday Tuesday at Fitzgeralds Club, hosted by blues DJ legend Tom Marker to a fantastic showing at the Chicago Blues Fest, which included premier performances from Demetria Taylor and Mud Morganfield (the children Chicago blues legends Eddie Taylor and Muddy Waters respectively) and a 70th Anniversary Celebration that included Dave Specter, Johnny Iquana, Johnny Burgin, Bob Stroger and a slew of other amazing performers. Blues Legend Billy Boy Arnold was honored with a mayoral proclamation before he headed to the Delmark tent to sign copies of his brand new book on University of Chicago Press. Mud Morganfield was interviewed by CBS News about the festival and his life in music. Watch here.
Labor Day weekend, Delmark will host their 3rd annual Rockwell Blues & Jazz stroll, with music, food and fun at the studios and area businesses.
Evanston's SPACE will host another celebration on September 20th, in which Dave Specter leads an all-star band of Delmark Players. For tickets, head here.