2023 UK Blues Award Acoustic Act of the Year Nominee Sean Taylor describes Short Stories as a collection of tales, encounters, experiences and framed moments. Singer, songwriter and multi-instrumentalist Sean is one of the most exciting and prolific troubadours on the global roots and blues stages, his original music fusing blues, Americana, folk, roots, spoken word and social commentary. Taylor's distinctive sound has been described by one BBC broadcaster as "a late-night cocktail of Tom Waits, with the voice of Van Morrison and a guitar style of John Martyn."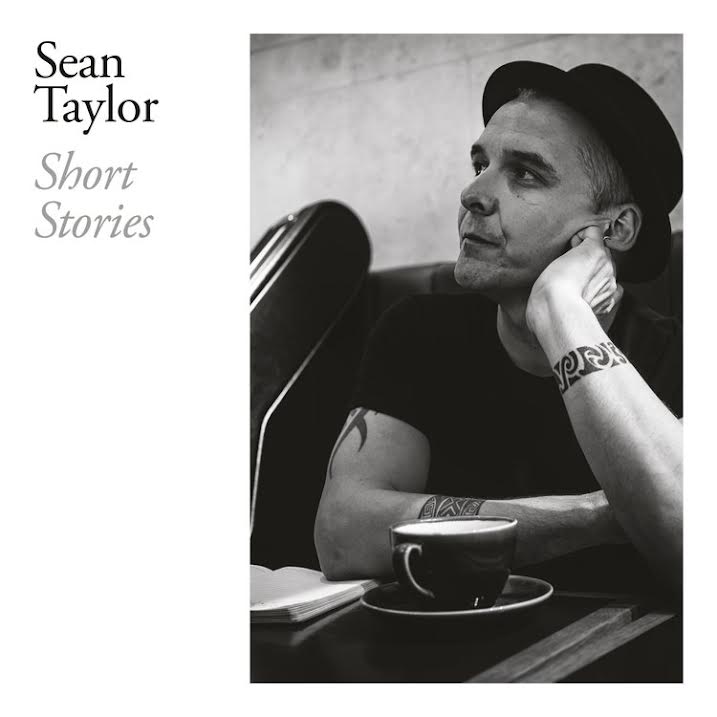 The spectacular ethereal soundscape of the intriguing opening track sets the scene perfectly, Taylor declaring, "I am a mess of contradictions with never ending addictions/Unbending convictions in politics and fiction." Not surprisingly, given Sean's interest in art and literature, "Happy Days" is the title of a play by the Irish playwright, Samuel Beckett who is also referenced in the line "I can't go on" from Waiting for Godot.
A further quote is the famous "try again, fail again" from Worstward Ho!, a place to which there is no way in, no way out and nothing beyond it in Beckett's vision of the world at the point of extinction: "Ever tried ever failed/Our desire will prevail/Fail better fail more/Kick the hinges off the door."
"Snowdonia" is the true story of a February swim by Sean in Lake Snowdon, Wales, minus the expletives at the freezing cold water!  Clearly it is a magical place for Sean and an equally enchanting story – the atmosphere enhanced by Joe Harvey Whyte's glorious Pedal steel guitar strings gliding alongside Sean's mellifluous, poetic vocals.
The compelling "Wildflower" is a psychedelic love song about festival skies and small hours encounters. "I fell for you when you howled at the moon out loud/Your magic medicine makes us rhapsodise/Then we meditate to the light of the sunrise." Ben Walker's stunning electric keys complement Sean's stellar piano accompaniment.
Taylor's songs often come from conversations on the road. "Open Your Heart To Love" is taken from three or four different conversations woven into one. Sean acknowledges that people are complex but always fascinating and compelling.
"Mona Lisa" is according to Sean, "a rock 'n' roll joyride of tales and myths about the most famous painting in the world." This includes the disappearance of the Mona Lisa, which was followed by Picasso's arrest for theft and acquittal, in 1911. It's a good true story with a strong rhythm, impressive vocal harmonies and a vocal and piano performance worthy of Jerry Lee Lewis.
By contrast, the catchy "Set Me Free" is an autumnal love song set against the background of the cost-of-living crisis. Sean's acoustic guitar strings and jaunty piano together with Mike Seal's nimble bass work and memorable vocal harmonies contribute to the feel good factor: "Ooh my honey love what you do to me/Bring me up when I am down."
Times are hard with bills to pay

The cost of living hurts us in every way

Then I meet you in the autumn light

My heart is pounding as I hold you tight

Ooh my honey love what you do to me

Bring me up when I'm down

You always set me free

The cold-hearted realities of life

People are too scared to look each other in the eyes

So much pain in the world going round

But when I'm with you I never feel down

I got no worries or fears at all

When I'm with you I feel ten feet tall

You are perfection, a cut above the rest

From north to south, east to west

Ooh my honey love what you do to me Bring me up when I'm down

You always set me free

written by Sean Taylor and Mike Seal
"Gravestones" is a contemporary conspiracy theory Covid blues song: "Everybody is an expert until they are buried in the dirt." The virtuosic violin of Poland's Basia Bartz enhances the dark humour which has echoes of Leonard Cohen. Sensational Hammond organ playing from Justin Carroll is the highlight of "Sweet Maria," a moving love song to Maria from County Cork "who has a Celtic soul and looks so good." Next up, Sean's fine wailing harp interludes delve deep into the blues, making "The Letter" a classic blues song about missed opportunities and, ultimately, heartbreak.
The album closes with the epic stream of consciousness, "Be Cool," a free form narrative set in a summer heatwave. The city is oppressive but also alive and beautiful: "The world is alive, the city is alive." Taylor is the consummate storyteller and the tension mounts with Eric Lounsbury's brilliant jazz trumpet interpolations, Carroll's inspirational contributions and the clever, intricate percussion of Paulina Szczepaniak.
As Sean Taylor enters the third decade of his life on the road as a musician and activist, he can take satisfaction from knowing that his relentless pursuit of truth, honesty, love, peace and justice is worthwhile and appreciated. With the help of his assembled band of world-class musicians, the journey continues with this treasure trove of short stories which will entertain, inspire and add to Taylor's important legacy for generations to come.
The album will be available on music streaming platforms from mid July but the CD comprising ten original songs is available now here.
All songs written by Sean Taylor except "Snowdonia", "Open Your Heart To Love" and 'Set Me Free' co-written with Mike Seal.
Sean Taylor – Vocals, Guitars, Piano and Harmonica
Ben Walker – Guitars and Electric Piano
Mike Seal – Double Bass
Paulina Szczepaniak – Percussion
Justin Carroll – Hammond Organ
Joe Harvey Whyte – Pedal Steel
Eric Lounsbury – Trumpet
Produced by award winning folk guitarist and producer Ben Walker based in Brighton, UK.