I caught up with Brian Krumm of Chicago's American-noir group The Great Crusades to talk about his solo project, Brian Krumm and His Barfly Friends. Their album Just Fade Away will be released as a digital download, 12" vinyl LP, on CD, and via streaming platforms on June 2 via Pravda Records.
Before we got around to talking about the album, though, he wanted to mention a music festival he had recently been to. "A couple of weeks ago I was at the Jazz Fest in New Orleans," he told me. "That was a really fun time. I don't know if you have ever been to a jazz fest but I highly recommend it." Pausing briefly, he added with a small laugh, "It is a lot of fun… if you don't mind being around tens of thousands of people!"
Brian seemed to be as interested in discussing other people's music as he was his own. As for the album, he praised the contributions of all involved – including his wife and daughters. The album was born from an idea Laura Coy, Brian's wife, suggested during the Covid lockdown.
"She saw me moping around," he said. "You really weren't able to go out to hear music or even leave the house." Laura suggested he try writing a song a day.
So every day at 5 p.m. he would take a shot of whiskey and sit down to write a song. The result was 25 songs in 25 days. Brian focused on taking longer than an hour to write a song. The time forced him to focus on writing and, more importantly, keep him from overwriting and using too many words.
"I tried to say more with less lyrics, whereas in the past I was trying to cram as many lyrics in there as possible. I would weave this weird wild web of stories. Now I think maybe it is better to use fewer words. Let people take in those words."
The result of the marathon writing session is 11 of those 25 songs making it onto the album including, of course, the title song "Just Fade Away." It is a song about a long ago love who one day left and just faded away from his life.
The album is one drawn from personal experiences. Starting out with "Barfly Friends," moving on to "Just Fade Away, "through "Back In The Neighborhood," and on to "Wasn't Born Yesterday," the songs are rooted in Brian's life experiences.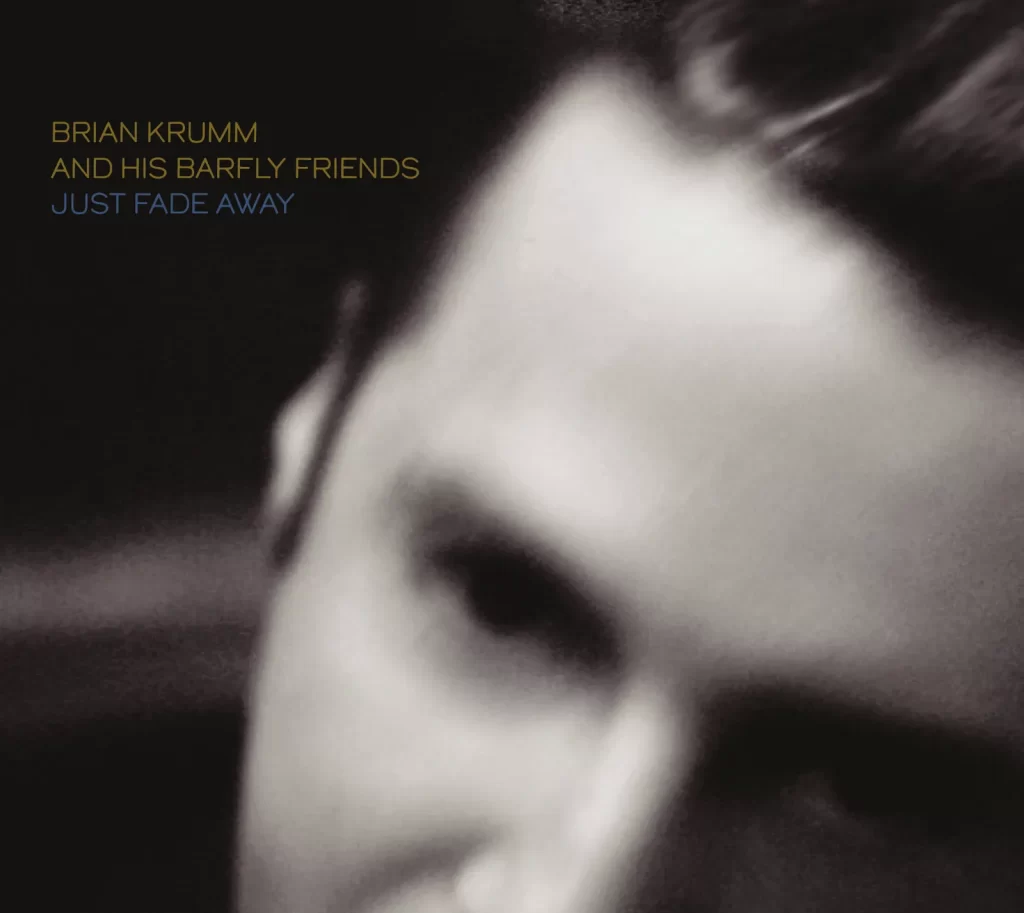 "I think the best songs – At least my favorite songs are all based somewhat on real life," Brian tells me. "I think that is one of the challenges of songwriting. You have to be willing to put yourself in that sort of delicate position of sharing a part of your life."
The songs may be written from Brian's life experiences but he is the first one to lavish praise on his family and colleagues. His 15-year-old daughter, Hazel, sang on "Good Times Not The Bad" and "Easy For Your Heart To Break." She did her parts in only two takes and is a promising songwriter in her own right, her father tells me. Wife Laura Coy sang background vocals on "Steve & The Miracle 3." Twelve-year-old Vivien also contributed background vocals but is a drummer to be reckoned with.
Jessie Hotaling is a long-time collaborator who provided vocals on "Just Fade Away," "Stuck In The Van," and "Wasn't Born Yesterday." Brian sent her some of the tunes to listen to. She ended up recording her parts in Joy Ride Studios and "just knocked it out of the park!" Brian said it was obvious she listened to the tunes many, many times and had a real feel for them. "She really sounds great on the tune 'Stuck In The Van.' She adds a lot to that." He can't praise her enough.
Jessie and Brian sometimes play with the "Dad band" Soul Daddy, a nine-piece soul/funk and rock band that mostly play cover tunes. Members of Soul Daddy play horns on "Wasn't Born Yesterday."
"There's a lot of cross-draining going on with various musical projects," Brian laughed. "I had a lot of really talented people help me out on the record. Brian Wilke is an amazing guitarist and pedal steel player… There are probably about 20, 25 different people who either had files sent to or came into the studio to play. They were chosen for no particular reason other than we were friends. And they are all great players."
Those friends and great players include long time band mates Brian Hunt (bass, vocals) and Brian Leach (keyboards, vocals, guitars), plus Dana Anderson (vocals), Tony Artimisi (drums), Erik Attkisson (bass), and many more. Fellow member of The Great Crusades, Christian Moder (drums, percussion, keyboards, and vocals), also handled production duties for the album. "To me he is just really hitting a sweet spot with his production skills these days," Brian said with admiration.
So Brian Krumm and His Barfly Friends grew from Just Fade Away, an album that grew out of a Covid-born challenge to write one song a day for 25 days. And each writing session began with a shot of whiskey. Given the quality of songs he turned out, you have to wonder if another album from the Friends might happen. Brian allowed that to be a distinct possibility.
Would he approach it the same way?
"If I were to do it again I probably wouldn't do the whiskey part," he laughs. "That got a little expensive!"