The GRAMMY Museum is thrilled to welcome four-time GRAMMY-winner Taj Mahal and album producer John Simon for an intimate conversation in the Museum's 200-seat theater. The conversation, moderated by KCSM's Chuy Valera, will discuss the making of Taj's latest album, Savoy.
Taj Mahal can rightfully be called a living legend for his contributions to popular music. With a voice as instantly recognizable as Louis Armstrong, Ray Charles, or Dr. John, Taj Mahal has throughout his career pushed the envelope of American music forward by incorporating sounds from the Caribbean, Africa, traditional blues, and jazz. He has won four GRAMMYs from 16 nominations, was inducted into the Blues Hall of Fame, presented with a Lifetime Achievement Award from the Americana Music Association, and most recently received a star on the Walk of Fame in Memphis, TN.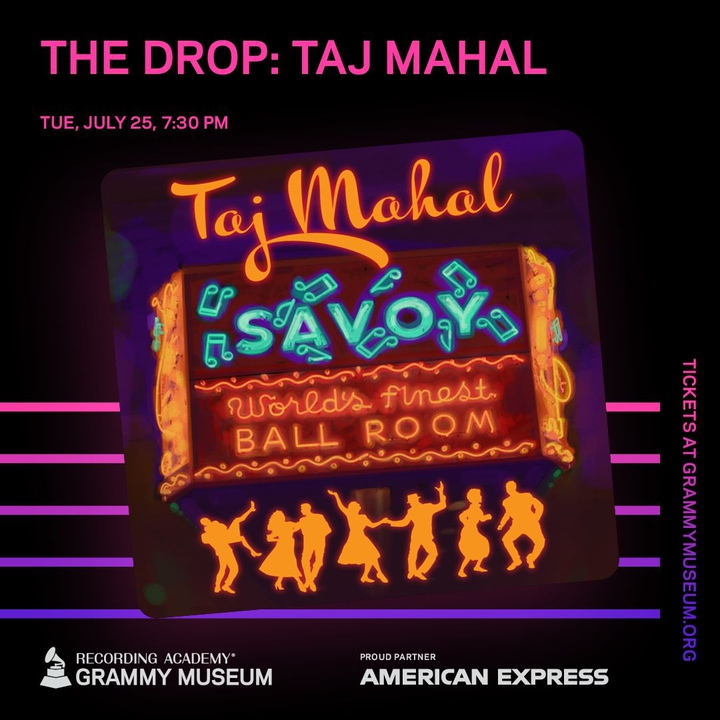 With Savoy, Taj takes a new direction in his musical journey, exploring classics from the American songbook with his good friend and acclaimed record producer John Simon, whose resume includes producing classic albums by The Band, Janis Joplin, Simon & Garfunkel, Leonard Cohen, Gordon Lightfoot and countless others. Savoy is the realization of a musical collaboration they had been planning for decades, finally locking in the studio time to make it happen in August 2022.
Recorded with the hottest musicians in San Francisco, it's a loving throwback to the sounds of the swing jazz big band era, titled as a tribute to Harlem's Savoy Ballroom where the music composed by the likes of Duke Ellington, Louis Jordan, George Gershwin and Louis Armstrong was performed by a who's who of iconic artists, and now brought back to life by the one and only Taj Mahal.
Nonmember Check – In / Doors: 7:00pm
Show Time: 7:30pm
American Express® Card Members can purchase tickets from Thu 7/6 10:30AM through Sat 7/8 11AM. Get tickets here.