Médikamen, Corey Ledet's 15th album and his first zydeco album written and performed completely in Kouri-Vini (Louisiana Creole), is in recognition of the journey to reclaim his family's language. The album was recorded at Dockside Studios in Maurice, Louisiana, engineered and mixed by Justin Tocket, produced by Corey Ledet and Louis Michot. Special guests include Germaine Jack, Kermit Ruffins, and Grant Dermody. The first single released was "Kofè t'fé ça," featuring blues guitarist Anders Osborne.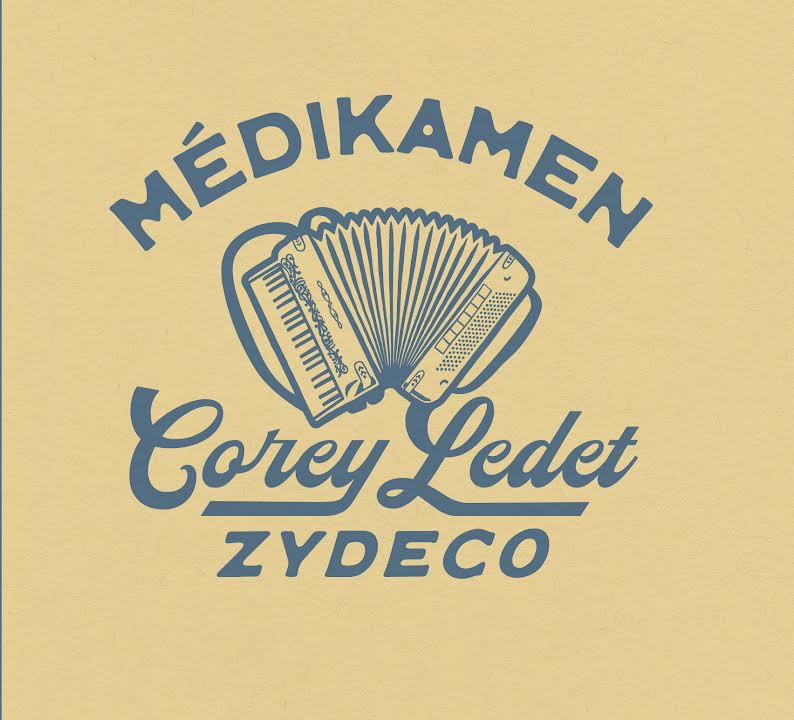 Médikamen is being released by Arnaudville, LA's Nouveau Electric Label on CD, digital download and via streaming platforms on August 25. Ledet is featured here on accordion and lead vocals, accompanied by: Lee Allen Zeno on bass and backing vocals; Lucien "Big Lou" Hayes on-rhythm guitar; Julian Primeaux on rhythm and lead guitar; Cecil Green on Hammond B3 organ and Fender Rhodes piano; and Je'an-Paul Jolivette on drums, harmony and backing vocals.
Having studied a broad range of different genres, his love for all music runs deep in his soul and finds expression through his innovative style. When he started to research his family's genealogical roots, he found out that their musical roots dated back to the late 1800s. They performed in a variety of the outfits that played ragtime, early jazz, be-bop, zydeco, Creole, and blues. Learning this brought Corey a deep connection with his ancestors; and he realized that his interest in such a wide variety of music had hallowed precedent.
His grandfather, Buchanan Ledet, played drums with Clifton Chenier and Rockin' Dopsie as zydeco's first drummer. Buchanan also invented the twice-pumped bass drumming pattern called double clutching. 
His family comes from Parks, which is a small town between Breaux Bridge and St. Martinville. "And that whole area — the way they spoke French was a dialect called Kouri-Vini," Ledet told ABS in a 2021 interview. Continuing, "It's a little bit different from how people speak French around the Eunice area which is northwest of Parks, by maybe an hour or so. It's a different dialect. They kind of run words together, and then they speak it in the English form. Whereas in French, sometimes they flip the words to make it make sense. But in Kouri-Vini, you speak it in the English form."
Of the new album, Ledet tells us: 
This project was funded in part by ArtSpark, a collaboration of Lafayette Economic Development Authority and Acadiana Center for the Arts, and was supported by a National Performance Network (NPN) Take Notice Fund, with funding from the Ford Foundation's Creativity and Free Expression program. More information here.