Rêve du Troubadour (Dreams Of The Troubadour) is the first solo effort of Louis Michot of the Grammy winning Lost Bayou Ramblers. Louis and brother Andre Michot formed the Lost Bayou Ramblers in 1999 and found great success singing exclusively in Cajun French.
Louis explains he records in French because he is "trying to fill in and further the language. Because what the language meant to me when I first learned it was like something I should know but I don't."
So naturally Rêve du Troubadour is recorded in Cajun French and listening to it proved to be an interesting experience. I wrote notes on each song as I listened to the album in its entirety. For example, on the title track I noted the vocals and the instrumental parts conveyed a dreamlike imagery. It also evoked a sense of longing, of missing something long past.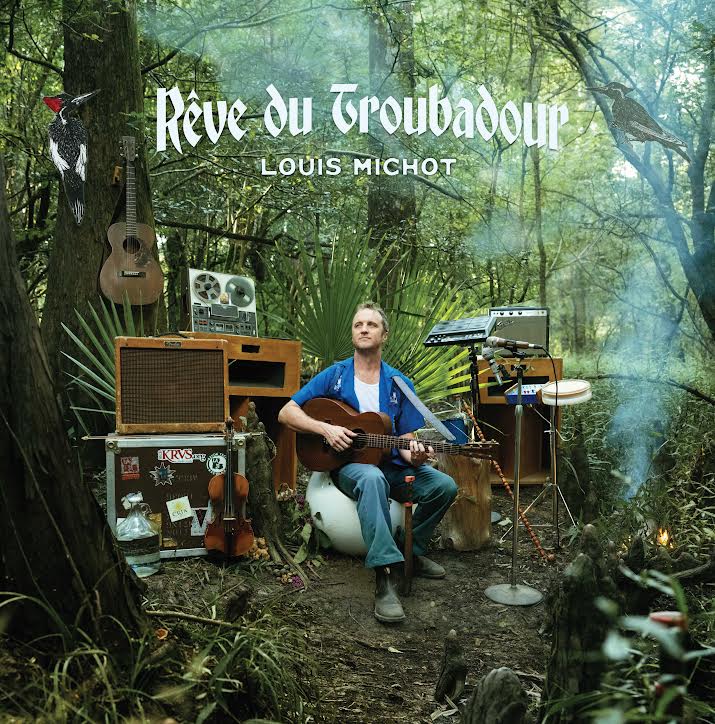 While the lyrics are sung in Cajun French, the English translations are provided. However, I did not read the translations until after I listened to the album in its entirety. A translation can serve as a guide to understanding a song but something is lost in translation. The essence and deeper meaning of a song is conveyed through the chemistry of music and vocals.
This is true, of course, of any song. Words – the vocals – tell the story and the music drives the story home. Yet when the vocals are in a language foreign to the listener, their chemistry is even more important.
Indeed, "Rêve du Troubadour" is a song about dreaming of the old days and the old ways when we were "content with what we have to survive."
Louis said he wanted to break different if not new ground with songs in Cajun French. "This is the next step for me after writing in the traditional format for the last twenty years," he told me. "This is the first time I've really stretched my legs creatively and within the language. It fits within the musical form but is much more genre-less."
"Boscoyo Fleaux," for example, has a definite hip-hop influence to it but is not quite hip-hop. In addition to Dickie Landry on saxophone, the song features a 1935 recording of an ivory-billed woodpecker made by Louis' dad.
"Souvenir de Porto Rico" is a cover of an instrumental piece written by the French Creole composer Louis Moureau Gottschalk in 1856. Featuring Leyla McCalla and String Noise, the souvenir, according to Moureau, is the "view of the most beautiful scenery in the world" which inspired the piece.
"Jean Cuan Dit Gentil" and "Le Cas de Marguerite" are both historical ballads concerning the same family and well worth listening to.
Louis Michot primarily performed on guitar, bass, T'fer (triangle), samplers, percussions, and accordion. While Louis played every part on some tracks, he was backed on others by fellow Lost Bayou Rambler Bryan Webre on bass and drummer Kirkland Middleton. Guest artists include Bombino, McCalla, guitarist Langhorn Slim, Shardé Thomas – both with and without her Rising Stars Drum and Fife group – Grammy-nominated accordion player Corey Ledet, and Dickie Landry on sax.
Rêve du Troubadour is being released by Nouveau Electric Records on September 22. It will be available on CD, streaming platforms, digital download and 12″ vinyl LP. The LP will be pressed on Ivory-Billed Woodpecker inspired red and black marbled vinyl and include a four panel insert with the lyrics in Louisiana French and English.
Read part one of our interview with Louis Michot here.