Few bands today survive five years, let alone twenty or more. Even those that are blessed with longevity often only exist because they are trapped in the echoes of their greatest hits – touring behind a "brand" that survives solely to pander to its past. My Morning Jacket is not one of those bands.
Formed 25 years ago in Louisville, Kentucky and currently consisting of Jim James (guitar and vocals), Tom Blankenship (bass), Patrick Hallahan (drums), Carl Broemel (guitar, pedal steel, saxophone and vocals) and Bo Koster (keyboards), My Morning Jacket is the rare breed of band that continues to release music that bolsters, rather than dilutes, its already immense catalog. As a result, the band remains defined by its entire existence, not any particular period of it.
The concept of viewing My Morning Jacket's career holistically is due in no small measure to the fact that each new album is a reflection of the band as it "is" as opposed to a mere facsimile of what it used to be or a misguided attempt to keep up with the musical flavor of the day. Bands that follow the former path by simply regurgitating the perceived formula for their past success fail because their music never evolves, leaving them perpetually stuck in a moment they can't get out of (no, I do not believe U2 is such a band). Bands that follow the latter path fail because there is no quicker route to sounding outdated than to make music solely for the purpose of sounding "current."
The greatest bands are those that can traverse these pitfalls, maintaining modern-day relevance through a creative process that aligns with their own artistic values, rather than the values of others. A musical honesty or truth to self, if you will, that must radiate from the music before the listener can have any deep spiritual or emotional connection to it. In short, if music is all about resonance, a band that serves others before itself can never hope to match the natural frequency of its listeners.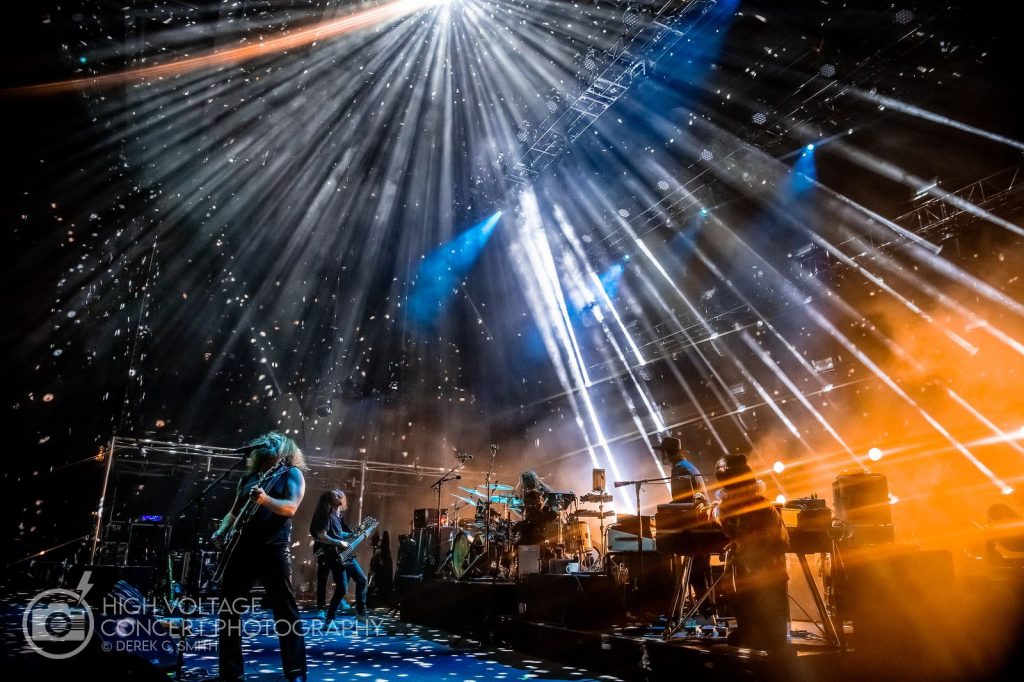 More than twenty years on and My Morning Jacket is still resonating with its audience, releasing albums in 2020 (The Waterfall II) and 2021 (My Morning Jacket) with songs that have been met with as much exuberance at their live shows as anything on either of their seven prior studio albums. Whether it is beautifully conveying the emotional rollercoaster of life, love and loss ("Spinning My Wheels" and "Feel You"); the frustration with gun violence ("Magic Bullet"); the need to return to self ("Run It") and not waste time ("Wasted"); our screen time and social media addictions that prevent us from experiencing real life and love ("Regularly Scheduled Programming"); the positivity of giving love and getting it in return ("Love Love Love"); the fact that life is not meant to be black and white (right or left) ("In Color"); or simply the anxiety of living in a complex world ("Complex"), My Morning Jacket is more than a band that has something to sell – they still have something to say.
As for their live shows, My Morning Jacket is widely considered one of the best live bands in music today. This may seem counterintuitive, but it is due in no small part to the band's refusal to acquiesce to popular opinion. Instead of playing it safe by repeating a singular setlist of its biggest hits each night that it knows will satiate the masses, My Morning Jacket opts instead to provide its fans with something more precious – a better musical experience.
This is the fine line that separates great live bands from the best live bands. I've seen many great bands that repeated the same setlist each night. Many of those performances were great too, but more often than not, those performances felt contrived – as if the band was striving to hit its mark, rather than my soul. My Morning Jacket does the latter.
Each night of a My Morning Jacket show feels like Christmas morning, the setlist for that evening consisting of approximately twenty or more unwrapped presents waiting to be opened. Contents unknown, but at the end of the evening, when the paper has been strewn across the floor and the gifts all laid to bare, satisfaction guaranteed. Contrast that imagery with opening the same presents each night and you will understand why an experience is better than an act.
Lest there by any confusion, My Morning Jacket does not simply play songs each night on a whim. To the contrary, the band puts considerable effort into tailoring a new experience each night, giving consideration to songs played the previous night of the tour, as well as at the last show in that particular city. From that foundation, the creative sparks fly, most recently evidenced by their second night at Red Rocks Amphitheatre in Morrison, Colorado where the band played (for the keenest of observers) a four-song "stages of the day" arc – "At Dawn," "First Light," It's About Twilight Now," and "The Dark." Genius.
Further solidifying My Morning Jacket's foothold on the side of "best live bands today" is its treatment of the music itself. My Morning Jacket's studio work does not set the boundaries for its live performances, but rather serves as the seed from which those live performances can blossom.
A few shows on the current tour are best equipped to illustrate this point to the extent they will allow the audience to directly compare an album and the band's live treatment of it side-by-side.  To mark the twentieth anniversary release of It Still Moves, the band is playing the album in its entirety on the first night of multi-night runs in New York City (October 19), Atlanta (November 3) and Chicago (November 9). This follows the initial performance of the album in its entirety at Red Rocks Amphitheatre in Morrison, Colorado on August 25th.  The remainder of the set each night, as well as the remaining performances on each multi-night run, will consist of the aforementioned unwrapped presents (i.e. new gifts each night).
As for the album itself, It Still Moves follows the band's 1999 debut, The Tennessee Fire, and its 2001 sophomore effort, At Dawn. The lo-fi, stripped back, rock songs on these first two albums garnered enough attention, particularly in Europe, that the band signed to ATO Records in 2002. It Still Moves was released in September 2003 and is the first album to feature Hallahan. A few months later, Johnny Quaid (guitar) and Danny Cash (keyboards) announced their departure from the band and were replaced, respectively, by Broemel and Koster. The lineup of James, Blankenship, Hallahan, Broemel and Koster has remained intact ever since, with one of their earliest (and now legendary) shows together occurring soon after the release of It Still Moves. The show, which occurred in a rainstorm at Bonnaroo in 2004, was recently released as the third in the band's series of live recordings. You can find MMJ Live Vol. 3: Bonnaroo 2004 (Return to Thunderdome)) here.
Among the twelve songs played at the Bonnaroo set in 2004, five were from It Still Moves. Even those five songs, however, fail to scratch the surface of the album's luster. To say it has aged well is an understatement. It is a masterpiece containing four epic cornerstones of the band's live repertoire – "Magheetah," "Dancefloors," "One Big Holiday," and "Run Thru" – not to mention the equally stellar bluesy rocker of "Masterplan," the swinging "Easy Morning Rebel," the acoustic stroll of "Golden" and the beautifully slower tempo songs of "I Will Sing You Songs" and "Rollin Back."
Any song from It Still Moves that is unwrapped at a show is met with unbridled fervor, but it is not simply because the songs themselves are great (they are). It is because James, Blankenship, Hallahan, Broemel and Koster use the stage as an opportunity to enlarge rather than faithfully recreating the studio versions of their songs. In doing so, they breathe life into the songs that seemingly washes over the crowd to bring both band and audience closer together. It is why a My Morning Jacket show is more than a concert; it's an experience. It is also why, even twenty years later, My Morning Jacket still moves its fans. To experience it for yourself, check out the band's website for upcoming tour dates here.
All images: © Derek Smith / High Voltage Concert Photography for American Blues Scene