Icarus was so enraptured by the experience of flight itself that he flew too close to the sun. An ecstatic rise, a devastating fall: such is the myth of Icarus. Such is the tragedy of Romeo and Juliet. And such is the malign star that crosses the fate of Ralph and Evelyn.
Ralph and Evelyn? Who are they?
Clocking in at about three inches tall and two inches across, sixteen leather bound volumes of Shakespeare sat tucked away on a shelf of a used bookstore. And written inside each book, in sophisticated calligraphy, was an inscription from Ralph to Evelyn with the month and the year 1914. All musician/author Travis Atria knew about the two was what he had already read. What became of them? If he couldn't know their story, he would fill the pages between the proof-of-life crumbs found inside the covers. If Shakespeare was the great repurposer of words, Atria is the great repurposer of Shakespeare stories. Just as the Bard contrasted light with dark and used powerful language to tap into the deepest wells of the human condition, Atria spins his yarn out of personal subplots, warm vocal tones matched by bossa nova guitar patterns, and evocative orchestration to create the American Romeo and Juliet.
"It's like they were made for me," Atria tells me of the miniature Shakespeare set. "Any time I see an old book with a cool inscription I buy it. There's no way I was letting these things go. Any price I would've paid." Our years in Gainesville overlapped in the early 2010s, and as an ardent follower of Atria's bands Morningbell and The Shitty Beatles I turned up at every show I possibly could. He reminds me of Book Lover's Cafe on 13th Street – or as Tom Petty immortalized as "441" – which sadly went the way of too many independent booksellers and has since shuttered. "I found those books in '06-'07. I just loved that place. I used to eat there all the time, and one day I happened to find these things…"
When we last spoke in 2021, about his solo debut Moonbrain, Atria told me he had been writing three books over the course of working on that album. What he didn't say was that he was also working on Juliet, having started writing these songs in 2014. "I kept it a secret for that long because I wasn't really taking it seriously. It was just something in the back of my head, kind of a passion project" – a passion project he can now look back on as the first time a whole album came out exactly as what he heard in his head.
"At that point, Morningbell had just stopped playing. I didn't have a band anymore. I would say it took me two or three years to write all the songs. I had other projects that were more pressing in between there. It wasn't until about 2018 that I got serious about recording. I did it at Black Bear Studios in Gainesville, and then Covid hit so it took a long time to record it. We always had a home studio, for better or worse. The sound of this album is way greater than anything I've done before because I was recording it with a guy who's a professional in a professional studio."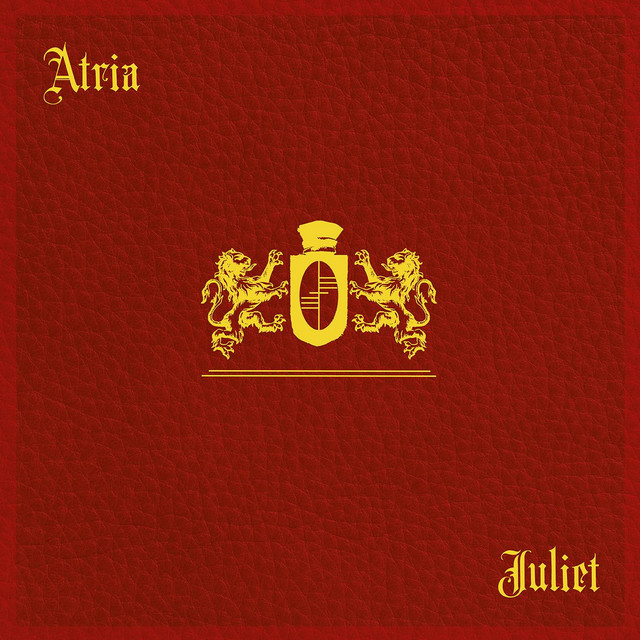 Atria co-produced with Ryan Williams, protege of Grammy-winning recording engineer/producer Bruce Swedien. Not only was Atria able to work in the studio of Bruce Swedien – recognized for his work with Michael Jackson, Paul McCartney, Barbra Streisand, Frankie Valli and the Four Seasons, Mick Jagger, etc. – but he got to record all of his vocals on what is widely considered to be the greatest microphone ever made, which happened to be used by his biggest idols.
"He retired in Ocala, built a home studio there. He sadly died before I ended up doing these recordings, but his widow and daughter let me go in there, and I sang the whole album into this microphone. This microphone had been in sessions with Duke Ellington, Michael Jackson, and Paul McCartney. Now I'm singing into it. It was intimidating as hell. Then we got to mix the whole thing on his big, old-timey mixing desk and these incredible speakers that he had. It was a peak experience for me, because Thriller came out the year I was born and it was the first (piece of) music that I chose. It wasn't my parents playing it for me. I would make my mom play that cassette so many times that it warped and we had to buy a new one.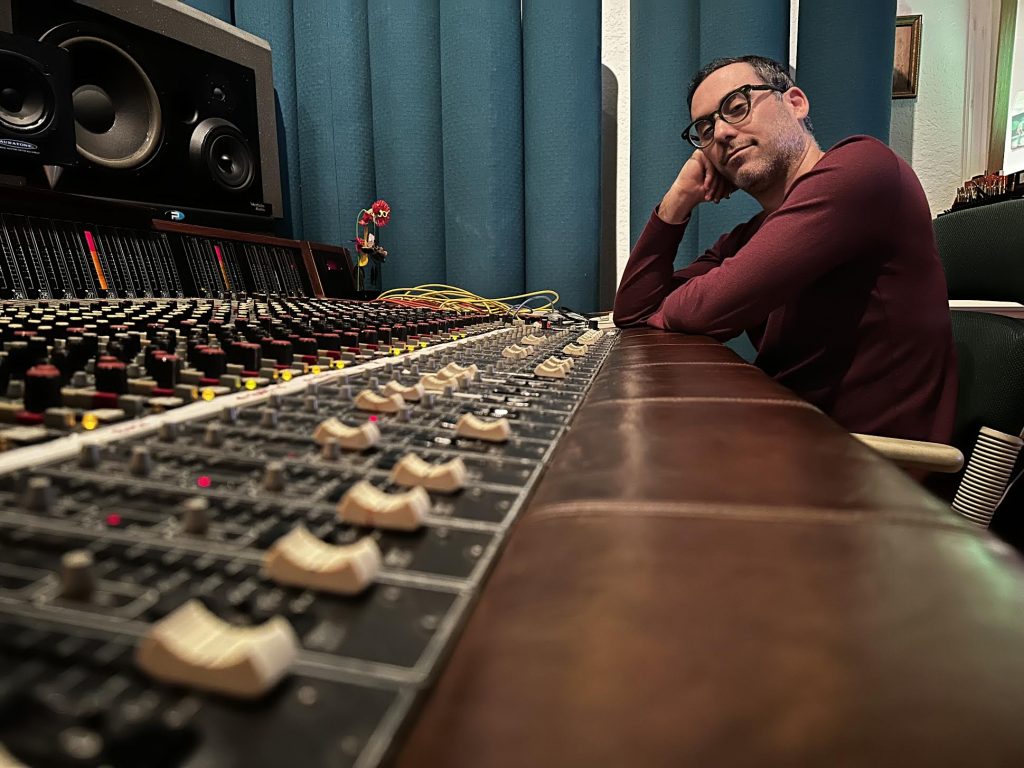 "What are the odds that this guy would end up in Ocala, and I would end up in Gainesville? I took voice lessons from his daughter and then just became friends with her and the family. I was helping his widow work on a book about their lives together. I was like, 'Look, you can either pay me this amount of money or you can pay me half of that and let me use this microphone,'" Atria laughs.
"You cannot lie to this microphone; it picks up your thoughts. They have this little stand where you can put your lyrics, and it's covered with felt because this microphone will pick up the reflections off the metal if you don't cover it. It will highlight every tiny imperfection in your voice. And it made me respect guys like Michael Jackson and Paul McCartney, because you realize how good they are. As soon as I started singing into this thing, I was like, 'Oh, I get it. I'm not very good.' It's like having an X-ray put on your voice. You realize how good these guys are – and women, too. He recorded Sarah Vaughan and some other great jazz singers with it. It made me perform. I felt the same feeling as when I'm singing live – those kinds of nerves, adrenaline. I know I'm the worst person to ever use this thing, but I can't embarrass myself. I gotta at least try to hold my own."
49 musicians participated in the recording of Juliet, including a makeshift orchestra featuring violin, cello, double bass, timpani, harpsichord, an 18-piece choir, trumpet, trombone, tuba, french horn, vibes, chimes, and more. "When we were doing stuff in Morningbell, even though it was my brother and sister-in-law in the band and our very close friend Chris playing drums, I'd be so embarrassed to play a half-written song. I would have to record a demo of the entire song and then decide if it was good enough before I would play it. But for this one, I realize maybe part of my personal development has been overcoming that self-consciousness and allowing other people to be involved earlier in the process." Coming up on the 20th anniversary of Morningbell's first album, he realizes, "We were part of this community in Gainesville that has supported us and still does. We've started to understand that was the thing. That was the success. I wouldn't have done any of this stuff without Gainesville, honestly. After all these years of playing in Gainesville, I've made so many friends that are so talented.
"Jared Groom plays drums; I've always loved his drumming and I knew he would be perfect for this style. Collin Whitlock is on there, Chris Hillman, Ryan Baker, Keith Ladd, my brother (Eric Atria)… We have like seven different bass players. Will Winter is the guy who worked with us on Bôa Noite, the Morningbell album. He did all the orchestrations and found all the classical musicians, so I think this was a much more collaborative process. Like I said, I've never done anything in a professional studio before. It was incredible to just go in and all I had to do was play. I didn't have to set up the microphone. I didn't have to figure out what was wrong with the computer. I had a professional there doing all of that work for me."
For the creative process this time around, he says the guitar parts came first for the most part. "I bought this Gretsch hollow body guitar. Since I was a kid, really the only two guitars I've ever been interested in are Fender Strat and Gretsch. Whenever I go into a guitar store, those are the ones I look at. So I finally bought myself one around the time I started writing these songs. It's a totally different type of guitar, totally different sound to the Fender. It forces you to play differently. I also started studying music a little more, understanding chord structures. This one is a lot more complex in terms of the chords than anything I've done. From there I started picking out the parts that I liked and then writing the songs around it."
On the timeline of Ralph and Evelyn, the first five tracks represent their blissful ascent – from "Romeo" to "Ain't It a Beautiful World," which Atria says is the song he's most proud of. "I think that's the best song I've ever written. I've never had an experience where the sound in my head actually came out. Usually, you get as close as you can to what you were intending and then it just becomes something else. But this was exactly what I wanted it to be. I think it sounds so beautiful, like when the 18-piece choir hits. I feel transported by it."
It's in Atria's "Desdemona" when "autumn presages winter's wonder" as the two sail through their seasons of love. But with ill-fated characters at the center of Shakespeare's Desdemona, the song in this way foreshadows the vicissitudes of Ralph and Evelyn's love. "Desdemona is Othello's love interest. She does die; it's a real tragedy. That was actually the first song I wrote for the album. (Ralph) is saying 'You will be my sweet Desdemona… and we'll escape tragedy.' He's thinking he can change the story, but he can't. I was trying to write a Curtis Mayfield song with that one. That's what I was going for. It was fun for me to go back through the plays and pick out little lines that I thought Ralph might have wanted to use on Evelyn."
In "Pearl Harbor," Atria sings, "War is a game that people like to play / In this world to kill a man is another way to love him." Similar to how Billy Bragg's "Everywhere" (written by Greg Trooper, Sid Griffin) addresses the bombing of Pearl Harbor, but also the domestic costs of invisible wounds in a universal way, Atria has the songwriter's knack for immersing the listener in period-perfect imagery relevant to then and now. "I'm sitting starboard strumming this guitar / At my slightest touch the strings begin to quiver." Guitar sounds redolent with the pathos of wartime tragedy and an orchestra taut with heartbreaking suspense, the song marks the beginning of the end on the timeline of Ralph and Evelyn. A shell of his former self, Evelyn can no longer live with "ghost."
I told him that the Billy Bragg song, whose title and chorus are a play on the 1917 U.S. patriotic song "Over There," is enough to make me cry. But in this case, a tear or two trickled down my cheek unexpectedly upon hearing Atria sing the refrain of "You Are My Sunshine." Why would that part have that effect on me? Maybe it's the way his voice can turn the familiar and happy melody, often sung as a child's lullaby, into a profoundly sad one. Maybe because the guitar he uses is a battered, old guitar his mother's best friend's mother bought for her husband on their first wedding anniversary in 1941, the year they bombed Pearl Harbor. (I told you, period-perfect.) She asked her daughter, 'Do you know anyone that would want this?' It ended up coming to me. It's a great old guitar, one of a kind. She didn't want money. She asked me to record for her, with the guitar, 'You Are My Sunshine.' Because that's the song her husband used to sing to her.
"There's a lot of that throughout the album. The storyline comes from – I had a great uncle who fought in the war. While I was writing the album, somebody told me a story about him. I can't remember why; we were looking at a picture of him or something. But they told me that when he was in the war, his best friend died and he was never the same. I put a lot of personal stuff in there. I had to come up with something for their storyline. I don't really have much from the books, so there's a lot of stuff that I know about that either happened to people I know or happened to me. It comes together as this bigger thing, the story of Ralph and Evelyn."
In "Ain't It A Beautiful World?" Ralph and Evelyn get married. "As soon as he grasps the thing he's desperate for, the war comes and he goes away and it changes him. I took a lot of things that happened to them from people in my own life, or even sometimes me. I knew because the books were signed in 1914, around World War I, that war was going to separate them. But I couldn't think of anything to say about World War I, so I decided to cheat a little bit and move the story up to World War II. I felt kind of bad about that, but am I going to write a song about Franz Ferdinand getting shot? 1914 was the year my grandfather was born. (He) was a child of Sicilian immigrants and grew up in New Jersey. I think he always had a huge chip on his shoulder because the girls he wanted to date wouldn't date him, because he was Italian and all. He would tell us these stories.
"Because the books were from 1914, and also because I think their names – Ralph is kind of working class and Evelyn is so graceful – in my mind Ralph was this immigrant who was trying to kind of purchase entry into Evelyn's world through Shakespeare. They're like Romeo and Juliet characters, except instead of their families fighting it's just American class issues keeping them apart. For me, 'Pearl Harbor' is the moment where they split up inevitably. And then the second half of the album is a couple years down the road where he's trying to get it back." On the "before" part of the timeline, Evelyn makes his dream come true on "Cherry (I've Been Dreaming," while "I've Been Dreaming (Cherry)" finds poor Ralph holding on to her picture pressed inside a locket. By track nine, "I'm On Fire," he's a whistling drunk staring down an empty bottle of gin and getting doused in the rain. She feels bad and they get back together briefly, as expressed in the hopeful next track "One More Time."
Some high school teachers regard Shakespeare as something of a stereogram, assuming that kids won't see the wood for the trees – or in this case a three-dimensional image through a two-dimensional one. That they wouldn't be able to navigate this early form of the English language. "I've always really loved Shakespeare, so it's a lot of fun for me to share that through this thing. That was my teenage rebellion. When I was a freshman in high school, they introduced us to Shakespeare, Romeo and Juliet we had to read in English class. They were like, 'You're not gonna like this. We get it; it's really hard to understand and you'll hate it. You have to read it.' So my idea of rebellion was, 'Well, I'm gonna like it!' I was really cool, as you can imagine. But it stuck with me as I became older. I started to actually understand it and enjoy it."
There are sixteen books in Atria's collection, and since it's not everything Shakespeare wrote, he thinks of it as something that went awry. Why did he stop buying Evelyn these books? "I've always been more attracted to Shakespeare's tragedies. Those are the best works. How are you going to write a concept album about Shakespeare and make it happy?" The abrupt ending of "The Letter (Interlude)" finds Ralph opening a letter taped to his door.

"My Way," the closing track, is the only song written from Evelyn's point of view. For Romeo, it was a kiss that sealed a union, poison that sealed fate. And as for Ralph, well, he reads the letter:
(Should auld acquaintance be forgot)

Should our acquaintance be forgot

(and never brought to mind)

As I go my way

I'll be on my way

Don't look back and be sad

Think of all the love we had

As I go my way
Evelyn might have left with love and peace, but Atria with his 18-piece choir and orchestra leave us in pieces.
Editor's note: Travis Atria co-wrote Traveling Soul: The Life of Curtis Mayfield with Mayfield's son, Todd. His latest book is Better Days Will Come Again: The Life of Arthur Briggs, Jazz Genius of Harlem, Paris, and a Nazi Prison Camp. Traveling Soul is the first definitive biography of the soul legend. It was recognized with honorable mention by the Society of Midland Authors (past winners include Kurt Vonnegut and Studs Terkel).
Better Days Will Come Again is the epic true story of jazz great Arthur Briggs, a saga that races from Harlem in the Renaissance, to Paris in the Jazz Age, to a Nazi prison camp in World War II. Last but not least, Atria contributed a thought-provoking piece to American Blues Scene in honor of the 50th anniversary of Curtis, Mayfield's debut solo album.