On November 7, 2023, A.J. Croce brought his Croce Plays Croce 50th Anniversary Tour to the Kodak Center in Rochester, NY. The tour celebrates the 50th anniversary of his father's 1972 debut album, You Don't Mess Around With Jim. Jim Croce's time at the top was brief – only 18 months – before it was tragically cut short in a plane crash on September 20, 1973.
The concert opened with a video of his father talking about life on the farm where the family lived in Pennsylvania. The video served as a way to introduce A.J. who walked on stage to a stirring round of applause.
"I know it's early in the week," he told the crowd, "but we want to make it feel like a Friday night." After more lively applause, he urged the crowd to sing along to the familiar songs. For those who felt they couldn't sing, he advised them to "sing anyway – just sing louder."
Appropriately enough, the first song up was "You Don't Mess Around With Jim" followed by "Roller Derby Queen." Later in the show he declared, "the request line was open." The audience shouted out their favorite Jim Croce songs from "Rapid Roy" to "Bad, Bad Leroy Brown" to "Workin' At The Car Wash Blues" and more. A.J. obliged most of them. The only constraint, he noted, was the time available.
Although the concert and tour was a tribute and remembrance of his father's legacy, two things quickly became clear. First, A.J. was not doing mere covers of Jim's songs. Each of Jim's songs was immediately familiar and recognizable but A.J. put his own spin on every one of them. Also, it was not just his father's songs he was remembering. He reminisced about the extensive record collection Jim had that he listened to and which influenced him as he was growing up.
Sam Cooke was one of those artists Jim Croce listened to and admired when he was starting out. Jim played Sam's music right up until the end. A.J. admired Sam as well so it was no surprise when he dialed up Sam's "Nothing Can Change This Love."
Croce plays Croce also meant A.J. would play several of the songs he is known for, such as the Billy Preston tune "Nothing From Nothing." He also explained how he envisioned the self-penned "Which Way Steinway" as a ragtime tune but when he went into the studio to record it the musicians were ones who had played with Miles Davis. Thus the song ended up a jazz tune. A.J. admitted he had no problem with that.
Several stories were told that served as background to his dad's songs. For example, "Operator" got its start back in 1965 when Jim was at Ft. Dix standing in line waiting to use the pay phone. "When there is no door on the phone booth, you get to hear other people's tragedies," A.J. said. "There is nothing like other people's tragedies." An appreciative laughter broke out after that remark. "Operator" was finished in 1971 and appeared on Jim's debut album.
And from his own experiences, he related a story told to him by Floyd Dixon about how, after a night on the town, Dixon and Sam Cooke thought it would be a good idea if Ray Charles would drive them back to their hotel. Many years later A.J. asked Ray about the story and Ray told him, "Oh yeah! I used to drive all the time!"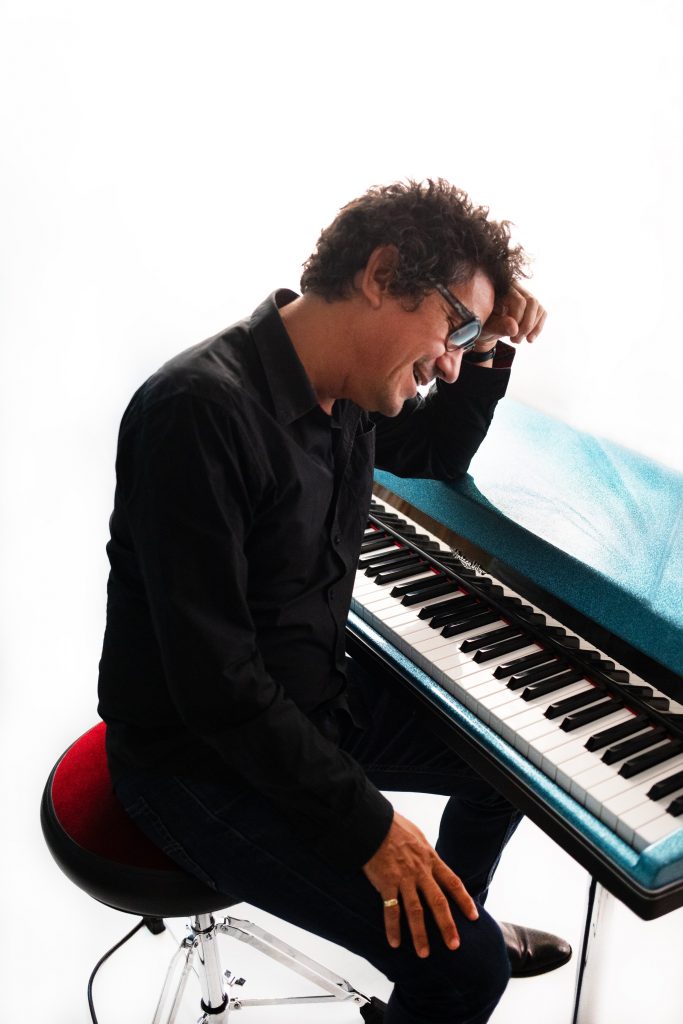 A.J. proudly introduced his legendary and award winning backup band: Gary Mallaber on drums, David Barard on bass and backup vocals, and James Pennebaker on guitar. Background singers Jackie Wilson and Katrice Donaldson accompanied the band.
A.J. was not yet two at the time of the crash that took his father's life. Life for him and his mother Ingrid was hardly a bed of roses in the years immediately following Jim's death. When he was four years old, A.J. was temporarily blinded as a result of a brain tumor caused by abuse from his mother's boyfriend. He was hospitalized for six months and was totally blind in both eyes for six years.
Tragedy struck again at 15 when the house A.J. was living in at the time burned down, destroying his father's record collection. The music he listened to all his life and which provided both solace and inspiration were gone. Tragedy struck once more in 2018 when his wife Marlo died of a rare and sudden heart virus leaving him a single father of two.
A.J. Croce once said about his losses in life, "When we lose someone we love… we can decide how we want to bring it into our life. Do we want to dwell on it? Do we want to find the best part of that person, that experience and keep it with us?" That outlook on life was on full display throughout the concert.
The concert ended with two fitting songs. First was "I Got A Name" celebrating A.J.'s connection to his father. The second was the encore presentation of "Time In A Bottle." It began with a video of Jim Croce singing the opening verse segueing smoothly and seamlessly to A.J. and the band picking up and finishing the rest of the song. Knowing this last song was written for A.J. made the moment all the more poignant.
The Croce Plays Croce 50th Anniversary Tour continues well into 2024; it's an enjoyable and memorable way to spend two hours of your life. You definitely will not want those two hours back.
Setlist:
Box No. 10
Operator
Nothing Can Change This Love
Nothing from Nothing
Judgment Day
Working At The Car Wash Blues
Tomorrow's Gonna Be A Brighter Day
New York's Not My Home
I Have To Say I Love You In A Song
Speedball Tucker
Lover's Cross
These Dreams
One Less Set Of Footsteps
Rapid Roy
So Much Fun
Which Way Steinway
Bad, Bad Leroy Brown
I Got A Name
Time In A Bottle