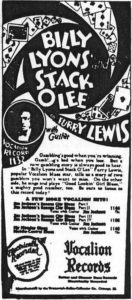 Today we're bringing you another entry in American Blues Scene's exclusive "Brief History of a Song" series.
The feud between Stagger Lee and Billy Lyons is as legendary as the one between the Hatfields and the McCoys; a truly American folk tale, retold countless times, about Stagger shooting Billy Lyons over, varyingly, a Stetson hat, a woman, a gambling debt, politics, or simply because Stagger was that mean of a man. Amazingly enough, the song may be the most re-recorded in history, with well over four hundred separate recordings to it's name. A brief search of the Stagger Lee name could reveal recordings from Mississippi John Hurt, Furry Lewis, Lloyd Price, Professor Longhair, The Black Keys, Samuel L. Jackson, The Fabulous Thunderbirds, Wilson Picket, Taj Mahal, Fats Domino, Bob Dylan, Beck, Elvis Presley, Ike Turner, and a great many others.
Who was Stagger Lee, who goes by different names depending on the storyteller; Stagger, Stack-O-Lee, Stackalee, etc.? Was there a real Stagger Lee? Did he really run with Jesse James, have a magical Stetson, or take hell away from the devil when he died, as has been suggested?
The origins of this tale begin with a Christmas Eve bar fight in Saint Louis in 1895. The events of the murder were fairly commonplace; two friends, Billy Lyons and "Stagger" Lee Shelton, were drinking at Bill Curtis's saloon and became enthralled in a conversation about politics. Billy grabbed Shelton's hat in anger, and when he refused to return it, Shelton shot Billy in the gut, picked up his hat, and left. Lyons died from his wound shortly afterwards. That same night alone, five murders were committed in Saint Louis, but only one shot to world-wide infamy through a tangled web of politics, folklore, and raw persistence. The story was first covered in the St. Louis Globe-Democrat on December 28th, 1895. In 1896, the political scene was extremely tense, and with Saint Louis being one of the largest cities in the country, it was necessary for politicians to get every vote, including the black vote. This was increasingly relevant because the republicans were losing their stronghold, and because Shelton was a democratic organizer, and Lyons a Republican one, according to StaggerLee.com. The murder received significant exposure and political scrutiny, and resulted in a hung jury trial, after Stagger Lee had hired one of the most prominent lawyers in the state. Shelton's case was retried in 1897, and Stagger Lee was found guilty of murder and sentenced to the notorious Jefferson penitentiary in Jefferson City, Missouri. It only took until 1902 or 1903, depending on the source, for the first printed lyrics referring to the Stagger Lee murder.
In 1909, then-Missouri governor Joseph Wingate Folk gave Shelton a full pardon on Thanksgiving day. By this time, folk versions of the Stagger Lee song were cropping up all across the South. The next year, legendary Library of Congress musicologist John Lomax received a partial transcription of what was called "The Ballad of Stagalee", from a woman in Texas. She claimed that "this song is sung by the Negroes on the levee while they are loading and unloading the river freighters." In 1911, Shelton broke into a man's home,  murdered him, and was sent to prison, but by 1912, Shelton received yet another pardon from another governor, apparently due to political pressure. Before he could be released, the infamous Stack-O-Lee died in prison of tuberculosis.
In the 1920s, a number of varieties of "Stagger Lee" began to be recorded. Ma Rainey and her band, (including a young Louis Armstrong on cornet), recorded Stack O'Lee Blues in 1925. Duke Ellington recorded a version in 1927, and in 1928 Mississippi John Hurt recorded what is perhaps the most famous and most definitive version of Stagger Lee's song in history.
Police officer, how can it be?
You can 'rest everybody but cruel Stack O' Lee
That bad man, oh, cruel Stack O' Lee

Billy de Lyon told Stack O' Lee, "Please don't take my life,
I got two little babies, and a darlin' lovin' wife"
That bad man, oh, cruel Stack O' Lee

"What I care about you little babies, your darlin' lovin' wife?
You done stole my Stetson1 hat, I'm bound to take your life"
That bad man, cruel Stack O' Lee

…with the forty-four
When I spied Billy de Lyon, he was lyin' down on the floor
That bad man, oh cruel Stack O' Lee

"Gentleman's of the jury, what do you think of that?
Stack O' Lee killed Billy de Lyon about a five-dollar Stetson hat"
That bad man, oh, cruel Stack O' Lee

And all they gathered, hands way up high,
at twelve o'clock they killed him, they's all glad to see him die
That bad man, oh, cruel Stack O' Lee
In 1931, folk great Woodie Guthrie sang a rendition of the song, likely adapted from John Hurt's version, as the lyrics are very similar. During his field recordings, John Lomax often recorded the Stagger Lee song by various groups in the American South, from Texas to the Appalachia, often times in prisons. Some of these recordings can be found at the Library of Congress. Later, in 1941 and '42, John's son Alan recorded a number of versions during his own field recording trips for the Library of Congress. The song continued to capture the imaginations of singers and poets everywhere until 1958, when Lloyd Price released a version simply called "Stagger Lee". The song exploded in popularity and became #1 on the Billboard Pop Charts. From there, dozens and eventually hundreds of recorded renditions of Stack's story were spawned. In the 1960s, when Mississippi John Hurt was re-discovered, he would often play a folk-style story called "Stagolee" in which Stag and, interestingly enough, Jesse James, rob a card game in a coal mine. In 2007, Samuel L. Jackson played "Stack-O-Lee" in the movie Black Snake Moan, backed by Cedrick Burnside and Kenny Brown. Cedric is the grandson of legendary bluesman R.L. Burnside, who also sang popular versions of Stagger Lee's song.
Stagger Lee has been sang about nearly countless times. His story has appeared in movies, poems, and even as it's own comic book. Through every generation and nearly every musical style, Stagger Lee has made an appearance. Punk, Hawaiian, Heavy Metal, Disco, Rock, Blues, Folk, Bluegrass, Country, and Soul have all seen recorded versions, often with great popularity and by names as wildly famous as Elvis and the Isley Brothers. The story of bad Stagger Lee has continued to capture American's, and then the world's, imaginations for over 100 years.
To find a largely comprehensive documentation of 420+ "Stagger Lee" recordings, see StaggerLee.com