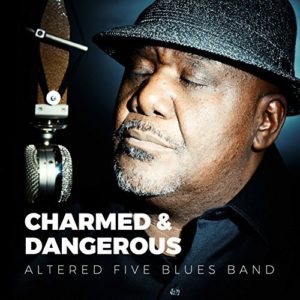 With little national fanfare comes the fourth album from Milwaukee based Altered Five Blues Band. Charmed & Dangerous hit the streets on August 11th, via Blind Pig Records, and will be making huge waves. We're not fortune tellers, but we do have ears, and the ears don't lie.
Made up of Mark Solveson on bass, Raymond Tevich on keyboards , and Alan Arber on drums, the band's sound focuses on the play between Jeff Schroedl's lightning guitar, and the bravado-filled baritone voice of Jeff Taylor. Combined, they create a thunderstorm of original blues music. What caught us off guard was that A5 has been swaggering across the Midwest for fifteen years. We should have paid more attention when their last album, Cryin' Mercy, won "Best Self Released CD" at the International Blues Challenge in 2015.
With their first release on Blind Pig, they unquestionably have our attention now. The album kicks off with the title track. It's a foot-stomping, braggadocios, guitar-ripping ditty that grabbed us by the short hairs and refused to let go. Solveson's bass is pure funk, filling the bottom, with Arber's drums, like concrete. Schroedl's guitar work is both gritty, and pristine, if such a combination exists. But it's Taylor's voice that brings it to life. With all the boldness of Howlin' Wolf, combined with the tone of Big Joe Turner, Taylor blasts it out like a Cape Canaveral lift-off.
That was just the beginning. Charmed & Dangerous runs the gamut of contemporary blues, classic R&B, and house rockin' Memphis soul like a rocket sled. The shuffling, "Mint Condition," follows with the true blues shouter coming out in Taylor's vocals. Schroedl has a sweet guitar solo, and Tevich's keyboards fill it all in. One can envision the dance floor packing to this one at any venue. "Three Forks," is a truly unique take on Delta blues history. The lyrics talk of going back to 1938, to warn the good people of the region, and save the life of Robert Johnson. Guest harp player, Steve Cohen, adds a mind-blowing solo to this one.
Things get a little swampy with "On My List to Quit," and then slow down a bit on the Chicago blues sounding, "If Your Heart Went Public." From the title, "Gonna Lose My Lady," sounds like it would be a slow burner. Nope, not a chance. It's a blues rocker from start to finish, as is "She's Still Crazy."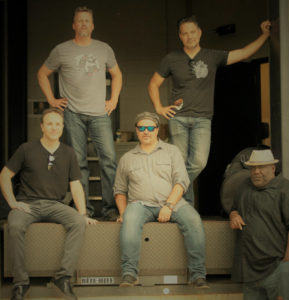 Things do slow down a couple of times. "Cookin' in My Kitchen," is the smoldering blues we'd been waiting for. This is old school, twelve bar, preach to the band blues, with some creative, and amusing lyrics. "Eighth Wonder," slows things down again, with a more soulful sound. Taylor's growl is reminiscent of the classic Memphis sound. If this song had horns, we could certainly hear it coming from Hi or Stax. Candice Smith, supplying backing vocals, is the proverbial cherry on top.
The pace picks back up with "Three Alarm Desire," "Small Talk," and the rockin' "Rotten." The closer, "Look What You Made Me Do," is a down-home traditional blues ditty, that brings our ride to a perfect end. That is until we hit play again.
With no possible way of picking a favorite from this baker's dozen of originals, we'll suffice it to say that Charmed & Dangerous is on our list of the best blues release of the year. It's available on CD and MP3 download via your favorite outlets. Don't wait another single minute to add this gem to your collection.
Artist: Altered Five Blues Band
Title: Charmed & Dangerous
Label: Blind Pig Records
Release Date: August 11th, 2017
Tracks: 13
Running Time: 48:14