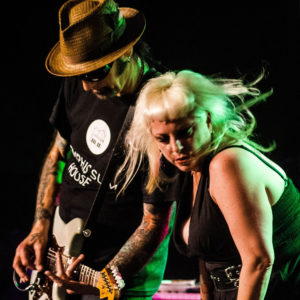 Sanctified is Low Society's third album. They debuted in 2011 with High Time, a relatively well-received album. Following this, in 2014, they released You Can't Keep A Good Woman Down. This work was widely popular, with the title track still receiving blues radio station airplay to this day.
This band is an All-American blues powerhouse, headed up by the talented husband-and-wife partnership that is Sturgis Nikides and Mandy Lemons. Mandy leads with her strong, emotionally charged voice, and Sturgis follows, weaving his talented guitar work into the music. Stitching it all together is their rhythm section, Jacky Verstraeten on bass, and Bart De Bruecker on drums. Together they create a tapestry of blues, rock-and-roll, and country, unlike anything we've seen this generation.
The first song to grab our attention was "Racoon Song." It's foot-tapping beat, strong vocals, and swinging guitar melody had us nodding our heads and wishing we could sing along on the very first play. Following was "The Freeze," perhaps one of the strongest pieces on Sanctified. The rolling base and background organ make for a picture perfect background to Mandy's powerful voice as she tells us the story of the freeze. Exhibiting a strong blues-gospel mix, the instrumental of this song is bound to grab you and not let go. Finally, the title track, "Sanctified," indeed exhibits the talents of rhythm team Verstraeten and De Bruecker. They are a worthy complement to Mandy's voice, something few instrumentalists can likely say.
Sanctified is a modern masterpiece of blues music. The talented team behind this album poured their heart and soul into every track, and it shows in the loving production, meaningful lyrics, and inspired performances. A classic blues fan looking to step into the world of the modern genre will not go astray with Low Society on their record shelf.
Sanctified by Low Society
Ten Tracks
Rezonate Records
Run Time: 48:47
Note: This article has been corrected. Previously, Nick Dodson and Mike Munn were listed in error on bass guitar and drums, respectively.