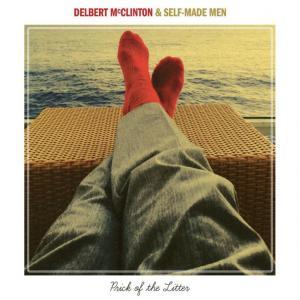 Delbert McClinton's latest release, Prick of the Litter, boasts an easy-going Sunday brunch, wedding reception level of chill with outstanding brass work, vocals reminiscent of Tom Waits, jazz piano and just a touch of melancholy. On certain tracks, it conjures up the smooth blues of Little Charlie and the Night Cats—a real uptown, club blues sort of feel. Recorded at The Rock House in Franklin, Tennessee, it's an album filled with sounds of the South, and from beginning to end, the three-time Grammy Award-winning songwriter will make you feel like you stumbled happily into a New Orleans bar with a tightly-knit band playing on a lazy spring weekend.
"Jones for You" features a Dixieland, Saturday-walk-through-the-park sound as McClinton delivers a grocery-list soliloquy to a lost love filled with descriptions of vices kept and vices put away. "Like Lovin' Used to Be" is a classic cheek-to-cheek ballad with the thoughtful saxophone interjections of Nashville session musician, Jim Hoke.
The piano playing by long time band leader Kevin McKendree on tracks such as "Rosy" and "Bad Haircut" adds a classical depth to the album. McKendree is also credited with co-writing several of the songs from Prick of the Litter, having contributed to both of the songwriter's GrammyAward-winning albums in the category of Best Contemporary Blues Album: Nothing Personal and Cost of Living.
Backed by his touring band, The Self-Made Men, the album features songs like "Skip Chaser" which showcase his band's ability to deliver a more rocking, Saturday-night number. After all, McClinton is a sort of Godfather of the Texas music scene, hosting his annual winter getaway for music enthusiasts. His Sandy Beaches Cruise, which has recently come in to port, featured several up-and-coming rockers born out of the Austin music scene including The Band of Heathens and Mingo Fishtrap.
Prick of the Litter offers lounge-style originals by a career blues and rock musician with a casual elegance and a sense of humor. Its blues sound is clearly infused with an urban, jazz influence and scratchy, Texas vocals. It makes for a quality sound-scape at any party or when just lounging around the house. Don't miss out on this y'all.
Ed Jurdi of The Band of Heathens out of Austin sums it up perfectly: "Quite simply, Delbert is the MAN. He's one of the great voices in American music and a pure soul singer. His longevity, both as a performer and a writer are a total inspiration. Anyone who knows his music knows what I'm talking about. Anyone who doesn't, should do themselves a favor and dig." Don't miss out on this y'all.