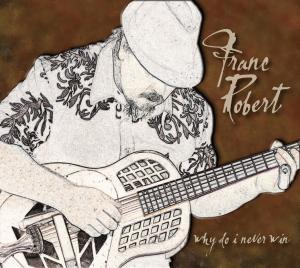 Mind Balm Records has just released Franc Robert's latest release Why Do I Never Win, a wild mix of rockin' delta blues-influenced music, with a little intricate finger picking trance-style blues mixed in for good measure. Franc Robert (pronounced Robher) is a Florida blues guitar sensation who's been artfully playing his brand of blues across the country for decades now. His new album truly shows the depths of his artistic ability.
The first track starts off on a burning hot slide number, with franc's just below shouting vocals lending a fantastic immanence to the track about running from one's demons. The drums kick in with an urgent beat and the album thrusts the listener into Franc's world, one where the blues, in it's many forms, lives and thrives. Franc manages to artfully strain all of his blues influences among the tracks within Why Do I Never Win. Albert King influenced guitar work graces "Lemon Headed Girl", while "Marcie's Blues" shows off beautiful guitar prowess in a track that would have felt right at home in any of Otis Taylor's trance-blues albums. "These Blues Is Killin' Me" is a fantastic hard-rocking blues number about excessive drug use and needing another fix. Franc's vocals throughout are great, changing to the necessary setting, and his guitar prowess is second to none.
Overall, this Florida musician knows his blues, and isn't afraid to show you. Listeners will be able to get a full dose of blues styles with a stripped-down sound that gives a raw and powerful thread that binds the album together.  This is the third fantastic release from Mind Balm Records, and Franc's second solo, and with the continuous output of simply good blues music, it will certainly be exciting to experience future albums from both.