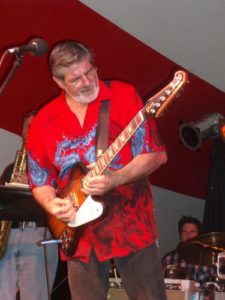 The Canada South Blues Society Museum is reporting that legendary Canadian guitarist Johnny V.  Mills has passed away.  We'll update this as more info becomes available.  We also just got a message from the President of the Canada South Blues Society confirming that Johnny's wife Debbie called him at 8PM tonight….sorry to report that it's now confirmed, Johnny died today of a massive heart attack. .  RIP Johnny.
"A great bluesman and Guitar player and friend of Canada South Blues Society who made the area his home Passed away today R.I.P Johny V"  –  Canada South Blues Society Museum
Johnny V Mills was a Calgary blues guitarist who has been nominated for several Juno awards, including on collaboration recordings with Richard Newell and Amos Garrett. In 1986 Elder Chicago blues performer Eddy "The Chief" Clearwater hired Johnny as a sideman. In 1989 Johnny released ten original songs titled Roosters and Hens and won a Juno Award in 1991 for his song "I Need A Woman". In 1998, Johnny toured with Clearwater in the US, Europe, and South America. In 1999, he joined Billy Branch's band "The Sons of Blues". He released an independent live CD in 2001 titled "Mustard and Relics" and in 2005 he recorded and released the CD "Agnostically Eclectic". Westcoast Blues Review stated that "…Johnny V Mills is the true heavyweight champion of the Great Blues North" and praised him as the "…best blues songwriter in Canada".
Johnny was awarded "Blues guitarist Of the Year" for 2009 by the Calgary Blues Music Association.