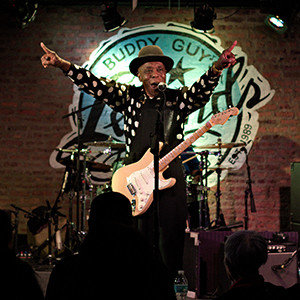 The words "legend", "icon" and "titan" get tossed around quite a bit when people attempt to describe the incomparable Buddy Guy. In reality, those words do little to accurately represent the enormous contribution that the iconic, legendary blues titan has had on the world of music — at least the world of music worth listening to.
Although shunned for most of his career by mainstream radio, the 77 years-young blues veteran still keeps firing away, trying to make an impact and the keep the blues alive, kicking, and listened to. And as anybody who's been to a Buddy Guy show in the last forty years can attest, the blues hero is not going away quietly when it comes to getting mainstream radio to play the blues.
When he was driving a tow truck during the day and strapping on his guitar to shock crowds at night, he surely wasn't playing for the money. At times, as he discusses with American Blues Scene, he felt there was no hope for his future with the guitar — but he stayed with it because he loved to play.
Stevie Ray Vaughan once said "Without Buddy Guy there is no Stevie Ray Vaughan" When realizing that statement and the scores of artists that SRV himself inspired, it starts to paint a much broader picture. The canvas becomes very large. The man himself takes it a bit further before early-morning coffee from his hotel in Detroit. "Without B.B. King, there is no Buddy Guy, and without Charlie Patton there is no B.B. King". All those old guys affected B.B. and then he affected me. It's just like sports; Micky Mantle, Willie Mays and all those great ones have moved on, but those guys inspired this new generation of players (even though these new players cheated a little bit). But the blues is the same way."
"Now you don't just plug in a guitar." says the Lettsworth, Louisiana native as he discusses some of the modern guitar technology. "You have a lot of special effects. I walk up on some of these guitar players now and they got this board down there… I wouldn't even know what the hell to put my foot on! But it's workin', ya know? But it's still a guitar. You still got to play it. You can punch all the buttons and they got technology where it will almost play itself… but you still got to play that guitar. If you watch Gary [Clark Jr] and Quinn [Sullivan], they're playing! They're playing the hell out this guitar… that's why I expose them every chance I get. By the way, Quinn is coming on Jay Leno with me. I don't have the dates yet but I'm bringing him with me. He's also coming on Extra [TV Show] with me."
As he talks with American Blues Scene, Buddy once again drives home an issue that has haunted the blues and it's many legendary figures for decades: the issue of no real support from mainstream radio. Of course, Buddy is experiencing a great amount of success these days with the new release of his two-disc Rhythm and Blues album, but it's a success he has worked a lifetime to achieve. Despite the album's widespread achievements so far, Guy continues to keep his focus on making music. "You know, I'm from Louisiana and I grew up in Baton Rouge, and me and the mayor there are pretty tight. He called me yesterday and we were talking and he asked me how the album was doing and I told him I don't really know, I don't really pay that much attention to that, I let other people tell me. BB King told me about 30 years ago… He said, 'Buddy, I ain't never made an album I liked.'"
After informing Mr. Guy that he's the number one blues album on Billboard, and the number 27 on the coveted Billboard 200 charts, the polka dot loving blues master is humble as ever. "Ya know, it makes me feel pretty good," he grins. "I must have hit a few licks for it to get up in there because you know, the way blues is treated now, it's harder than ever to get in there. It's just like a good restaurant though, you don't go by what others are saying — you got to go taste it yourself and then you say, 'well wait a minute, I better go back and get me some more of that!' So the thing is about blues is the big stations don't hardly play it. I'm not talking about Buddy Guy. I'm talking about Muddy Waters or Howlin' Wolf. I'm not saying play it every day like you do everybody else's records, but I'm saying let me hear Muddy once or twice a week, that makes my red beans and rice taste even better."
People would love to hear some of old stuff if it is just given a chance. "I agree! and I don't know what we did to be treated like that. There wouldn't be nothing wrong with hearing John Lee Hooker once in a while, maybe once a week, and maybe Howlin' Wolf next week. That way, the younger people will know that this was once the type. Kind of like the Ford car, ya know? All them old blues players dedicated their lives to playing the blues, and most of the time they wasn't making no money, they was doing it for the love of the music — not the love of money. Now-a-days a kid will come up and he can play, but he says 'I want to get paid'. It ain't like that for me… when I play my guitar, I ain't even thinking about money. I'm playing because I want to make people smile. I want them to say, 'I had a problem but I forgot about it.'"
Along those lines, Buddy decries the all-too-common misconception that the blues is sad. "If you just listen to blues and you listen to the lyrics, it is not always sad. Some of the old blues lyrics were about… [I had a good time last night] or [I boogie-woogied away]… When you are boogieing you are damn sure not sad, you are dancing and having fun. When you hear B.B. King say, 'I got a sweet little angel I love the way she spreads her wings', if you find out what he meant…" Buddy lets a gravelly, long laugh. "when I first heard it I was looking up in the sky for an angel with the wings. B.B. King told me, 'you gotta find out what I meant, it's called beating around the bush, Buddy.' But now Hip-Hop has gotten so popular you don't have to sing it that way anymore… they sing it exactly what they meant. So no, not all blues is sad. So some people just really need to sit down and listen."
Buddy continues, "What hurts the blues mostly is that these young people don't know because they don't play it no more. The big stations won't play it because they say it's too slow. But then there'll be a blues song by a British cat and they'll say 'I can play that.'
"I experienced that with Chess Records back in the day, too. I remember me and Otis Rush would be standing on the corner in Chicago with my horn player and they'd be drinking wine and joking and he'd say to Otis, 'I could hit you with one punch and knock you out.' Otis would say back to him, 'man I'm gonna let you hit me every day of the week except Sunday, just let me hit you on Sunday.' So the same thing with the blues on the radio. I don't have anything against all the other kind of music, but just once in a while sneak me in a little bit of blues. It would make me happier than hell if I could see that before I leave here."
What's it gonna take to get them to play it? "I think you gotta get to the big program directors, I've been trying to get to the bottom of it. B.B. don't know the answer, and sometimes I run into these big guys from the stations and I don't wanna put nobody on the spot so they'll hate me worse than they do now, but there's a lot of big stations and I don't know if it's money or what it will take to make them to play the Wolf or B.B. or the blues or nothin." With a mischievous gleam, the bluesman comes up with an idea. "Maybe we need to quit beating around the bush with the lyrics. We could include the profanity like with Hip-Hop… I thought about it, and in fact I'm still thinking about it."
"Blues ain't never harmed nobody to be treated the way it does."
Buddy gets comfortable as he goes on to talk about the British invasion before launching into a story about The Stones and Muddy Waters. "The TV show Shindig wanted to get The Rolling Stones when they got popular, and all those British guys, like Eric Clapton and Cream were playing the blues, [Shindig] were having a bit of trouble pinning down the band but eventually Mick said they'd do it if they could bring Muddy Waters with them. The Shindig execs asked, 'Who the hell is Muddy Waters?' The Stones replied, 'you don't know who Muddy Waters is and we named our band after one of his albums?'
"One time I was playing up around Seattle, and Jimi [Hendrix's] daddy stopped in for a drink with me. I offered him some cognac but he refused and said, 'I only drink whiskey.' I told him, 'well there ain't no more of that around here,' so he finally took a sip. After the sip, he jumps back and says loudly 'what the hell is that stuff, give me some more!!'"
"On my last CD I have a song about what my momma used to tell me, 'boy you too far gone to turn around,'" Guy smiles as he talks about whether, through the decades of disregard from mainstream radio and pop, he felt like giving up. "But no, blues has been like that all my life. I never reached the top of the ladder, but I never went all the way to the bottom. Every time I got close to the bottom, someone would come along, like the British and Gary and Quinn, and hopefully they light something up and then people will come in and say wow.
"Like I said before, the British did so much for the blues in the late 50's and early 60's when they started playing the old stuff. That's when we all started making a decent living. Before that, hell, I was driving a tow truck during the day and playing the guitar at night. But no, I never thought about giving up. And I didn't see no hope in the guitar, but I just loved it. I learned how to play for the love of music, not the love of money."
What does arguably the biggest name in the blues see for the future of the genre in the next decade? Are we going forward or are we going backwards? "Unless some of these stations are gonna give us some equal opportunity like they do some other music, then it is scary to me."
Facebook question: In an age where some of the other blues guys are settling in for old age and boring albums, what keeps Buddy Guy fresh, modern and nasty as hell on that old guitar? "The love of people. And music speaks in all languages. I go all over the world and I know some places I go, they don't know what I'm saying. But they know what I'm playing, so I can make that work. If I can get to you and I can see you smiling, even if you don't know one word in English and I don't know one word in what ever nationality or language you speak — but I see you smile… I think I did something right.
"My mission is to make people smile because if you live in this day and age and go through this life and you ain't never had a problem, I wish you could tell me how to do that. I think everyone in life hits a little down spot, but when I play my guitar I want to make you forget about that little problem that you have and that's my mission."
Tell us something nobody knows about Buddy Guy. "When I'm not making people smile playing my guitar, I'm from Louisiana and when you turn on your television and you are looking at the Food Network, everybody makes the plate look so good. But if you'll stop by my house, the plate don't look that good, but you better sure eat it cause it tastes good."
"Life is about memories. I remember the first time Muddy Waters asked me to play. I remember the first time B.B. King asked me to play… I was trying to run from him because I didn't even have a record out and I was singing one of his songs. And I looked in the audience and there he was. So all those things follow you the rest of your life."
According to Buddy, it's an often-asked question where the long cord came from. "I came up with that idea for the long cord from the late Guitar Slim!" Guy says of the Greenwood, Mississippi-born famous New Orleans bluesman. "he had that in 1954 to 1955, and I thought it was a joke, but when I first went to Chicago, all them blues musicians were sitting in chairs and they had music stands. I went there later and somebody stole my wire from me, I think it was John Lee Hooker… I went to go buy another another one and the guy looked at me and said, 'you're a damn fool there ain't nothing coming through there.' I said, 'just give what I asked you for, I want 150 feet of wire,' and I used my own soldering gun to put my jacks on the end of it. Everybody started laughing at first, but then all of a sudden everyone took a whiff of it and they were all walking in the crowd doing the same thing that I had got from Guitar Slim! I didn't create it though, like I said that was Guitar Slim and I saw him do it. I saw him in Baton Rouge with B.B. King. They announced him, 'Ladies and Gentleman, Guitar Slim!' and all I hear is a guitar and within about 5 minutes here he comes in the front door playing the guitar. I decided right then that I want to play like B.B. King and act like Guitar Slim."
Buddy's played across the world with nearly everyone there is, so who has the guitarist most enjoyed collaborating with? "Well I've just about played with 'em all and of course now, I've moved on to the younger guys like Quinn and Gary. And of course with all of the old guys like when Eric Clapton does his Crossroads Festival. Sometimes when we walk out on stage, there'll be like fifteen of us up there playing. You know, I didn't learn how to play by the book, I learned to play by the look. By watching and listening. So when there's that many out there, sometimes I don't think I should play, so I think, let me turn my back and see who I can steal a lick from. So anyways I'm sure there's some more youngsters out there for me, and I've played with all the great jazz players and I always try to learn something. George Benson and I, whenever we get the chance, try to get together and play. So I'm just always looking forward. When you get to the point when you think you know it all, you got it wrong. As far as playing the future, I'll play with anyone. As the song says, "My Arms Are Wide Open, All You Gotta Do Is Come On In".
"Some people have approached my people about maybe making some kind of movie about the book," Buddy says of his 2012 autobiography, When I Left Home. "But I don't really know much about it. I know some people said it did pretty well, but whatever come along… Whatever it takes to help the blues to stay alive, then as I said, my arms are wide open."
So if they wanted to do The Buddy Guy Story in a movie you'd totally do it? "Well I'd want someone else to do it, but like I said, if any of those things come to me, my arms are wide open.
Whatever you need me for, keep in touch. And whatever I can do to help the blues stay alive man, my arms are wide open."