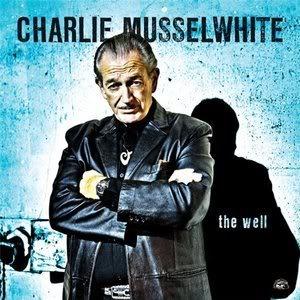 One listen to Charlie Musselwhite's latest release is all it will take to prove that this Mississippi born blues master is at the top of his game. "The Well" is deep,dark and full of addictive grooves that will have you tapping your foot in an instant. This is Charlies first full band recording of all original music and hopefully not the last. Mr. Musselwhite has crafted a musical masterpiece with glimpses into his own personal struggles, as well as his triumph over the demon that haunted him the most throughout his early career.
Living Blues Magazine says, "Musselwhite's rock-solid vocals creep up and overwhelm you before you know it. He plays magnificent harp with superb dexterity and phrasing. The results are amazing." Here at the American Blues Blog, we are in full agreement.
The title track "The Well" describes quite graphically what was going through Charlies mind and in his life when he first heard about baby Jessica McClure and her well publicized ordeal. Drinking heavily at the time, he decided that he would stop drinking, not for good mind you, just until she was rescued from that Texas well, as a sort of prayer for her. 22 years later, Charlie Musselwhite is still sober and seems to be making all the right moves, including a return to blues heavyweight Alligator Records for "The Well".
The slide guitar piece "Good Times" is nothing short of brilliant and I think a lot of us can relate to the lyrics that drive this beauty.
The haunting melody of "Hoodoo Queen" reeks of a grave-site in the south and after a few listens, I think I have an idea which Dr. John he is referring to. Charlie's fascination with Marie Laveau results in a Four minute creepy thrill ride, leading to the empty grave of the infamous voodoo practitioner.
Track Listing
1. Rambler's Blues
2. Dig The Pain
3. The Well
4. Where Hwy 61 Runs
5. Sad And Beautiful World
6. Sonny Payne Special
7. Good Times
8. Just You, Just Blues
9. Cadillac Women
10. Hoodoo Queen
11. Clarksdale Getaway
12. Cook County Blues
13. Sorcerer's Dream
The liner notes that accompany this release are very well thought out and these telling short stories present to us some of what was going on in his mind when these songs were written. Each song is uniquely described and obviously Musselwhite really thought about this very valuable addition to the CD. It is very clear, that the wisdom of this man can only be gained by living the life he has lived.
"The Well" is very deep, dark and descriptive…This is a brilliant piece of writing!…American Blues Blog
By Glen Casebeer/Northwest Music Scene
Get your copy of "The Well" here
Connect with Charlie Musselwhite on Facebook
Visit Charlie's Myspace page
You can also find the American Blues Blog on Facebook Join Us!

You can find the Northwest Music Scene at:
Facebook
Twitter
Myspace
Youtube
Reverbnation
Live Blues World