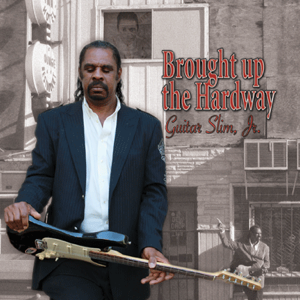 Grammy-nominated New Orleans legend Guitar Slim, Jr. just recently released his new album "Brought Up The Hard Way"!
With Slim's trademark scorching guitar solos and a versatile track list that spans from fun to introspective, the album is a blast all around. He touches on family and life, women and whiskey, all while sprinkling hot guitar playing and colorful lyrics.
Guitar Slim, Jr. is the son of the late, great Guitar Slim, who pioneered wild rock n' roll with his bright red suits and stage antics such as jumping into the crowd while playing guitar. Buddy Guy has often talked fondly of Slim, once saying "I thought; I want to sound like B.B. King, but I want to act like Guitar Slim!" Slim, Jr. carries on his father's proud tradition of great music done well with true style.
The New Orleans native can often be found playing in the city's famous Bourbon street or other well known local venues. His energy and enthusiasm on stage are electric and invite anyone who hear it in for a rockin, wild, entertaining great time!