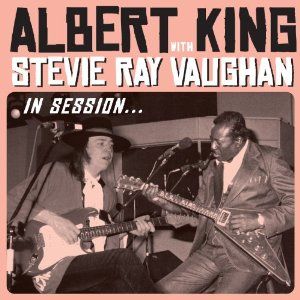 Let's get to the gravy: buy this album if you love the blues.
In December of 1983, the blues giant Albert King was convinced to jam in a television studio in Hamilton, Ontario, Canada, with a young blues guitar player he did not know named "Stevie Ray", who everyone assured him was a rising hot shot. As it turned out, when they met, Albert did know Stevie. Every time Albert came through Austin, Texas in the 70s, Stevie would be there, watching to see what Albert did, and occasionally even jamming with the blues great. Once Albert figured out he was playing with "Little Stevie" from Austin, the two shot out of the gate.
1983 marked the beginning of Stevie's meteoric career. After years of playing in bars and dives, he laid down a scorching Albert-King influenced lead on David Bowie's "Let's Dance", which got the world's attention. His next single "Pride and Joy" rocketed Stevie to unbelievable heights. It was just after this that the two got together; Stevie revered Albert, and in most of his music, you can hear Albert's influence loud and clear.
The Album In Session, from Concord Music Group & Conqueroo, contains not only 1 solid hour of Stevie and Albert playing with, and more importantly for one another, but it also contains unforgettable extras. The album is a CD/DVD combination, and the DVD has stunningly unforgettable (and some never before seen) footage of the two sharing the stage; Stevie with his famous "Number One" Strat, and Albert clutching his trademark "backwards & upside down" Gibson Flying V. There is also a full ten pages of liner notes from a number of the people that were there and involved in the session's making. Between songs, there is a treasure trove of dialog between the two men, often involving Albert passing along blues wisdom to a seemingly awe-struck Stevie. The dialog alone is enough to raise the hair on the necks of blue fans, but the two men playing side by side is almost too much to bear. The two, together on one album, is a dream come true for any blues music fan. The session is a meshing of two generations of the blues; a passing of the torch of sorts. Albert guides the younger bluesman, both in song and word, passing along encouragement and laying down lick after white-hot lick. At a price point of less than fifteen dollars for Albert King & Stevie Ray Vaughan on a CD and a DVD together, there is simply no reason why this shouldn't be in every blues man or woman's collection.