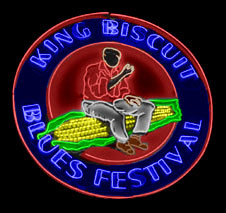 This week is also time to appreciate a famous former Helena resident, Sonny Boy Williamson (II), who was the organizer and first DJ on the King Biscuit Time radio show that the festival is colloquially named after.
King Biscuit Time, which is still airing today, was originally 30 minutes long and aired at lunchtime. It was scheduled that way because it was the perfect time for many black sharecroppers and rural workers around Arkansas and Mississippi to tune in, as many usually had a short lunch break around noon. Over the years scores of famous bluesmen passed through the King Biscuit studio to play, including B.B. King, Pinetop Perkins, Robert "Junior" Lockwood and Little Walter, among many others. Since 1941, King Biscuit has never stopped playing and they've made more than 15,000 broadcasts! What a fine reason to hold a festival!
Sonny Boy eventually moved on, and began recording at Trumpet Records on the formerly famous Farish St. in Jackson, and later the world famous Chess Records in Chicago. In the 1960s, he was a direct contributor to the British blues craze that spawned the likes of Eric Clapton, The Yardbirds, Led Zeppelin, the Animals, and the Rolling Stones, among others. He toured and played with nearly all of the bands, even cutting a record with The Yardbirds. In the Eric Clapton autobiography Clapton, he wrote that when he first met Sonny Boy he wanted to impress him with his knowledge of Delta Blues, so he walked right up to him and called him "Aleck Miller" (Sonny's real name). In response, Sonny pulled a knife on Eric! The number of famous artists who have described Sonny Boy as an influence, and the covers of Sonny Boy's music by famous artists ranging from Aerosmith to The Band to the Allman Brothers is staggering. Sonny's legacy remains alive and well in little Helena, Arkansas.
You can tune in from anywhere in the world to catch the latest King Biscuit Time shows!
http://www.kffa.com/index_temp3.cfm?CustomPageID=169&CFID=6803934&CFTOKEN=30481857