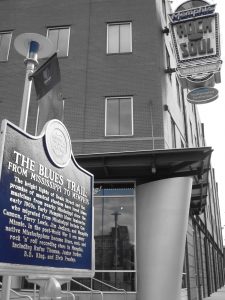 Tomorrow, the Mississippi Blues Commission will be unveiling a Blues Trail Marker for John Lee Hooker. For those unfamiliar with the Mississippi Blues Trail, there are over 130 markers commemorating births, lifes, songs, deaths, important events and locations in the blues, the vast majority of which are in Mississippi. Marker unveilings attract music fans and often musical celebrities alike from across the world, all coming to simply pay homage to their roots and influences. The upcoming unveiling is a perfect time to appreciate the dynamic life of John Lee hooker, who's unparallelled style of playing and singing has had one of the greatest recognizable impacts on music at large.
One of the most highly regarded blues masters to have ever lived, John Lee was well known for his single-chord "boogie woogie" style guitar, as well as his hard driving electric sound and his deep vocal abilities, formed from years of childhood gospel singing. His irregular timing confused many a band member, but it's long been a signature of Hooker to not let timing getting in the way of his music. John Lee has often been lauded as one of the strongest, most celebrated links between Rock n' Roll and the Blues.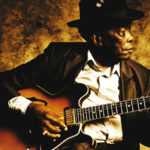 John Lee Hooker was born outside of Clarksdale, Mississippi, a place well known to music enthusiasts as "ground zero" for the blues. As a young man, he worked at The Daisy on Beale Street in Memphis, which is still hosting blues and music to this day. He eventually found work in an auto factory in Detroit, and it was here that a record store owner discovered his progressive musical abilities. One of his first recordings, "Boogie Chillen", quickly became a million-copy seller and a number one hit, followed by another million-copy seller, 1951's "I'm In The Mood". The blues revival surge in the 1960s, along with the British rock explosion, shot Hooker to international fame and further fueled his superstar status. British musicians The Animals, Eric Clapton, the Yardbirds, John Mayall and many others loudly praised John's musical genius, resulting in a highly successful British tour. The Animals, having been strongly influenced by John Lee's "boogie woogie" style of guitar, even famously recorded a cover of "Boom Boom", which reached #43 on the Billboard Charts.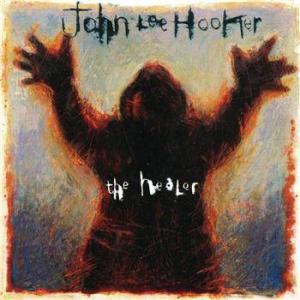 During the 70s and 80s, John Lee's status as a cultural icon was cemented. He released the critically acclaimed Hooker n' Heat with the band Canned Heat in 1970, followed by Never Get Out of These Blues Alive, with Van Morrison and Charlie Musselwhite in 1972. The same year he was inducted into the Blues Hall of Fame, he had a memorable cameo as a street musician in the smash 1980 movie, The Blues Brothers. During the tail end of the 80's, Hooker played the title track of Pete Townshend's The Iron Man, and played with the Rolling Stones and Eric Clapton in Atlantic City, NJ for their nationally televised Steel Wheel tour. Finally, in 1989, John Lee Hooker released one of his most popular albums, The Healer, with special guests Carlos Santana, Robert Cray, George Thorogood, and Canned Heat, to name a few. The duette "I'm In The Mood" with Bonnie Raitt won John Lee his first of four Grammys, including a Lifetime Achievement Award. In 1991, he was inducted into the Rock & Roll Hall of Fame, and was later given his own star on the Hollywood Walk of Fame in 1997. At the age of 88, John Lee Hooker died in his sleep after over 50 years of groundbreaking, unimitatable blues. He is survived by eight children, one of which is an accomplished bluesman in his own rite; John Lee Hooker, Jr.
In his lifetime, John released well over 100 albums, appeared on "The Late Show", "The Tonight Show", BBC, Letterman, and many others. His songs have often been cited as music that's shaped music as we know it. Dozens of bands have covered John's work, including well-known covers by George Thorogood, The Animals, Cream, The White Stripes, Van Morrison, The Doors, and many others. He won multiple Grammys and has often been acknowledged as one of the biggest musical influences of the 20th century. Tomorrow's unveiling of John Lee's blues trail marker is a remakably well-deserved reminder of the giant sound that came from one man and, more often than not, one simple, yet endlessly complex chord.