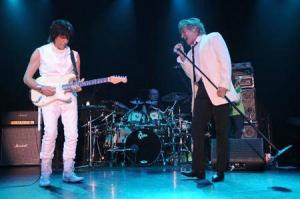 In the past year, it's certainly been "cool" to make a blues album, with everybody from Cyndi Lauper to Tom Petty and the Heartbreakers paying homage to the music that they built their careers upon. The latest, and possibly most exciting news for the rock/blues crossover trend is the dynamic reconnecting of guitar god Jeff Beck and long time rock sensation Rod Stewart. In a recent interview with Absolute Radio, Rod said "I'm listening to a lot of blues music at the moment because Jeff Beck, my old boss, and I are going to make an album together. So we're going to do a blue album, update some blues stuff, because he's a fabulous guitar player, so I'm working on that at the moment."
Jeff Beck was a major force in the British blues explosion of the 60s, playing with British blues converts Eric Clapton and Jimmy Page, taking the lead guitar responsibility for the cult blues-rock favorite The Yardbirds after Clapton left. His first chart-topping single with his own band was a striking cover of "Ain't Superstitious", a Willie Dixon track from his long time Chess Records era.  Stewart, having taken deep influences from blues and soul, took up the vocals in the Jeff Beck Group until it's disbanding at the end of the 1960s.
"It will be tremendous, because we worked together in the 60s, made some landmark albums," said Stewart. In a recent article with Reuters, Beck discussed his plan to radically rework tracks from Muddy Waters, Elmore James, and others. While Beck, even through his many acclaimed explorations through musical styles and genres, has always stayed loyal to the blues he's built a house upon, Stewart has spent a number of years immersed in rock and pop. These two powerful musical forces, with Jeff's nearly unprecedented guitar ability and Rod's return to his long time soul and blues roots should make for an exciting album.