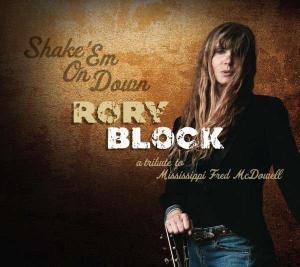 Rory Block is the guitar shaman who plays country blues as passionately as she preaches 'em. She has taken on a personal mission of sorts to record a series of albums in tribute to the delta blues greats. Her latest, the second with Stony Plain Records, is Shake 'Em On Down: A Tribute to Mississippi Fred McDowell. It comes out Tuesday, March 29th. As Rory puts it, in far better words than we could, the album is "a tribute which seemed to derive energy from the man I knew in person in 1965, but which ultimate lives comfortably in 2011."
The twelve tracks contain a few Fred McDowell staples, as well as several original tracks by Block, created in the style and soul of McDowell. The album kicks off with "Steady Freddy", an original song by Block that tells Fred's story from what she envisions his perspective was. The second track, "Mississippi Man" fits very comfortably with the first, as Rory tells her story of meeting Fred in Berkley, California. "Shake Em' On Down" is pure, heavily driven, foot stomping blues, while "Woke Up This Morning" is an unexpected but welcome choir-infused gospel number that builds in conviction and intensity until it stirs your soul.
The era of cover art and packaging may slowly be falling by the wayside, but those that purchase the physical album will be rewarded generously. The album, which is very artistically impressive, comes with fantastic liner notes by Rory, describing her odyssey through her different tributes. If that weren't enough, a booklet tucked into the fold of the front cover contains Rory's description of her personal journey through each song, and the lyrics to her own pieces that were inspired by and contrived through Fred McDowell. We normally don't spend much time discussing packaging, but Rory's artfully descriptive paragraphs on making each individual track, along with her insightful notes on how she pays such striking homage to the original blues greats adds a very unique enhancement to the magic of the tracks.
Overall, this is another fantastic addition to Block's growing collection of "blues homage" albums.  Rory is a powerful delta style guitar player, and nearly anything she plays comes from a lifetime dedicated to country blues and guitar, which has earned her the distinction of being one of the greatest country blues players in the world.