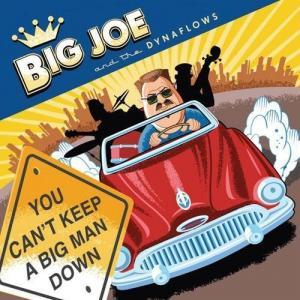 Big Joe and the Dynaflows recently released their new album You Can't Keep A Big Man Down, from Severn Records. Big Joe Maher, a 30 year veteran of both blues and jazz, is a mighty vocalist and a powerful drummer, both positions he takes up on this album. There's a range of influences to play with, while the album thematically continues along a jump blues feeling that helps keep it centered.
The second track is an excellent cover of B.B. King's "Bad Case of Love", with a righteous multi-saxophone backing courtesy of Dennis Taylor. Joe's drumming and vocals are perfect for the track, possibly one of the best renditions of the song since the King himself put his stamp on it. Rob McNelley's guitar riffs echo B.B. while managing to hold his own sound, an accomplishment that isn't easy to pull off. "Evangeline" is straight out of the classic New Orleans R&B playbook. "I'm To Blame" is a great take on the track, with heavy horns and a rockin' piano groove reminiscent of B.B. King.
Overall, the album plays with a number of styles, all of which are handled easily by the crack band. Maher makes the vocal work sound effortless. While the liner notes make a mighty proclamation that he's one of the finest drummers on the scene today, after hearing this album, we might be convinced. With a great blend of original and cover tracks, it's a fun, upbeat album that surely has that jumping blues feeling. Since it's recent release, it's been getting quite a bit of mileage, with appearances on B.B. King's Bluesville on Sirius XM, New Orleans' Offbeat Magazine, and plenty of others.
Pick up a copy of Big Joe and the Dynaflows You Can't Keep A Big Man Down on their website!