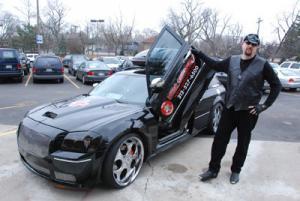 Contrary to some off-the-cuff stereotypes, blues music is not about being sad, but rather, taking away the sadness and pain. To that end, one Chicago doctor spends his nights playing the blues away, and his days helping to relieve other's blues through surgery, medicine and compassion. Doctor Dan Ivankovich is, to put it mildly, not your average doctor. While most envision doctors in long white lab coats with stethoscopes and Porsches, Dr. Dan, as he's known to be called, comes with a seven foot frame, clad in cowboy boots, a leather vest and guitar, driving a tricked out, souped up Dodge with red under-car lights. For those of you that have seen the TV Show Memphis Beat, about a police detective who plays blues by night and solves crime by day, Doctor Dan could be described as the real life medicinal Chicago counterpart of the Jason Lee character, but quite possibly more exciting.
Doctor Dan is a surgeon by trade, but his specialty is caring for the great many that care forgot; the poor, the uninsured, the under-insured. Gangsters, crime victims, musicians and veterans who have been neglected by the system are all in a day's work for Dr. Dan, who performs nearly 1,000 surgeries a year. By comparison, that's over
triple
a normal surgeon's workload. More than half of his patients are uninsured. His services, many never available in the neediest neighborhoods, include pediatrics, trauma, joint reconstruction, broken bones, gunshot wounds and spine surgery. A hospital so unique was bestowed a name equally as full of character;
The Bone Squad
. His compassion, however, is so great that it cannot be limited to one city, or even country. Immediately after the devastating Haiti earthquake, he spent his own time and money tending to and caring for the sick and wounded, even bringing two spinal injury patients back to provide six months of free rehabilitation and care. With the success of his unique model of caring came offers and requests from other cities to start satellite clinics. Doctor Dan jumped on the chance, and has plans to create new clinics in Memphis and New Orleans. Why those two cities? Because they're two of the most needy, and two of the most blues-filled. At it's core, the hospital is about giving back to the communities and the music that provided him with a new lease on life during trying times.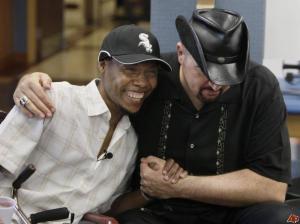 "The concept that we have is very simple: pay it forward," says Dr. Dan. Once a star basketball player with bright NBA prospects, he suffered a life-changing turn of events. "When I was injured, and my aspiring NBA career was destroyed, the thing that saved my life was blues music. I totally immersed myself deeply into music and art, and that helped me reinvent myself. The part of me that was an athlete was dead, and I had to find the new me. I had a huge hole to fill and blues filled it for me." Ivankovich went to the impoverished neighborhoods in Chicago that he knew would help teach him to play the blues that he revered. There, he found a mentor in Magic Slim. "These were the same neighborhoods that I had played basketball in. And when I went as a musician, it blew my mind, the poverty and need that these people lived in. Then and there, I made a commitment that at some point in my life, I was going to pay it forward. As a community, blues gave me a whole new opportunity of life, and I felt the best way to pay forward, was to give back to the community that had nurtured me and sustained me with this phenomenal enjoyment that was blues music." Heartbroken to see so many amazingly talented musicians with no insurance and neglected by healthcare, he went back into the west and south sides of Chicago and formed a musician's clinic to help his fellow blues men. Eventually, the idea grew into a hospital that broadened it's focus to all those that were so often left uncared for.
Doctor Dan and his band cohorts, the Chicago Blues All-Stars — a name borrowed in homage to Willie Dixon, have equally ambitious aspirations for their blues music. Rather than the classic Chicago sound, they're branching out in a new way; trying to entice new ears and new fans into the music. "We're working with DJs and hip-hop engineers," says Ivankovich, "and we're going to do remixes of every one of the blues covers that we recorded. We're going to try and do something very over the top." Upon release of the album, tentatively planned for a June release date, the band is planning on providing all of the song's elements free of charge, so that DJs and mixers can simply download the files and create their own remixed beats. The hope is that the All Stars can find stages and audiences nationwide and internationally to spread their flavor blues and keep working doing what they love; playing music. The All Stars themselves read like a who's who of Chicago music. Scott Dirks, a W.C. Handy Award winner (now called Blues Music Awards,) and author of Little Walter's autobiography is taking up the harmonica. "Killer" Ray Allison, James Cotton & Buddy Guy's former drummer, who's played with Clapton and many others, is taking the rhythm reigns. Jerry Porter, a fourteen year veteran of Buddy Guy's band who's played with everyone from Big Mama Thornton to Ronnie Baker Brooks is handling the drums. Patricia Winters, a well accomplished and long time jazz singer, is helming the vocals. Where would a good band be without a horn section? Johnny Cotton is mastering the horns.  The band incorporates elements of Funk, Stax Records soul, R&B & Hip Hop into their unique sound. "We're going to try and write the next chapter for what an urban contemporary blues band could accomplish, being influenced by Muddy, and also being influenced by James Brown," explains Dan.
Doctor Dan, an accomplished guitarist who's played with Bo Diddley, Otis Rush, James Cotton, Junior Wells, and dozens of others, is not just a guitarist and vocalist for the group; he's also a healer. When Patricia Winters needed two hip replacements, Dr. Dan performed the procedures. Another female singer in the group needs dual knee replacements and is in the care of the good doctor, and when Johnny Cotton, the horn section head, fell upon poor health, Dr. Dan was able to help significantly with his healthcare. "I'm able to help my band, and I'm also helping the communities that they come from. I look at it like, when I went to become a doctor, I'd done hundreds of gigs, but the way I considered me paying my dues as a bluesman, is doing the thing I do in these communities and making it real." Doctor Ivankovich certainly does make it real; passionately playing the blues and spreading heartfelt kindness and healing across the country. He was honored last year with the National Social Workers Association' 2010 Public Citizen of the Year. He's been featured on CBS by Katie Couric, the Today Show and many other nationwide news outlets.  An L.A. Producer is making a documentary film on Dr. Dan, which he hopes will expose the credibility of the music, and the legitimacy of what he, The All Stars and the Bone Squad are trying to do to help people's lives in these under-served communities. If that weren't enough, producers of reality TV continue to knock on his door — and why wouldn't they? Dr. Dan is truly one of the most interesting, inspiring figures in medicine, the blues, and anything else he chooses to put his larger-than-life touch on.
Visit Dr. Dan's Website, BoneSquad.com
Visit the Non-For-Profit that makes great care possible, OnePatient.org