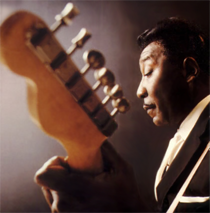 Nearly no soul in history could say they were the Blues like Muddy Waters could. Muddy is one of the most prolific embodiments of the Blues that there ever was. His larger-than-life sound has played a hugely influential role in the style of countless musicians. The nuances in his guitar playing and his deep, rough voice made Muddy into an un-imitatable force that drove Chicago Blues, and subsequently Rock n' Roll, to unheard of heights.
McKinley Morganfield, Muddy's real name, was born to a Mississippi sharecropper, reportedly in the town of Rolling Fork, Mississippi. His mother died when he was only three years old, and he moved to the outskirts of Clarksdale, Mississippi, to Stovall's Plantation. He was given the nickname "Muddy" because of his penchant for playing in the mud as a child. Like so many from the Delta, Muddy grew up sharecropping himself, tending to cotton fields for hardly a dollar per week. In the fields, he learned the long standing tradition of call-and-response singing. Influenced strongly by the Blues giant Son House, who lived nearby, Muddy began to play the guitar at 17. He quickly picked up the delta style and mastered the bottleneck slide, which would help to define his electric style later in life. It didn't take long for him to start playing parties & jukes with his friend Sunnyland Sims, who would later play a pivotal role in Muddy's bullet-train to fame. In 1941, while looking for the Delta legend Robert Johnson, (who had already been dead for 3 years), famed folklorist Alan Lomax recorded Muddy for the first time in his life. Mud later equated this experience to hearing himself for the first time. He was recorded again by Lomax in 1943, and that year, inspired by his recordings, he boarded a train from Clarksdale, to Chicago, Illinois to play his guitar.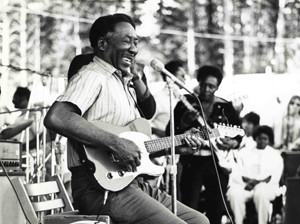 Muddy's trip to Chicago is often seen as the symbolic birth of the Chicago-style electric Blues. For a year he played alongside Chicago Blues greats such as Sonny Boy Williamson (I) and Big Bill Broonzy. In 1944, Muddy picked up his first electric guitar, playing his delta style with af very electric sound. In 1947, after years of playing clubs and venues, he played guitar for his old friend from the delta, Sunnyland Slim, for Aristrocrat Records, which would soon change it's name and become the most famous Blues record label in existence, Chess Records. Leonard Chess, who would, along with his brother, become the sole owner(s) of the soon-to-be Chess Records, released Muddy's first record on Aristocrat: "I Can't Be Satisfied", with a B-side of "Feel Like Going Home". It sold out in less than a day. His first single began Muddy's international popularity and placed him as the beating heart and hard-driving soul of Chess Records for decades to come.
In the early 1950's, Muddy Waters and his band, arguably the best Blues supergroup to have ever existed, were on top, and so was Chess Records. Muddy befriended and signed in harmonica great Little Walter, brought in Otis Spann, still one of the unmistakably best Blues pianists in existence, and Jimmy Rogers on second guitar. Leonard Chess hired delta Blues bassist Willie Dixon, who quickly became a Chess star, penning hundreds of songs for the Chess artists.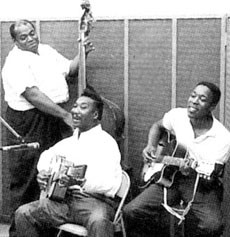 Howlin' Wolf was discovered deep in the Delta and brought to Chess as well, rivaling Muddy as one of Chess's biggest starts. This magical combination of artists shot the Chess repertoire to epic proportions. It was in this "golden age of Blues" from the early 1950s to the 1960s that the Muddy Waters Band recorded some of their most famous songs. The music, such as "Mannish Boy", "Hoochie Coochie Man", "I Just Want To Make Love To You", and She's Nineteen Years Old", among many others, all of which continue to be an integral part in any Blues musician's supply, were either penned by Dixon or Waters. As the popularity of the entire group reached it's peak, Muddy's band members rotated several times as both Otis Spann and Little Walter left the band at different times to pursue very successful solo careers. Muddy's band acted as a launch pad for many artists' careers in the coming years. In 1958, Muddy toured England with Spann. Their tour exposed young Englanders to the hard-driving blues style, and helped solidify the coming massive popularity of Blues across the pond. It was an enthusiasm which would spawn such massive groups as Eric Clapton, Rory Gallagher, The Yardbirds, Led Zepplin, and The Rolling Stones, who named their band after his song "Rolling Stone", and, during a U.S. tour, came specifically to Chess Records to record in the same place as their hero. Muddy's appearance at the 1960 Newport Folk Festival led to his first live album, and helped to generate the hard-driving electric Blues exposure to the growing folk revival's enthusiasm.
Unfortunately, it was the folk-revival that seemed to wane Muddy's career. After his popularity throughout the fiftys, his career slumped to a low point. Pressured by Chess to meet the demands of the trends, he released several folk and soul-inspired albums that were less than well-recieved. Chess Records' solidarity too began to falter, and in 1969 the brothers' sold the company, with Muddy's long time friend and employer Lenoard Chess dying of a heart attack later that year. In 1977, Blues-Rocker Johnny Winter began a fruitful collaboration with Muddy, who signed to Winter's label Blue Sky Records. His time with Winter created a new energy in his career. He released his critically acclaimed, Grammy winning album Hard Again that same year, and the next year released one of his most timeless albums, I'm Ready. For several years Muddy enjoyed a large following of mostly white fans, which the genre's popularity seemed to shift to, and he toured continuously with Johnny Winter. In 1980, Muddy was one of the innagural inductees into the Blues Hall of Fame. On the night of April 30th, 1983, Muddy passed away in his sleep, leaving behind one of the largest musical legacies of the twentieth century.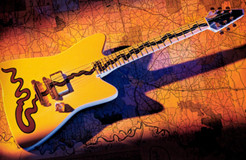 Muddy Waters continues to be one of the most renoun, celebrated, beloved Blues men of all time. He is a seven-time Grammy winner, and in 1987 he was posthumously inducted into the Rock & Roll Hall of Fame. In 1992, he was posthumously awarded a Grammy Lifetime Achievement award. He has been a six-time Blues Foundation's W.C. Handy Award winner, and his legacy has been felt through the likes of both Bluesmen and Rock pioneers across the world. Muddy forever changed the face of music as we know it, and he did so with style. His bloodline legacy is survived by his Bluesman son Big Bill Morganfield, who has enjoyed standing on his own ground and adopting his unique interpretation of the Blues, which he shares with the world in avid concerts and frequent albums, his latest being Born Lover, released in 2009.