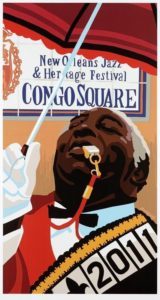 New Orleans Jazz and Heritage Festival, one of the finest, oldest, and largest music festivals in the country, is officially upon us. Over two weekends, hundreds of artists and bands, and nearly half a million people have descended upon the Crescent City, soaking up all of the culture and tradition that New Orleans has to offer, and hearing wild blends of Rock, Jazz, Blues, Brass Bands, Mardis Gras Indian Chiefs, Rap, Hip Hop, Zydeco and many other strains and styles of music.
Jazzfest, as it's colloquially known, is almost certainly the most culturally-rich festival in the world. Part of the festival's magic is in it's location; New Orleans is one of the most musical cities to have ever existed, "a city that lifts the imagination of the rest of the world". The little town that sits between the mighty Mississippi River and Lake Pontchartrain gave birth to Jazz music, played a pivotal role in the explosion of Rock n' Roll and Blues, and is rapidly pioneering and popularizing new styles of Rap, hip-Hop and Brass-Band based music, a la Mystikal, Trombone Shorty, and a number of others. With that much musical history, culture, and relevance in one city, holding one of the biggest festivals of the year is a virtual inevitability.
Another reason for Jazzfest's unique magic is the blend of both regional, local, and national talents. While a number of internationally famous acts such as Bon Jovi, Jimmy Buffet, Willie Nelson, and Kid Rock will grace this year's stages, a great number of New Orleans musicians are also scheduled to play the festival's many stages. John Cleary, Guitar Slim, Jr., Coco Robicheaux, The Nevilles, Tab Benoit, Tom McDermott and even the grand return of the legendary New Orleans rock group The Meters will all make appearances at the festival. If you don't know any one of the names mentioned above, each is well-worth discovering, which is one of the many reasons they're again gracing Jazzfest's stages. The Jazz and Heritage festival draws heavily upon the mountains of local talent and culture to provide it's hundreds of thousands of visitors with a truly unique music festival experience. What other town has hundreds of years of such rich musical genius from which to draw it's talent? Very few, it turns out. Yet another reason why Jazzfest is one of the world's most popular.
New Orleans Jazzfest began Friday, April 30th, and continues on April 30th & May 1st, picking back up Thursday, May 3rd, continuing through Sunday, May 6th. In the interim between Sunday and Thursday, visitors to the city will be able to explore the many amazing and inviting qualities that New Orleans has to offer, from the stunning architecture of the Garden District, to the musical odyssey that is the rapidly burgeoning Frenchman street.