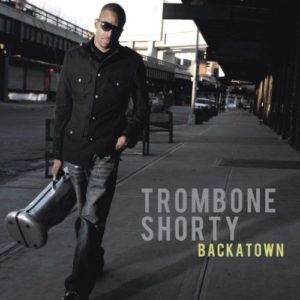 Recent Grammy nominee Troy Andrews, better known as Trombone Shorty, has been growing in popularity like a snowball rolling down a steep hill. It's hard to place the New Orleans native's seriously unique style in any genre, which, for Shorty, is a wonderful problem to have. The "Backatown sound" is noticably rooted in jazz, rock, funk, blues, hip-hop and soul. Of course, it's all rolled in a horn-heavy layer of distinctly New Orleans music that makes feet stamp and hips shake. Of course, a lot of horns should be expected from a man with "Trombone" in his nickname. Clarence Slaughter and Dan Oestreicher make up the Tenor and Baritone Saxaphone section, with Shorty taking up the Trumpet and (obviously) the Trombone. Together, they form an immensely tight horn section that lights up each and every track on the album. Pete Murano, a Saint Louis native, provides a perfect rock guitar sound that helps to blend the music into a contemporary gumbo. Shorty's band is tight, young, and filled to the brim with cream-of-the-crop talent. For those wondering, the album's name, "Backatown", is the alliterative slang for "Back of town", an expression long used to reference the Tremé neighborhood, where Jazz was born.
What would an album be without friends? Trombone Shorty's old mentor Lenny Kravitz steps in to provide the backing vocals and some slick guitar work on the smooth groove "Walkin' Around Town" style "Something Beautiful". The deeply soulful contemporary blues man Marc Broussard lends his heartfelt vocals to "Right to Complain", a strong beat about taking some personal responsibility. "Hurricane Season", the first track, is a largely instrumental, highly danceable number with menacing rock guitar and smooth horn licks.  While a good portion of the album shows off the extraordinary instrumental talent, when Shorty does step up to the mic, his vocals are surprisingly smooth & melodious.
Overall, Backatown is filled with excellent, original track work. This is an album worth buying. Twice. Every song on the CD, with the exception of Allen Toussaint's "On Your Way Down", is original and filled with energy and damn good music. There is good reason that this album was nominated for a Grammy, (in the contemporary Jazz category, but don't let that fool you) and there will undoubtedly be more Grammy buzz in the future. It's worth noting that Trombone Shorty's live sets are mind blowing. Shorty live is so high energy, it is nearly impossible to stay in your seat through a whole set. His shows are a fusion of hard rock, with a heavy dose of showmanship, fist-tight band work, and explosive energy. Thankfully, the bonus track "Where Y'at" was recorded live and captures a glimmer of the energy that bursts through his shows.