This is the first editorial from the desk of Marc Borms, who, along with his brother Luc, are currently undertaking and documenting their amazing 4,500 mile trip through the depths of Mississippi's Delta in search of the blues and the people that make it up.  Their trip will be made into a forthcoming book, Catfish & Cotton.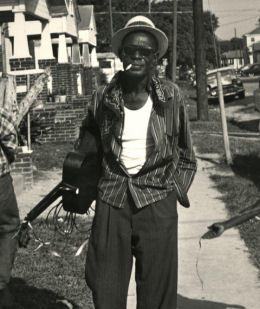 When do you start a report on a journey to Mississippi, the heart of the blues? Start from the point that you arrive in MS? When you started preparing for the trip? Or earlier, when you decided to go?
All of these questions are irrelevant for a trip to the Land of the Blues. The journey began a long time ago, with two 15 year old boys, listening for the first time to the voice and guitar of Sam Hopkins. The "lightning" struck, the world was never the same anymore. Sam wrote the word "blues" deep in our heart with his guitar an his lazy southern voice. That was the moment when the journey started, the journey that brought us to the Delta. And even if the journey was long, it feels like coming home.
But all this said, we're not 15 anymore. We've grown up to become grey gentlemen in their fifties, having a fainting memory of the power of youth, but still lacking the wisdom of old-age. We "lived", oh yeah… that's for sure. Lived through many mistakes while enjoying too few successes. And maybe that's why this is the moment for a journey to the heart of the blues.
But, all this said, let's agree that the report of that 35-year long journey would be too long. The real journey started this morning at 4:00 AM: get up, shower, much needed coffee, check luggage (cams, batteries, and… some clothes) and then to the station. Stopped at mom's house to say hello. 50 minute train ride to Brussels, Belgium. More coffee. Flying to Atlanta. More coffee. After a plane ride across an ocean, we landed, found the SUV and drove several more hours to Fulton, MS. More coffee.
The first 24 hours was ok, and we still live… Mississippi, here we come.
A few days later seems like a few years later. Schedule is heavy, but it feels like heaven. We spent two days in Clarkdale and it's wider region of Coahoma County: went to Hopson's plantation where an harmonica jam camp was taking place, and Luc has been teaching harmonica. We visited the grave of Sonny Boy Williamson II outside of Tutwiler, MS, stayed in the Riverside hotel and met Frank Ratcliff (great man – check out this great place), been two nights at the juke joint "Red's Lounge" to see "Cadillac" John Nolden and Robert Belfour, well known regulars around these parts. We've been shopping in Bluestown Music, visited the Delta Blues Museum and Cat Head, drank a beer in Ground Zero Blues Club, been to Helena, Friars Point to Hirsberg's, been to the gospel festival in Helena and had a drink and dinner in the Blue Bayou Blues Club, Helena.
We spent two days visiting Memphis: went to the Memphis information centre to start, visited Sun Studio, Stax, took a walk on Beale Street and on the riverside of the Mississippi… We visited the gates of Graceland, been to Schwab's on Beale, took the Gibson factory tour, visited the Rock and Soul museum, B.B. King's Blues Club and played with Blind Mississippi Morris. We visited Lorraine Motel.
And we interviewed a number of people for our upcoming book in these 4 days…. Why are we tired? Probably need more coffee.