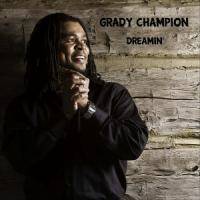 Grady Champion announced himself as one of the most promising talents in the blues with two excellent albums for Shanachie Records in 1999 and 2001. They showed he was a skillful harmonica player and songwriter with a particularly good voice with a Wilson Pickett-ish rasp that was perfect for the blues. 2 Days Short of a Week produced a legitimate classic in "Policeman's Blues." He didn't exactly disappear after that. He was still gigging around south Florida, but he wasn't visible on the national scene.
Last year Champion re-emerged with a victory at the International Blues Challenge and issued a live recording of a 2007 show at Jackson, Mississippi's 930 Blues Cafe on his own label. It featured his earlier songs and some standards. Now he's back with Dreamin' featuring ten originals. Backed by Zac Harmon's band, Champion's still in fine form and his songwriting is sharp as ever. The disc immediately shows he's picking up where he left off, reprising the rocking "My Rooster is King" from his first Shanachie record Payin' For My Sins.
Champion and Harmon keep the set varied. "Dreamin'" continues the rock feel but features prominent background vocals and nice harmonica breaks. "Weight of the World" is a laid-back ballad. "Cross that Bridge" is a classic Southern soul cheating story about trying not to get caught, but knowing it can't last forever. "Guilty as Charged" is another soul/blues cheating number but this time, Champion sounds genuinely upset about breaking his girl's heart. "Same Train" moves in the great tradition of blues songs with train rhythms. "Thank You for Giving Me the Blues" is the deepest blues song on the record with Champion singing about the importance of the music in his life. It features some good Albert King-style guitar solos (presumably) from Harmon. "Laugh, Smile, Cry Sometime" is a gospel-influenced groove, driven by Champion's harmonica. On "Walk with Me Baby" Harmon takes the lead vocal, letting Champion show off on the harp.
Champion makes the harmonica fit in any context bringing more blues feel to every song he plays. There might not be a song here as great as "Policeman Blues," still Champion's best, but everything is solid on this new album. Hopefully, he'll continue to release new music regularly.