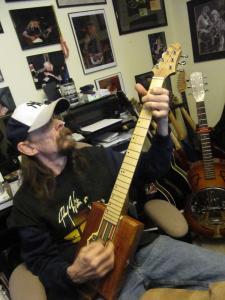 Mark Southwick, who used to love cigars and cigarettes, gave up tobacco a quarter century ago, yet he still finds himself frequenting cigar shops. No longer puffing, Southwick is all about recycling nowadays. Residing far from the Delta, he's a rare Connecticut resident who takes old cigar boxes and turns them into musical instruments.
While the earliest cigar box guitars often consisted of a cigar box, a broomstick and bailing wire, Southwick breaks from tradition by attaching electric guitar necks to his cigar box guitars. "With cigar boxes, there's no such thing as traditional," he said. "No two are alike. You have to remember, they were made by poor people who couldn't afford a guitar. So they used things they found around the barn or the house, door hinges, horseshoe nails, wire, you name it." A blues fan who counts Robert Johnson, Johnny Winter and Stevie Ray Vaughan among his favorite guitarists, Southwick said many a blues great got their start on cigar box guitars. A short list would include Lightnin' Hopkins, Muddy Waters and Albert King.
After losing a bid on eBay for a cigar box guitar, Southwick, a talented artist and guitar technician who can take the most beat-up electric guitar and repair and refinish it to make it performance-ready, decided to make his own cigar box guitars. Why not? He had about 200 guitar necks lying around the house that weren't doing anything but collecting dust.
He built his first cigar box guitar back in July and has made about 30 since then. Many have found new homes.
"They caught my eye. They look like they're 100 years old," said West Hartford resident Joe Rathvun, who hadn't touched a guitar in nearly four years due to arthritis in his fingers, yet bought two of Southwick's creations. "I'm playing a lot more than I used to," he said. "I pick up the guitar at least three to four times a week. The cigar box guitar got me going again."
Southwick's line of "Smokin' Strings" guitars sell for $300 and up. The price tag depends on how much time he puts in, such as if a customer requests a special logo incorporated into the box, and other specifications. The more guitars Southwick creates, the more efficient he becomes at discovering and perfecting ways to fine-tune them, or more specifically, reinforce the cigar boxes (helping them to stay in tune) and thus, improve the sound. He added, "I've started building them with built-in pre-amps and using real guitar bridges and now I'm getting perfect intonation, which is key to everything. If you don't have that you better try a different line of work."
Southwick, 58, said the difference between his first cigar box guitar and his most recent is "like night and day."
"The biggest improvement other than better parts is reinforcing the box," he said. "When you hook up six strings to a cigar box you're creating a lot of tension and if that box doesn't stay square, it won't stay in tune and therefore, it's only good for hanging on the wall." But Southwick's guitars, most of which can be plugged into an amplifier, can be played or displayed.
"I do have a few people who are interested in helping me promote them," said Southwick. "Paul Bassett of Diamondback (a Connecticut-based blues-rock band) and Dave Paul Travis of Southern Comfort (the premier southern rock band in the Northeast) are awaiting finished products as we speak. We're going to custom build them using the bands' logos on the face of the cigar boxes."
If Southwick isn't making a custom guitar, he can usually get a standard cigar box guitar wrapped up in three or four days. The hardest part of the process, he said, is seating the neck and making sure the scale length is right. "Setting the intonation on this type of instrument isn't all that easy. I think that's the most frustrating," Southwick said.
When a cigar box guitar is completed however, it's often a thing of beauty. "Mine are attractive. They're eye-catching," said Southwick. "There's nothing like 'em. It's a whole style unto itself. You can go into 100 music stores, you're not gonna find 'em. I've been in a lot of music stores in nearly 60 years and I've never seen one." Southwick noted that guitar players aren't the only ones interested in his cigar box guitars. Cigar smokers are also potential customers. "If you smoke a Cohiba cigar you'd probably want a Cohiba cigar box guitar hanging on the wall of your office. They're conversation pieces," he said.
The man who grew up on the mean streets of Hartford isn't making these guitars merely for some extra spending money. The cigar box guitars are the foundation for a store he plans to open for his three children. "My intention is to build a business for the boys, (ages 2 to 8,) since music seems to run in the family," said Southwick. "Michael, my 8-year-old, seems to be a natural, with interest in Delta Blues and slide guitar."
However, before the store is ready, there will likely be another line of guitars ready to take up some wall space. "I might do resonator guitars next, made out of six-pound cookie tins," Southwick said.
For more information on the Smokin' Strings Guitar Company, call 1-860-666-1596 or e-mail [email protected]
Questions/Comments: e-mail [email protected]